JetNation Camp Notes 8/8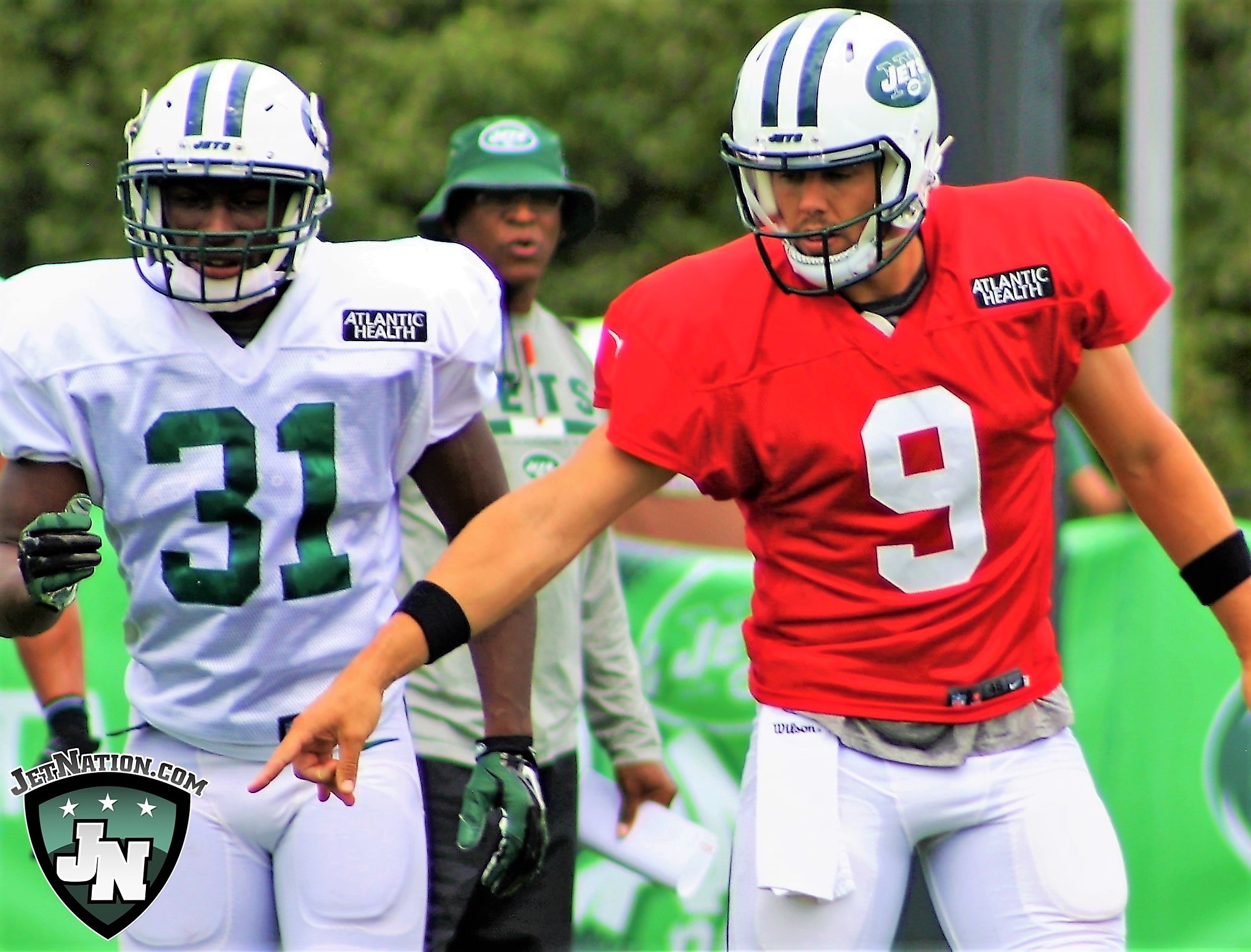 After a day indoors out of the elements, the weather at Florham Park eased up significantly and Gang Green headed outdoors once again.  It was an ugly day for quarterback Christian Hackenberg who appears to have regressed after an encouraging start just over a week ago.  A few notes and obserations.
Hackenberg was unofficially 4-12 during team periods and as is usually the case, when he's good he can "wow" you, but when he's bad, it's hard to watch.  Several passes hit the dirt, he threw is first two interceptions in team periods and perhaps his worst throw of the day came in 7-on-7's when he threw a pick to Julian Stanford who standing right in front of the quarterback who hit Stanford right in the gut.
Hack throws pick to Julian Stanford who was standing three feet in front of him.

— Glenn Naughton (@AceFan23) August 8, 2017
New old linebacker Demario Davis is laying some big hits out there and still has the same fire he had in his first stint with the Jets, only he may be better this time around.  No longer being asked to play the weak side, Davis is spending a lot more time at or around the line of scrimmage and appears to look comfortable in doing so.
While all of the attention is on Hackenberg and Josh McCown, Bryce Petty quietly outplayed both quarterbacks yesterday.  During 7-on-7's he looked better than the two front-runners but received just one rep during 11-on-11's, completing a pass to rookie receiver Chad Hansen.  When the team kicked off their 2-minute offense, Petty was up first and was a perfect 5-5 on a variety of routes all over the field before hitting on a deep touchdown pass down the left sideline to end his drive.
Elijah McGuire had a pair of drops, a rare sight for the rookie, but he still showed more good than bad, pulling down and errant screen pass at one point that forced him to contort his body for what was no gain, but the catch showed great athleticism and hands.
Juston Burris was the corner who was beaten badly by Robby Anderson on his 70-yard TD pass but that's going to happen sometimes when a guy who runs in the 4.3's matches up on a corner who runs in the 4.5's and he slips past him.  For the most part, Burris has had a stellar camp.
For all the talk about Brandon Shell having a great opportunity to win the starting RT job this season, Todd Bowles sure seems set in giving Brent Qvale every chance to start as he seems to be out-repping Shell by a wide margin.
Second round rookie Marcus Maye was flying all over the place again.  He's always around the ball and had an interception of Hackenberg and another near-diving interception earlier in practice.  He hasn't been asked so show much in terms of playing the deep ball, but when the play is in front of him, he won't be far behind, be it to make a play on the ball or a big hit on the ball carrier.  Dare I say, a quality second round draft pick?  Time will tell.
We'll be at Florham Park again today so be sure to follow us on twitter for live updates.
Videos
Aaron Rodgers Injury Fallout & Jets/Bills Recap