JetNation Camp Report 8/9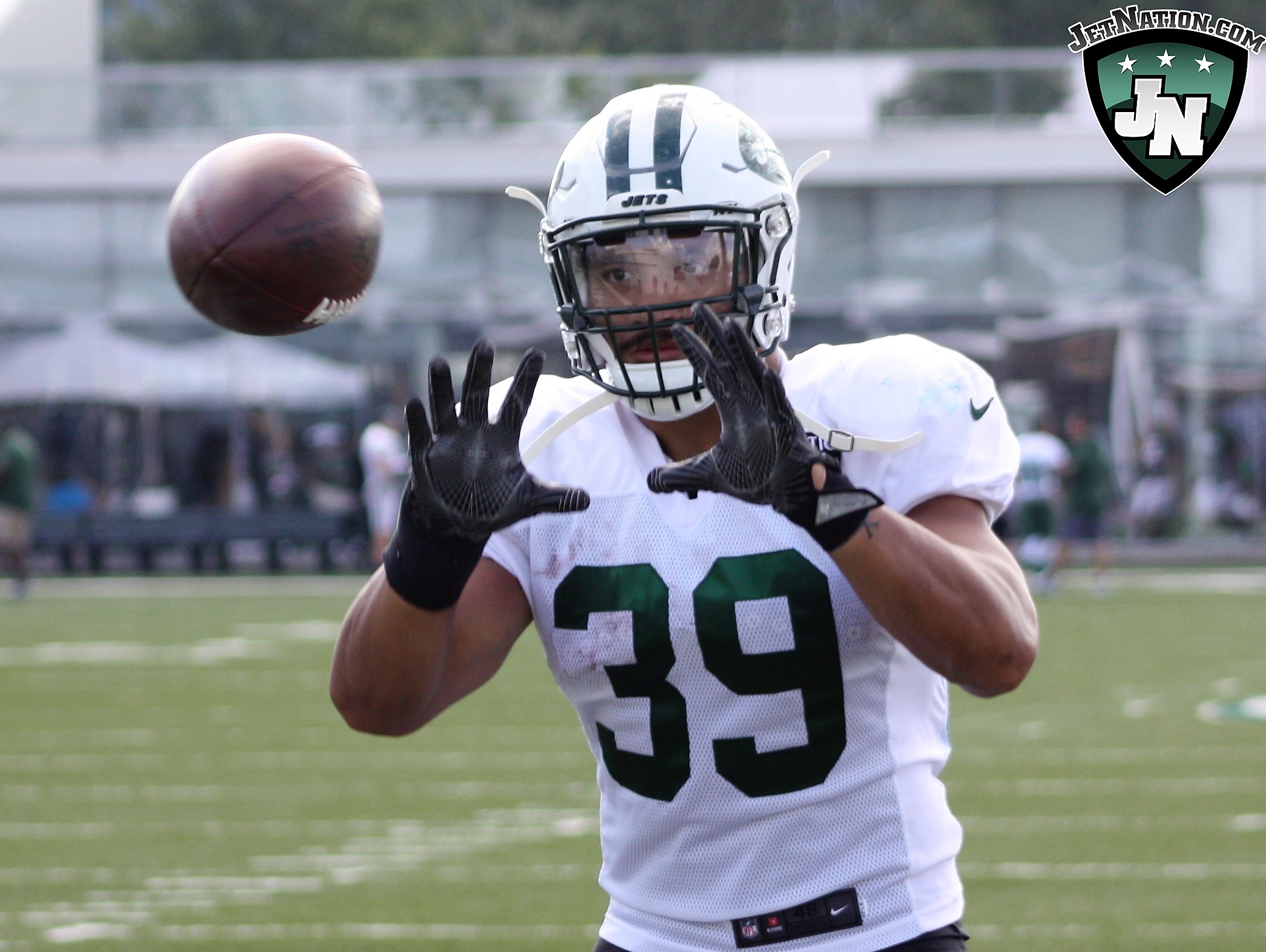 Another hot day in Florham Park as Todd Bowles and company took the field for a day that would show flashes from both the offense and defense, with Christian Hackenberg getting the first set of first-team reps for the first time this season.  How'd Hack and his teammates fare?  Here are a few observations.
As is often the case with Hackenberg, there was some good and some bad.  The ball came out tightly on  a more consistent basis than in had in the past few days and he delivered an impressive deep ball to Robby Anderson toward the sideline over Juston Burris who had tight coverage but was out-jumped by Anderson.  Perhaps Hackenberg's best throw of the day came under duress when he was forced to throw off his back foot and found an open receiver in the flat.  Another highlight for Hackenberg came on a fantastic TD pass to Frankie Hammond in the end zone; a beautiful touch pass lofted perfectly for Hammond to turn around and make a leaping catch over the DB.  Far from perfect, Hackenberg had some hiccups, threw some wobblers and ended practice with an interception, but a more positive day than the past couple of practices.
Lots of bickering between offense and defense after well executed pass play, followed by beautiful touch pass for TD from Hack to Hammond.

— JetNation.com (@JetNation) August 9, 2017
For the second day in a row, Bryce Petty looked impressive when given the opportunity, throwing the ball consistently on target, including a deep ball down the right sideline for a touchdown during the team period.
Robby Anderson was making plays no matter who was under center.  Should Anderson countinue to trend upward the way he has throughout camp, he could really make a name for himself.
Morris Claiborne was solid in coverage and made one of the better defensive plays of the day, laying out fully extended to get a hand on a Hackenberg pass that was en route to a receiver who was breaking toward the sideline.
Still no sign of Bilal Powell who was held out of practice several days ago when the team said he "had the wind knocked out of him".  That has now changed to "neck injury" with no word on severity or timetable for return.
The Jets could use a bruiser in the backfield so keep an eye on fullback Algernon Brown out of BYU who was signed last week.  Brown saw a few passes come his way today on short gainers over the middle and he had no problem holding on.  Having rushed for over 700 yards in a season at BYU as a halfback, Brown's versatility may help him stick.
Second year defensive lineman Lawrence Thomas packs quite a punch.  There were several plays in which he knocked the man across from him back on their heels a bit when firing out of his stance.  He found a way to stick last year before suffering an injury, but don't be surprised if he finds a way to hang around once again despite an immensely talented D-line.
Anthony Johnson is another dark horse to make the 53-man roster, but he made a couple of stops today, including a "sack" on a play in which he broke through completely untouched.
Jalin Marshall may have seen more targets than any other receiver on the field today.  He had a couple of miscues, but held on and made defenders miss, more than a few times.
Be sure to follow JetNation.com on twitter for more live updates from practice tomorrow.
Videos
Aaron Rodgers Injury Fallout & Jets/Bills Recap