New York Jets vs. Tennessee Titans Game Info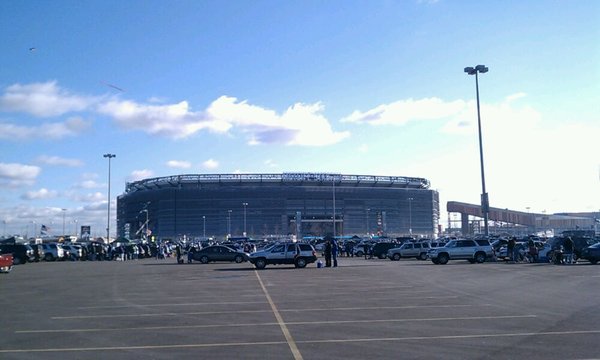 The Jets take the field for the first time on Saturday night vs the Titans. It will be one of two home games for the Jets this offseason. More importantly it will be the first real test for the Jets three-headed QB rotation. All three will play, Todd Bowles didn't provide much information beyond that. During the season we will have full game previews and we will highlight what players to watch. For now, just make sure you are staying up to date by reading our NY Jets training camp reports and enjoy the game.
Here are some details for those of you who are going on Saturday night.
Gameday Info:
THEME OF THE GAME: Kids Night presented by Modell's
CO-PILOT OF THE GAME: Season ticket holder Dick Lowenthal and his grandson, Jason will be the co-pilots of the game. Dick has been a season ticket holder since 1967.
HONORARY COIN TOSS: Daniel Mundell will be the honorary coin toss participant. Mundell was selected through SNY's "Play Ball", a program which facilitates dream day experiences and recognizes recipients on SNY's programs throughout the year. In addition to being an honorary captain, Mundell will receive a $100 shopping spree to be used at the Jets Shop, the team's flagship store.
Pregame Notes:
NATIONAL ANTHEM: The National Anthem will be performed by the Girl Scouts of Nassau County.
PLAYER INTRO TUNNEL: During player introductions, players from the Eastwick Saints and Union Rams youth football teams will form a tunnel on the field. Jets Rewards members, along with the youth football teams, will hold logo flags on the field throughout pregame activities.
Halftime:
YOUTH FOOTBALL: There will be four youth football teams competing during halftime. From the Suffolk County PAL, the Longwood Lions will take on Commack youth football. Representing Newark Pop Warner, the Jackie Robinson Bears will compete against the Brick City Lions.
On the Plaza:
GEN JETS KIDS ZONE: Jets Fest will be located between the Verizon and SAP Gates. It will include inflatables, a DJ, a juggler and Flight Crew signings.
jets experience: Inside the "Jets Experience," find out how you size up against current Jets players, study up on your Jets history and take fun photos with oversized J-E-T-S letters and logo gloves sculpture.
ESPN RADIO: Don La Greca and Erik Coleman will broadcast live at 6:30 p.m. until kickoff on the MetLife Stage.
Jets in the Community:
ANTI-BULLYING SYMPOSIUM: On August 12, The New York Jets and STOMP Out Bullying will continue their fight against bullying at the second annual Jets Tackle Bullying Educators Symposium, presented by Municipal Credit Union. Located in the press box dining area, the event will begin at approximately 3:15 p.m. More than 250 educators from across the tri-state area are scheduled to attend the event, including keynote speaker, Justin W. Patchin, Ph.D, professor of Criminal Justice at the University of Wisconsin-Eau Claire and will be hosted by CBS 2's Otis Livingston. Additionally, a panel discussion that focuses on cyberbullying and small group best practice discussion will be held. The interactive panel will be moderated by Dr. Patchin and include Ross Ellis, founder and CEO of STOMP Out Bullying; Dr. Jeff Gardere, Board Certified Clinical Psychologist and Assistant Professor at Touro College; Dr. Stu Leeds, Clinical Psychologist at the Morris Psychological Group; Jets Legend Chad Pennington and Jason Siros, Director of No Place for Hate at the Anti-Defamation League. Schools that attend the symposium are then given additional opportunities to engage with the Jets through our Upstander of the Week and School Recognition Programs. At the conclusion of the event, participants will take the field to watch pregame warm ups and then sit in the stands for the game.
PLAY FOOTBALL: In celebration of Play Football Month and youth football participation across the country, the Jets will host over 5,000 youth football players at the game.
Info for Fans:
MERCHANDISE: All youth apparel will be 15% off (excluding jerseys). Upon egress, all guests will receive a coupon for 15% off at Modell's.
Jets rewards: New for this season, Season ticket holders can scan into MetLife Stadium with mobile tickets to receive a 750-point mobile scan bonus.  Alternatively and as always, they can use their Jets Rewards cards to earn a 750-point card scan bonus.  Season ticket holders can also use their cards to spend Jets Cash at concessions and retail stands locations around the stadium.
FOOD & BEVERAGE: Popcorn Tub (85 oz.) normally $6, will be $5 at all FRANKS Stands. In addition, all hot dogs and fountain sodas will be half off with your Jets Rewards card. Please note that there is a limit of four per card, per each item and game.
CLEAR BAGS: Fans are permitted to bring inside the stadium one clear plastic bag that does not exceed 12" x 6" x 12" as well as one small clutch bag, approximately 4.5" x 6.5" (size of a hand). Purses, handbags, seat cushions, camera and binocular cases are not permitted.
UBER: Uber is the official ridesharing partner of the New York Jets. The pickup location will default to a pin in the official Uber Zone, which is located in Lot E off of West Peripheral Road, right outside of the Verizon Gate.
Videos
Aaron Rodgers Injury Fallout & Jets/Bills Recap