Jets Hoping Hackenberg Short-Term Plan has Long-Term Gains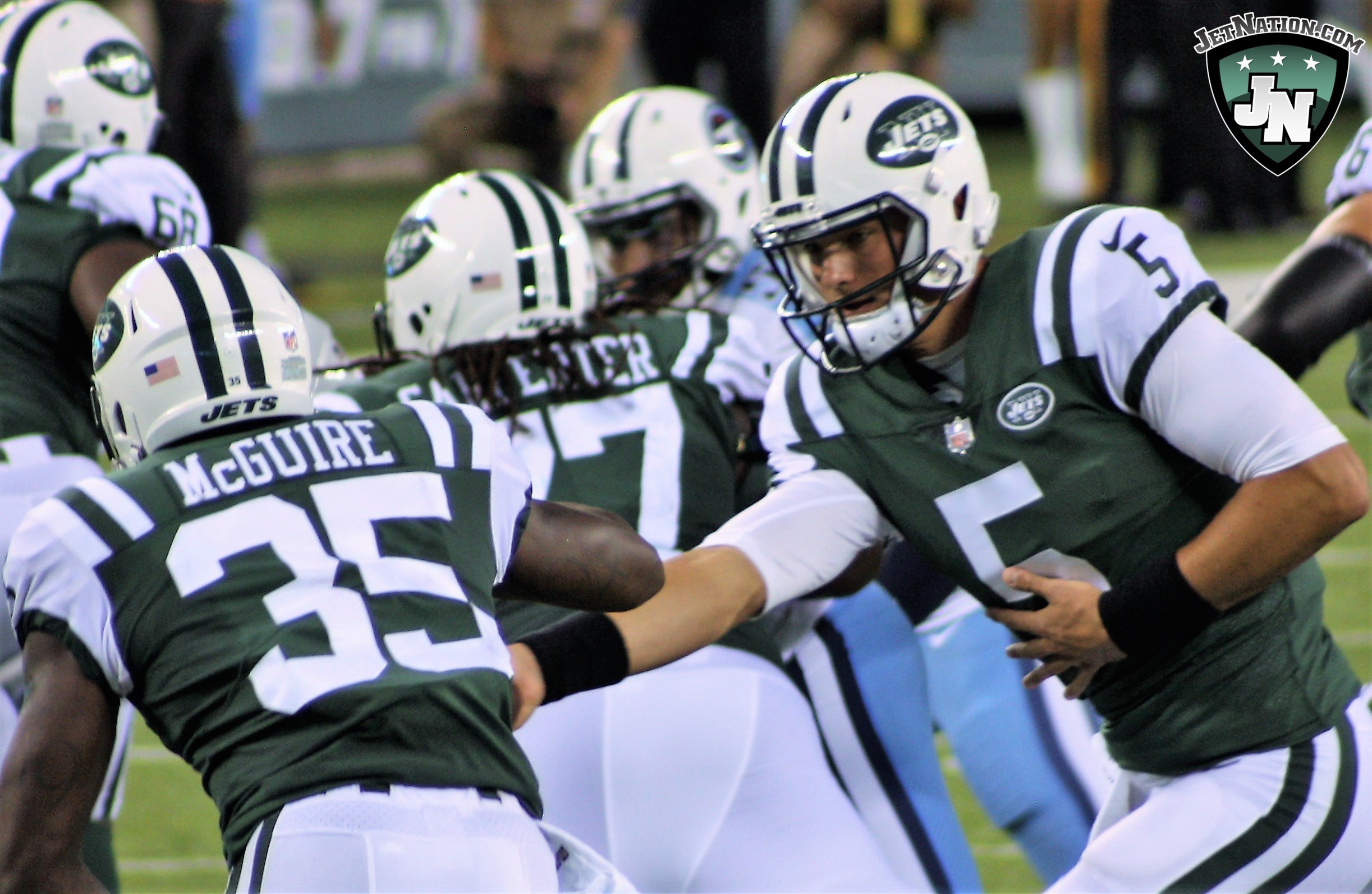 It was pre-season game number one.  That's it.  Just one single game that will be largely forgotten about by most fans by the middle of this week, if not by this morning when they rolled out of bed.
Led by a dominating defensive performance that included 8 sacks, the Jets defeated the Tennessee Titans by a baseball score of 7-3.  After scoring a touchdown on their first drive, led by Josh McCown, Gang Green would go scoreless the rest of the way, but that doesn't mean there were no positive developments.  In fact, there was one fairly large one.
Second year quarterback Christian Hackenberg saw extensive action and completed 18 of 25 pass attempts (72%), but with just 127 yards passing (5 YPA).  Some Jets fans were discouraged by the fact that Hackenberg kept the vast majority of his passes inside of 15 yards of the line of scrimmage.  Whether it was by design or Hackenberg checking down, the offense was incredibly conservative.  Like it or not, that was a great thing.
By our count, Hackenberg was a perfect 8-8 on passes thrown between 1-8 yards of the line of scrimmage.  In most cases, this wouldn't mean a whole lot for an NFL quarterback, but Hackenberg is not your typical NFL quarterback.
Anyone who watched Hackenberg in college and during the pre-season last year is all too aware of just how poor Hackenberg has been when throwing receiver screens and swing passes out of the backfield.  In fact, Hackenberg's inability to complete passes at or around the line of scrimmage was cited as a key reason why pro football focus called Hackenberg "undraftable".
In breaking down every one of his collegiate passes, PFF had this to say about Hackenberg:
Receiver screens are supposed to be high-percentage plays. In college, the average receiver screen pass is only off-target on 4.75 percent of attempts. In the NFL that figure becomes 3.45 percent, and the worst mark any QB has posted over the past three seasons is Chad Henne, at 8.47 percent. Last season, Hackenberg was off-target on 15.8 percent of his receiver screen passes — around five times more inaccurate than the average NFL QB.
It was after that review that Hackenberg played his only NFL snaps during the pre-season last year when he completed just 39% of his passes overall.  Every throw, every level of the field, against second and third-string defensive backs, Hackenberg completed 39% of his passes.
Last night, new offensive coordinator didn't put too much on Hackenberg's plate and it paid off.  It was a nice first step in the right direction for a struggling young quarterback with a very high ceiling.
There is still a lot of work to be done with Hackenberg.  The play calling last night didn't ask him do much dropping back and reading of defenses, but that can be another step for a another day.  Last night was about allowing him to get his feet wet, prove to himself that there are some aspects of the offense that he can execute well.
How big or small of a step this was will be up to the interpretation of different observers, but the Jets coaching staff should be commended for finding a way to get Hackenberg's pre-season off to a much different start than than the one he had in 2016.
Monday morning, it's back to Florham Park for Hackenberg and the Jets to begin building on last night's performance. Just how well that goes remains to be seen.
Videos
New York Jets OTA Presser Takeaways, Aaron Rodgers' Impact and Summer Delusion