Bowles to Announce Starting QB on Monday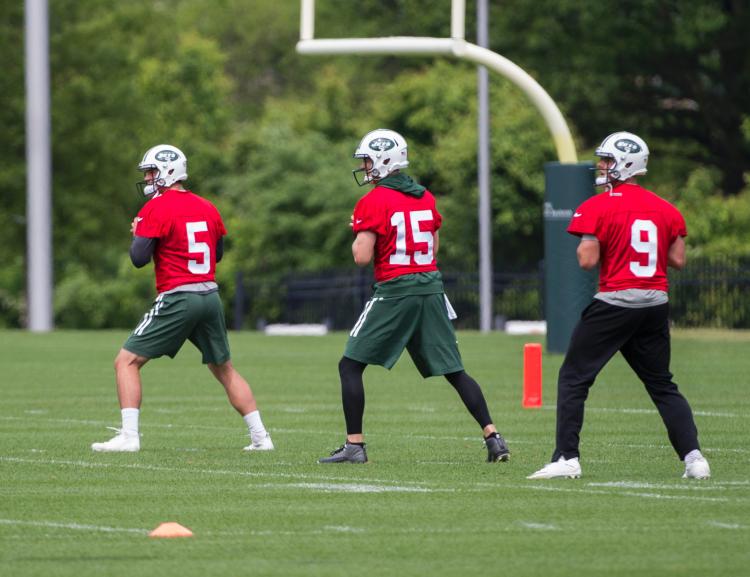 The three-man race for the Jets starting QB job has been called an open competition. Josh McCown, Christian Hackenberg and Bryce Petty apaprently all have been given an opportunity to win the job. The problem is Petty and Hackenberg might not be ready, so the majority of 1st team snaps in training camp have gone to McCown.
In the first two preseason games the team gave Hackenberg plenty of exposure. McCown has played one drive and the team scored their only touchdown. Otherwise Hackenberg looked good in his first game, and struggled in the 2nd game. Bryce Petty has been getting mop up duty so it doesn't seem like the team is strongly considering giving him the job.
Todd Bowles was asked if he's made a decision about playing time for the quarterbacks on Saturday…
No, not at the moment. We're going to start doing some things, doing some work tomorrow and Wednesday. We'll have a plan.
He was asked how the QB's rank.
I have my own thoughts, but it's a coaching decision from all of us. We'll discuss it after the game, and we'll come out with our starter.
Bowles added that the team won't name the starter right after the Giants game on Saturday. Instead they will watch the game film and name the starter, probably, on Monday.
It seems that McCown will be named the starter and they will try to bring Hackenberg along slowly. Although with McCown's age and history of not playing a full season, it is safe to assume that either Hackenberg or Petty will get their shot sooner rather than later.
Videos
New York Jets OTA Presser Takeaways, Aaron Rodgers' Impact and Summer Delusion