Featured Editorials Jets Report Card
Jets vs. Giants Report Card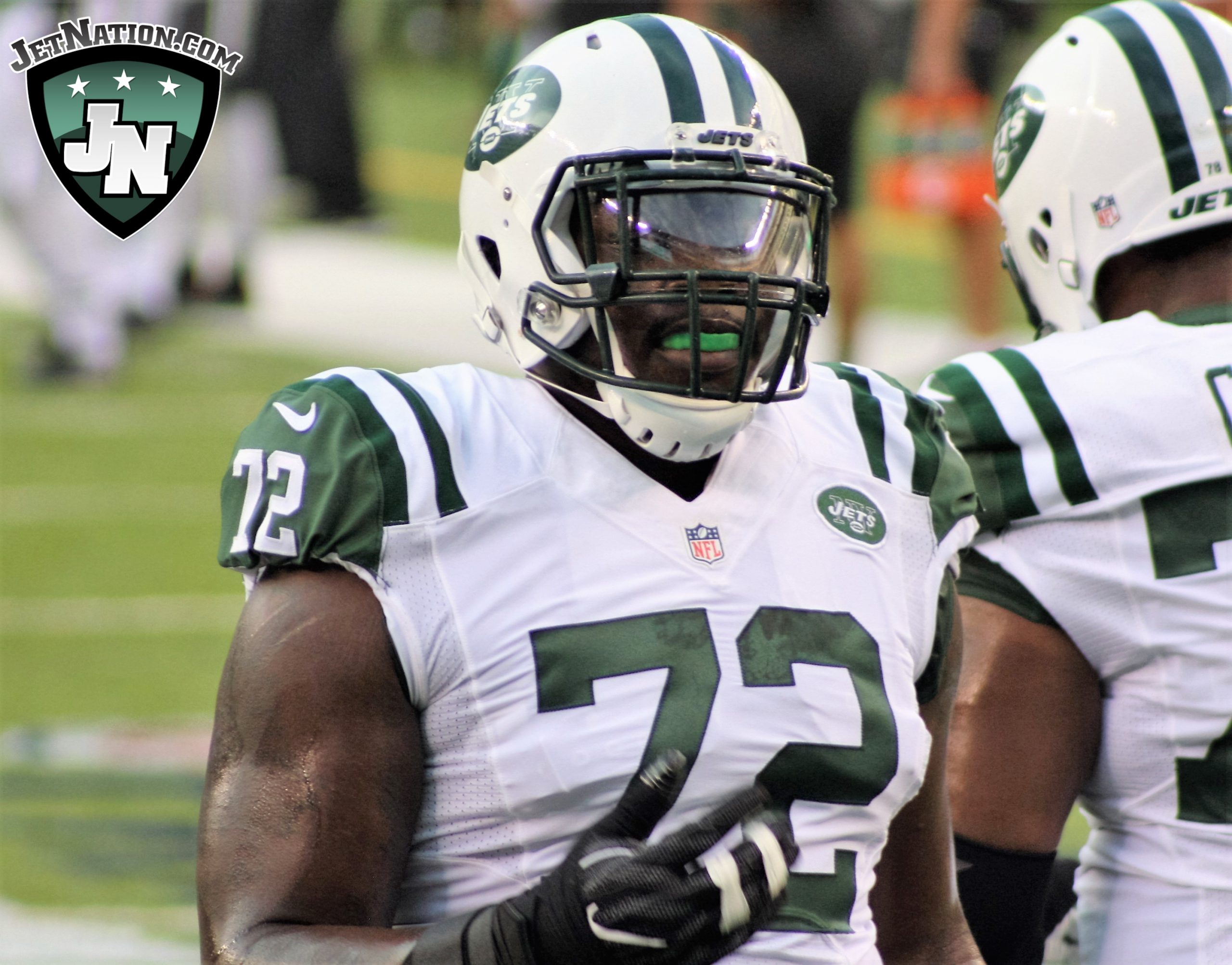 The score wasn't nearly as close as the 32-31 final would have you believe as the Jets had their doors blown off right out of the gate at MetLife Stadim tonight.  Let's take a quick look at how each positional group fared.
Quarterbacks: C+
Josh McCown sat this one out with Christian Hackenberg getting the starting nod for the second consecutive week, and once again, he was outplayed by Bryce Petty.
Hackenberg threw a pair of INT's that were returned for touchdowns (only one of which was on him) but salvaged something on the evening by coming on in relief of an injured Petty to throw a late TD.
Petty was the story of the night on offense, going 15-18 for 250 yards and 3 touchdowns.  Hackenberg produced -10 yards passing in the first quarter and finished the night 12-21 with just 126 yards through the air with the previously mentioned touchdown and two interceptions.  Hackenberg also took several big hits, failing to recognize or feel the oncoming blitz.
Running Backs: A
The Jets top two backs, Matt Forte and Bilal Powell combined for 75 yards on 17 carries with Powell adding 4 receptions for 110 yards, including an 85 yard TD reception when he beat a Giants defender over the middle and took it the distance.
Forte did look surprisingly smooth given the lack of tread he's got left on the tires while also seeing his first action in weeks due to a hamstring injury.
Rookie Elijah McGuire had 2 carries for just 7 yards but also added 31 yards through the air on two receptions.
Wide Receivers: A
It may seem a bit odd to be giving the Jets offense such high  marks, but they did put up over 30 points tonight and the receivers were a huge part of it.
Rookie receiver ArDarius Stewart led the way with 5 catches for 82 yards and a pair of touchdowns.  Fellow rookie Chad Hansen hauled in a pair of passes for 45 yards, showing excellent hands and keeping his feet in bounds on a high throw from Hackenberg early on.
53-man roster hopefully Frankie Hammond had the final score for Gang Green.
Tight Ends: C+
Outside of some late grabs against soft coverage from Chris Gragg, the tight ends didn't do much damage through the air or in the blocking game early on.
Jets tight ends would finish the game with 6 receptions for 54 yards as Austin Seferian Jenkins has yet to show up big in a game after a stellar camp thus far.
Offensive Line: D+
This unit was so bad early on that they appeared to be headed for a sure "F", but they did regroup late in the second half and provide decent protection with good running lanes for the backs to exploit.  Even still, the unit is a work in progress as several individuals struggled early, but nobody worse than Brandon Shell.
Shell was beaten to the inside on a sweep from the Jets' own 3-yard line that resulted in a Jason Pierre-Paul safety on running back Matt Forte.  Shell was also thrown to the ground almost effortlessly later in the contest by Pierre-Paul. With this being the case, it would appear the battle for the team's RT spot is still wide open.
Defensive Line: D+
Giants running backs carried the ball 18 times for 97 yards and a touchdown, but pressure from the big guys up front held Eli Manning to 50% completion percentage (7-14) and also played a pivotal role in a Juston Burris interception.
Early in the game, Sheldon Richardson came barreling toward Eli Manning, coming up with a big hit, forcing a Manning pass to flutter off target and in to the arms of Burris.
Side note: If tonight was any indication as to the type of play the Jets can expect from Richardson this season as he plays for a new contract, a potential trade near the deadline may end up getting Mike Maccagnan the first rounder he's been holding out for.
Linebackers: C
The 'backers did generate some pressure from time to time, but aside from a half sack that Dylan Donahue shared with Devon Still, they didn't get much pressure on the Giants QB's.
The 'backers also struggled when Giants running backs were able to get to the second level.
Secondary: D+
Juston Burris had an early interception but the secondary surrendered a ton of yards through the air (240 net yards) when you consider the fact the the Giants were without Odell Beckham Jr. and Brandon Marshall.
As per usual, Buster Skrine was beaten on a number of big plays but will likely start the season as the team's top nickel corner.
The Jets were without their top CB in Morris Claiborne and rookie safety Jamal Adams had another big missed tackle, but also made an impressive play on a PBU in the end zone.
Special Teams: B
Lac Edwards had a net average of 45 yards on his four punts, and Chandler Catanzaro was 1-for-1 on FG attempts.
For the second time in three weeks, the Jets punt coverage was very good, which is a welcome sign after the season they had in 2016.
The Jets will wrap up their four-game pre-season on Thursday against the Philadelphia Eagles.
Videos
Aaron Rodgers Injury Fallout & Jets/Bills Recap