Jets \ Dolphins Injury Updates
The New York Jets were on the road the first two weeks and they play their first home game on Sunday against the Miami Dolphins.  When you are looking for your first win of the season, it is all hands on deck. But the injury list is getting a little longer. Here is the recap that coach Bowles gave after practice on Wednesday.
Freddie Bishop did not practice, ankle. Brain Winters did not practice, abdomen. (Eric) Tomlinson did not practice, elbow. (Jordan) Leggett did not practice, knee. (Muhammad) Wilkerson did not practice, shoulder. (Jonotthan) Harrison did not practice, concussion. (Neal) Sterling did not practice, knee. Robby Anderson did not practice, knee. Rontez Miles was limited.
No injured players are ruled out for Sunday. When it comes to Wilkerson, head coach Todd Bowles didn't provide a ton of information. Saying it is sore, and we will see how the week goes. He wouldn't even confirm when Wilkerson got hurt, saying "I'm assuming he hurt it in the game.".
No definitive word on Robby Anderson either. Bowles did confirm that neither player underwent an MRI, so that is good news.
Austin Seferian-Jenkins is eligible to return to the active roster this week and he did return to practice. When asked if Jenkins would be active on Sunday Bowles also indicated it was too early in the week to make that decision. This quote was a little concerning though.
He has to get in a little better shape. (That's) to be expected after two weeks off, but he'll get going.
Here is the full injury report.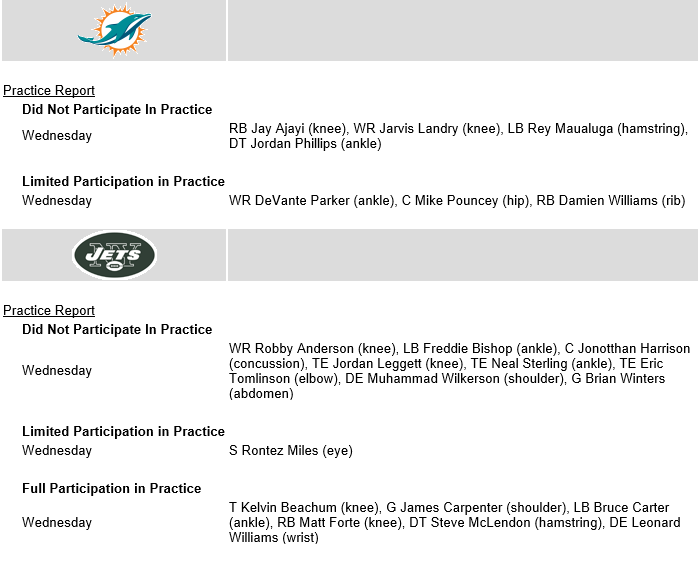 Videos
New York Jets OTA Presser Takeaways, Aaron Rodgers' Impact and Summer Delusion