New York Jets Report Card: Week 7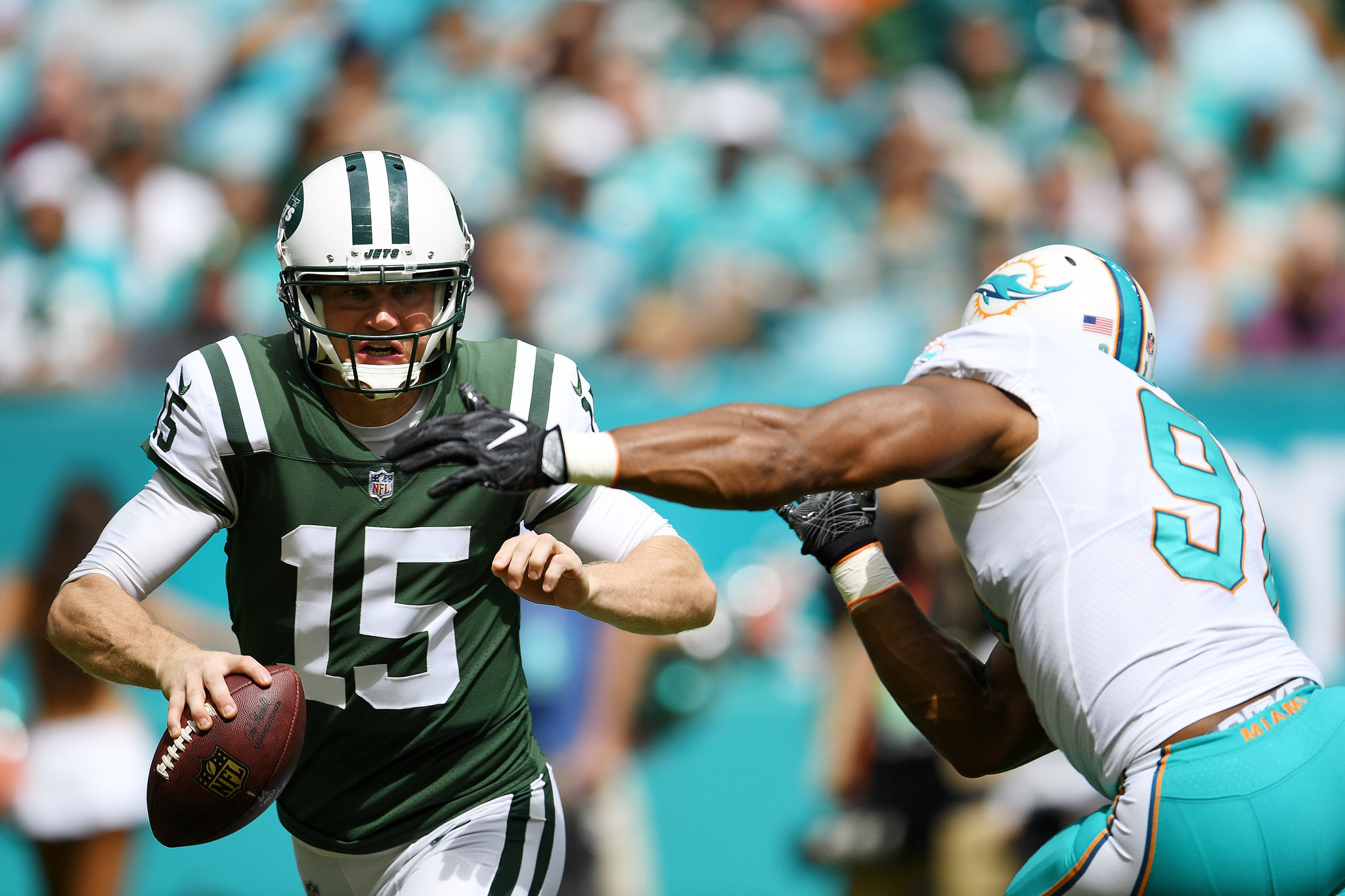 Week 7 Report Card: Jets @ Dolphins L 31-28
---
Quarterback: C
Josh McCown: 17/27 209 yards, 3 TDs 1 INT, 3 rushes for 1 yard
For three quarters Josh McCown played a perfect game. Then for some reason once Jay Cutler was injured and replaced by Matt Moore, the whole team fell apart. The offense produced a total of -4 yards in the fourth quarter and contributed to blowing a 14 point lead at the end of the game. McCown put the nail in the coffin when he threw a mind-numbingly bad interception with 47 seconds left on the clock. The Jets got the ball back with enough time to drive down and put points on the board, instead McCown made a critical error at the most important time. If it weren't for his game ending interception, McCown would have a much higher rating.
Running back: B
Bilal Powell: 9 rushes for 43 yards, 2 receptions for 40 yards
Matt Forte: 7 rushes for 41 yards, 5 receptions for 41 yards
Elijah McGuire: 3 rushes for 7 yards
Other than the game against the Jacksonville Jaguars this was the best outing for the running back group, which isn't saying much. Both Bilal Powell and Matt Forte were effective in the running and passing game for three quarters, but just like the rest of the team they turned it off in the fourth. Much of the blame can be put on the offensive line, but everyone on the team seemed to slow down in the fourth.
Wide Receiver/Tight End: C
Robby Anderson: 3 receptions for 35 yards, 1 TD
Jermaine Kearse: 1 reception for 29 yards, 1 TD
Eric Tomlinson: 1 reception for 26 yards
Austin Seferian-Jenkins: 3 receptions for 21 yards, 1 TD
Jeremy Kerley: 2 receptions for 17 yards
This was an inconsistent day for the receivers. Jermaine Kearse was targeted four times and only registered one catch. Jeremy Kerley had a bad drop, and the running backs had as many receiving yards as all the wide receivers combined. Robby Anderson also picked up an unnecessary unsportsmanlike conduct penalty, which really had little influence on the outcome, but summed up the ineptitude of the team during that fourth quarter.
Offensive Line: D
Josh McCown is being sacked an average of 3.14 times per game so far, and the run game is averaging only 103 yards per game. If it weren't for the huge day against the Jaguars, that number would be much lower. The offensive line needs to be more consistent. The Jets tried to run the ball in the fourth quarter, but it was like running into a brick wall. Too many penalties, too many sacks, and bad run blocking equate to a loss most of the time.
Defensive Line: B-
Although the defensive line still hasn't registered a sack, they generated a good amount of pressure for most of the game. Muhammad Wilkerson had an interception on a tipped pass, and had a quarterback hit. Leonard Williams had three quarterback hits, and Steve McLendon had two tackles for a loss. It was an improvement, but the defensive line needs to sack the quarterback just for pride if nothing else.
Linebacker: B
The linebacker group did a good job stopping the run, and generated a couple of sacks. The only issue was coverage, which has been a theme this season. Darron Lee should be playing outside, he has been suspect in coverage since being drafted. The linebackers have been doing the heavy lifting this season when it comes to getting in the backfield.
Secondary: C-
Buster Skrine really dragged down what was a pretty good performance for the young secondary. Jamal Adams had a career day, and Marcus Maye had a big interception. Skrine gave up two (three by Todd Bowles account) touchdowns, and had three penalties called against him. The secondary gave up 304 yards passing and four touchdowns, although almost half of that came in the fourth quarter.
Special Teams: B
Chandler Catanzaro converted all four of his extra point attempts, but there were no field goals attempted. Lachlan Edwards had seven punts for 321 yards, averaging 46 yards per punt with a long of 60 yards. ArDarius Stewart returned two kicks for 30 yards, averaging only 15 yards per return, while Jeremy Kerley returned four punts for 24 yards. Kerley fumbled and recovered on one punt return. It was an average day for special teams.
Coaching: C-
Penalties have been a real issue, and Todd Bowles needs to get that cleaned up. The clock management issues continued again this week as well. Wasted timeouts, and unnecessary penalties are contributing to the demise of this team. The decision to attempt a game winning drive with 47 seconds left was the right one, the opening play wasn't. The drive started with a pass to Jermaine Kearse that was promptly intercepted and returned to the Jets' 17 yard-line which sealed the Jets' fate.
Overall Grade: C
Videos
New York Jets OTA Presser Takeaways, Aaron Rodgers' Impact and Summer Delusion