Jets Mid-Season Report Card Features Plenty of Surprises, Good and bad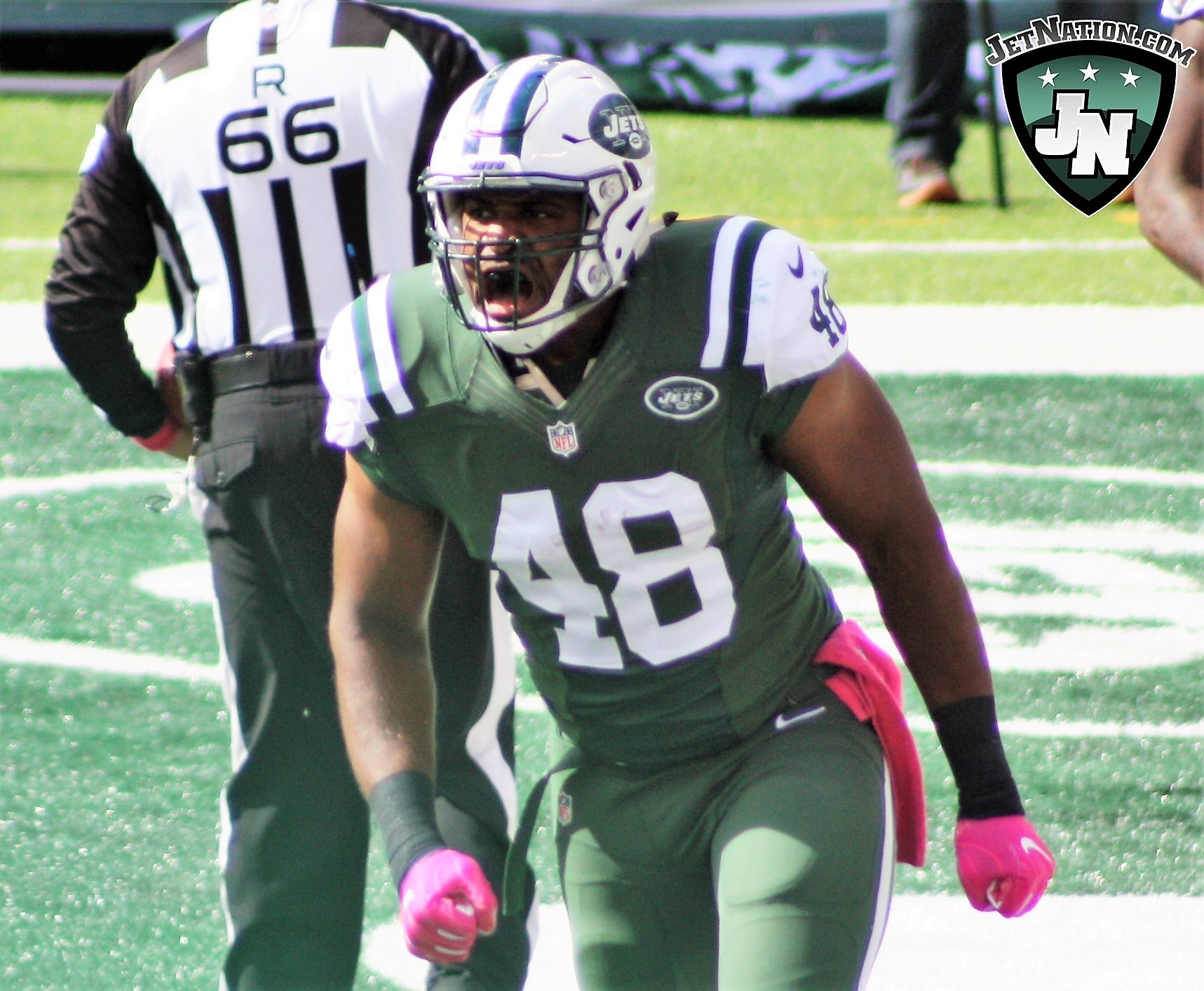 So the New York Jets have hit the half-way point in the 2017 season with a record of 3-5, having lost three consecutive games by blowing leads in the fourth quarter.  Outcomes like that will go a long way in blurring the big picture which is of course, using this season to grow and improve one of the youngest rosters in the NFL.  There have been some improvements, but there as also been significant regression in several areas.  Let's take a look at some mid-season grades.
Quarterback: B
Journeyman quarterback Josh McCown has been far from perfect, but when you consider the lack of a running game and working with a pair of receivers in Jeremy Kerley and Jermanine Kearse that he had no time in training camp with, the veteran has given the Jets a chance to win almost every game they've played in this season.  Has he made some mistakes?  Of course he has.  But he's also managed to be a big part of the team's three game win streak earlier in the season before handing fourth quarter leads to his defense in each of the last three weeks but Kacy Rodgers' unit wasn't able to hold on.
Running Backs: C+
Believe it or not, Bilal Powell, Matt Forte and Elijah McGuire have combined for 687 yards rushing on 165 attempts, an average of 4.1 yards per carry.  Not bad when you look at just how bad the run blocking has been for much of the season.  All three backs are having to be near perfect to hit the rare hole that's opened up in the run game.  All three backs can catch the ball out of the backfield as they've pulled in 48 passes for 398 yards.  With better blocking up front, Powell and McGuire would likely be having much better seasons.
Wide Receivers: B
How impressive has this group been from the outset of the season?  Late addition Jermaine Kearse is on pace to set career highs in touchdowns and receiving yards while hauling in a career high 75% of passes thrown his way.  Jeremy Kerley has done everything the team has asked of him and continues to show he's one of the more underrated receivers in the NFL.  Robby Anderson?  All he does is beat opposing cornerbacks on deep routes and get under or overthrown by his quarterback.  Anderson's two long TD's this season don't do any justice to just how often he's in position to make a big play.  With a better deep ball quarterback, Anderson would be among the league's elite.  Rookie Ardarius Stewart has looked good in limited action, but spends roughly 70% of his time on the bench in favor of Kerley.
Tight End: B
What a difference a year makes.  Austin Seferian-Jenkins appears to be on his way to becoming the best tight end the Jets have had in decades.  After missing the first two games of the season due to suspension, Seferian-Jenkins has 31 catches for 201 yards and 3 TD's.  The former Tampa Bay Buccaneer has also shown dramatic improvement as a blocker.  On the other side, Eric Tomlinson has continued to be a quality blocker while becoming more of a part of the offense under John Morton.  This position has gone from the team's weakest, to arguably its strongest in the span of one season.
Offensive Line: D+
This is where things get ugly on offense.  All of the above mentioned grades are due largely in part to the fact that the blocking up front, particularly in the run game, has been atrocious.  Once viewed as the strength of the unit, guards Brian Winters and James Carpenter have seen a dramatic drop-off in play, while Wesley Johnson is a punching bag for opposing defenses and currently owns the lowest grade in the NFL among starting centers according to Pro Football Focus.  If the middle of the Jets O-line would play to its full potential, Todd Bowles and company might be able to use their run game to eat up clock late in the fourth quarter and not have to turn it over to his defense to ask them to make a play.  Kelvin Beachum got off to a slow start but has been steady in recent weeks, while Brandon Shell continues to provide good pass protection on the right side, but has some work to do in the run game.
Defensive Line: C
Along with the O-line, the D-line is probably the next biggest disappointment for Gang Green this season.  Thanks to some nifty coverage on one particular play against the Falcons yesterday, quarterback Matt Ryan was forced to hold on to the ball for what felt like an eternity.  The result?  The Jets got their first…yes, their FIRST sack of the season for a D-lineman when Mo Wilkerson eventually chased him down.  Opposing quarterbacks have routinely been able to sit back in the pocket all day to make plays.  Much improved play against the run in recent weeks and increased effort from Mo Wilkerson prevent this from being a D.
Linebackers: C-
Demario Davis and Darron Lee have improved significantly after a slow first couple of weeks in which there were several blown assignments that led to big runs for opposing offenses.  Lee has looked like a completely different player in recent weeks while Davis is among league leaders in tackles.  On the outside, Jordan Jenkins quietly does his job and does it very well every week, while a carousel of linebackers on the opposite side sees their play ebb and flow as the Jets try to get a pass rush out of somebody.
Cornerbacks: C
Buster Skrine turned in a few of his best performances as a Jet up until a couple of weeks ago when he was absolutely roasted against the Miami Dolphins.  Once again, Skrine has been the overpaid weak link of the secondary and Juston Burris was all but dismissed after a solid opener against the Bills.  The two most surprising developments have been Morris Claiborne's health (so far), and Darryl Roberts.  Roberts hasn't been dominant by any stretch of the imagination, but he's been infinitely better than he looked all through training camp and the pre-season.  His issue right now, as with so many Jets players, has been consistency.
Safeties: B
Rookie safeties Jamal Adams and Marcus Maye have had their share of ups and downs, but both have flashed the ability that led the Jets to take them where they did in the draft.  Adams' versatility is off the charts as he's been used at free and strong safety, linebacker and cornerback.  His tackling has been inconsistent and his coverage has had some hiccups, but for the first pair of rookie starting safeties since the merger, Adams and Maye give Jets fans plenty of reason to expect the back-end of their defense to be in good hands for years to come.  Terrance Brooks and Rontez Miles have also been solid in their roles as back-ups.
Special Teams: B
It may not feel like it after yesterday's loss in which Chandler Catanzaro missed a pair of field goals in a five-point loss and Jeremy Kerley had a critical muffed punt, but the unit has been largely effective this season.  Lac Edwards appears to be coming in to his own as a punter and Catanzaro had missed only two attempts prior to yesterday's monsoon conditions.
Todd Bowles: C-
Bowles was imported for his brilliant defensive game plans, but despite having a defense that consists of three first round picks in the secondary, one at linebacker and two on the defensive line, he hasn't been able to come up with a way to stop the likes of Matt Moore from shredding his defense and allowing huge comebacks for opposing offenses.
Even still, this season was supposed to be about development and effort more so than wins and losses.  If not for the fact that the Jets had fourth quarter leads in each of their last three losses, the grade would probably be a bit kinder as the Jets were supposed to be a team without any talent.  If there's enough talent to get a big lead, there should be enough talent to hold on to one of those leads from time to time.
Mike Maccagnan: B
In year three, it looks like Maccagnan has had his bets draft to date.  Adams and Maye are legitimate day one starters.  Ardarius Stewart appears to be primed to contribute as soon as Bowles gives him a shot and Elijah McGuire will likely be Bilal Powell's eventual replacement.  That's four possible starters alone.
Jordan Leggett has yet to play a snap on offense and Chad Hansen has been invisible but hasn't been targeted in verty limited reps.  Dylan Donahue seemed to be showing slight improvement before being knocked out for the season due to injury.  Jeremy Clark is also out for the year with injury and Derrick Jones is still a while away.
Getting Jermaine Kearse and a second round pick for Sheldon Richardson appears to have been a steal and Kelvin Beachum has settled down and brought some stability to the left tackle position.
So now the Jets prepare to start the second half of their schedule on Thursday night in Buffalo.  Will the Jets hit the books and improve their grades, or will mounting losses result in less effort and stunted development?  Time will tell.
Videos
New York Jets OTA Presser Takeaways, Aaron Rodgers' Impact and Summer Delusion