Jets Deal for Robinson Makes Perfect Sense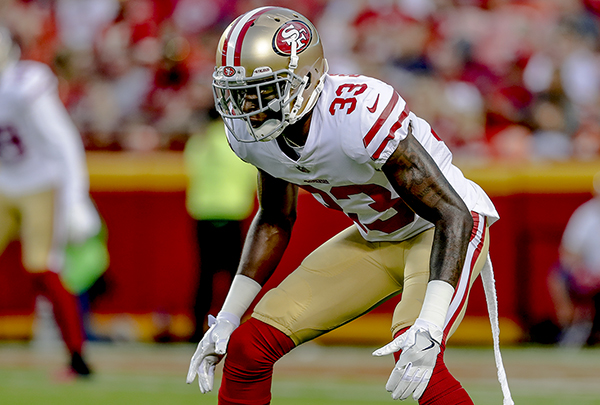 While some Jets fans may be scratching their heads in trying to figure out exactly why Gang Green sent a fifth-round draft choice to the San Francisco 49ers in exchange for penalty-prone cornerback Rashard Robinson, the deal makes perfect sense for a few reasons.
Let's get what is realistically the least important reason out of the way and address the team's lack of depth at the position for the very immediate future.
In the concussion protocol or not, the Jets needed to make an effort to replace the currently injured Buster Skrine.  In addition to Skrine, injury-prone Morris Claiborne's status for Thursday's game against the Bills is up in the air as he nurses a sore foot.
If Skrine and Claiborne can't go, the Jets would be one injury away from having to give sixth-round project cornerback Derrick Jones some significant playing time.  That's not something Todd Bowles is interested in doing at this point in time.  Robinson's presence adds another body to the rotation.
Now, on to what really matters in regards to making a move for Robinson.
Value: Robinson has struggled with penalties, but his 6′ 2" height combined with his physicality and 4.49 speed were good enough to make him a fourth round draft pick despite earning a suspension during his time in college for violating team rules.  If the Jets pulled the trigger on this deal, you'd have to believe that the grade they have on Robinson is greater than any cornerback they think they can snag in the fifth round.
Youth: A good number of fans were in hysterics over the deal, wondering why the Jets would be moving draft picks in exchange for players in year-one of a re-build.  However, it's not as if the Jets went out and acquired a 26-year old never-was.  They got a player who has fewer than two full NFL seasons under his belt and can absolutely be part of a the long-term future if he pans out.
Support: The acquisition of Robinson gives him a clean slate with the Jets who will give the corner a fresh start.  While the colors and surroundings in Florham Park may be different, there will be some familiarity.  Robinson played alongside Jets rookie safety Jamal Adams at LSU so the two should work well together.  Not that you would expect him to say any different, but Adams has already cited Robinson's physical attributes as a reason why he has a chance to succeed as an NFL cornerback.  Whether or not he's right remains to be seen.
So while Jets fans will have to wait and see if Robinson fulfils his potential, anyone asking why need look no further and wonder no more.  Grabbing a 22-year old cornerback with a great size/speed combo on a team that lacks much established talent at the position makes perfect sense no matter how you slice it.
Videos
Was Boomer Right to Blast Becton? Former Jets QB Sounds off Against Jets Tackle.