With the 12th Pick, the NY Jets Select…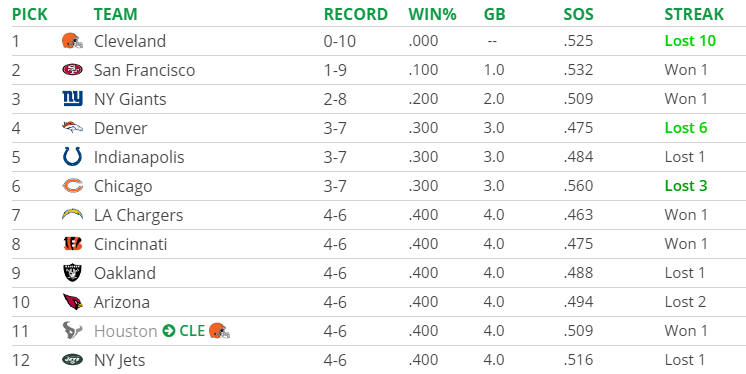 All offseason the debate raged on about the Jets and if they were trying to "tank" for a better draft pick. The Jets insisted that wasn't the goal and their play on the field has been consistent with that. After the offseason purge of veterans, the Jets roster did indeed get younger. They were able to put to rest the talk that they were trying to lose games when they decided to play a 38 year old QB in Josh McCown. With 4 wins in the first 10 games the Jets have exceeded expectations because they are no where near the first overall pick. According to tankathon, the Jets currently have the 12th pick in the 2018 NFL draft.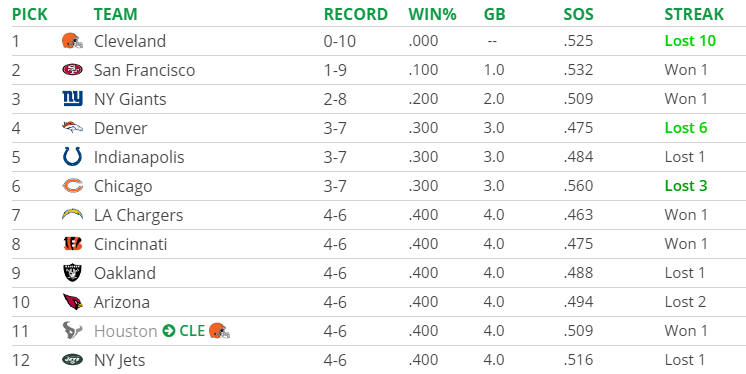 Exceeding expectations when people are predicting a winless season and being a good football team are two different things. Here is where the Jets sit today:
Plenty of young talent to feel good about
Lots of cap room to rebuild through free agency
Still remain far away from finding the QB of the future
The last bullet is the most important one and that is why the "tank" crowd wants the best possible draft pick. Who is the QB going to be next year and beyond? The answer could come through free agency, i.e. Kirk Cousins, but the odds are the Jets will be drafting a QB in the 1st round next year.
So where will the Jets end up drafting? Sitting at 12 right now you have to think that they will draft lower than that. Look at the remaining schedule, it is very tough: Carolina Panthers (7-3), Kansas City Chiefs (6-4) , Denver Broncos (3-7), New Orleans Saints (8-2), LA Chargers (4-6), New England Patriots (8-2).
The Broncos and Chargers are the only teams with losing records. The Chargers have to travel to the east coast to play the Jets at 1pm on Christmas Eve. Huge advantage for the Jets. The Broncos game is in Denver and that is never easy.
When you take out the Broncos and Chargers, the remaining opponents are a combined 29 and 11. With a schedule that tough you can expect the Jets to be drafting in the top 10. Plenty of time to talk about draft prospects, that is what our New York Jets draft forum is all about. For now we will be rooting for the Jets to win every week. The better the young prospects perform, the sooner they can get out of rebuild mode and start talking playoffs.
Videos
Aaron Rodgers Injury Fallout & Jets/Bills Recap