After QB, O-Line Should be Front and Center of Mac's Mistakes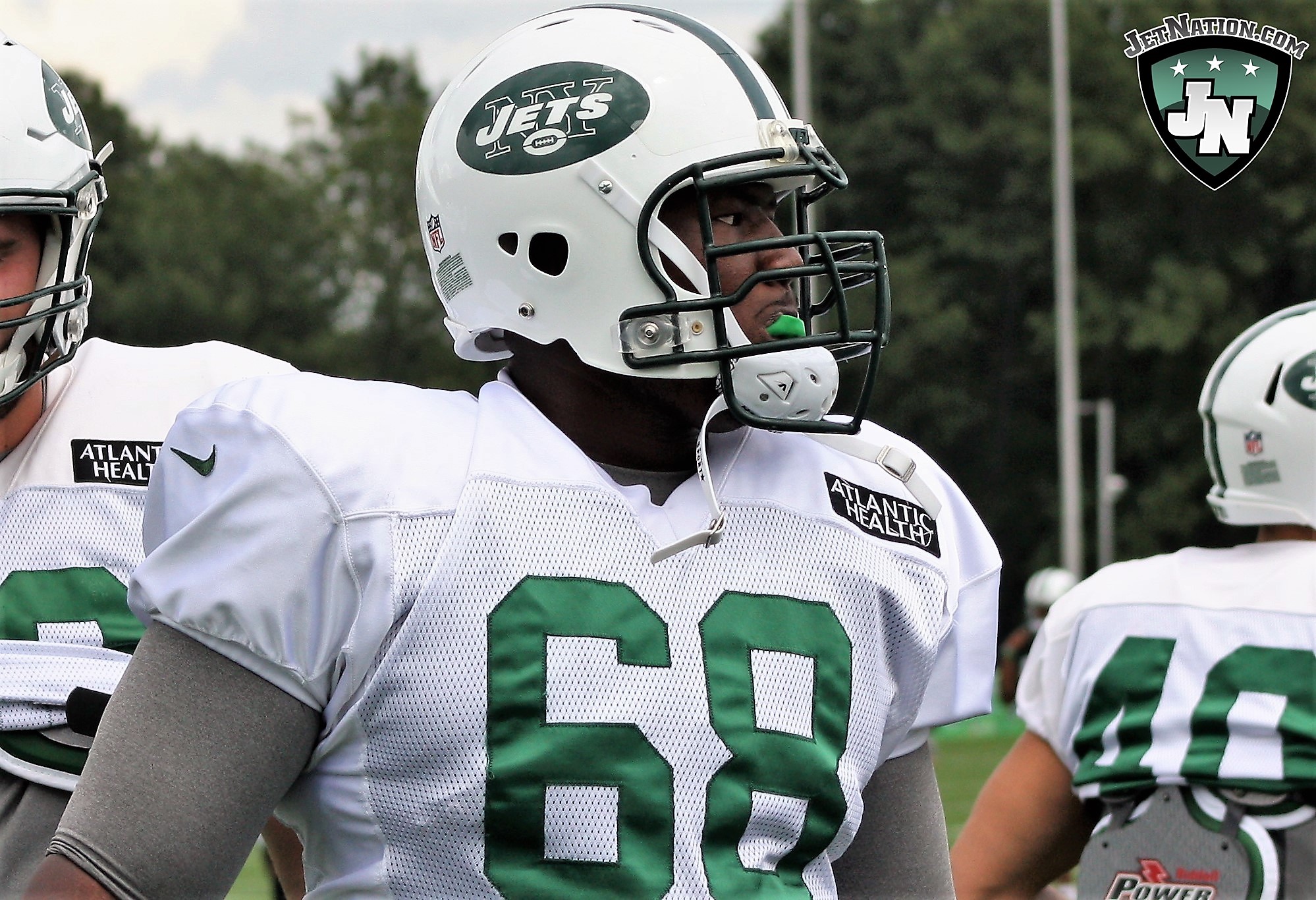 In taking a step back and looking at how the 2017 season has worked out for the New York Jets on a move-by-move basis, the vast majority of key decisions made by GM Mike Maccagnan have worked out as well as, and in many cases, even better than anyone expected.
He used one of John Idzik's many wasted draft picks (Calvin Pryor) and turned it in to DeMario Davis, who is playing at a pro bowl level.
Darron Lee has shed the "bust" label as he continues to improve and make plays (53 tackles, 3 sacks, 2 forced fumbles).
Morris Claiborne has played at a high level and is yet to surrender a passing touchdown this season
After struggling with a wrist injury earlier this season, Leonard Williams is back to harassing opposing quarterbacks.
Jamal Adams and Marcus Maye appear to be locks to settle down the secondary for years to come.
Robby Anderson is establishing himself as one of the top deep threats in the NFL.
Jordan Jenkins may be underappreciated by the casual fan, but anyone paying attention can see that he's turning in to a quality starter.
Snagging a second-round pick and Jermaine Kearse in exchange for Sheldon Richardson looks to be a coup.
Rookie running back Elijah McGuire has looked like a very good back in limited reps despite atrocious run blocking up front…and that's where it all goes wrong for Maccagnan.
Despite having enough talent to hang with some of the top teams in the NFL, the Jets have been unable to put anyone away due to their inability to run valuable minutes off the clock with any semblance of a ground game.  To illustrate just how little faith Todd Bowles and John Morton have in their run blocking, look no further than the Jets opting to throw the ball three times from the one-yard line against the Panthers this Sunday.
Poor play by the O-line isn't the only issue, but the salaries attached to some of those under-performing players will make it difficult to move on from them after this season.
LT Kelvin Beachum: 
Beachum has been adequate at left tackle this season and in all honesty, he has played at about the level you would expect a player at his position based on his salary (16th in per-year guarantees).
The issue with Beachum is related more to what it would cost to move on from him if the Jets had any interest in drafting a left tackle this season.  If the Jets were to cut ties with Beachum after the season to upgrade, they would be looking at $7 million in dead money.  One alternative would be to draft a left tackle and move Beachum to the right side, but with Brandon Shell coming along on that side, would they want to halt his growth?
LG James Carpenter:
Carpenter's struggles may be the most surprising development of the season.  Previously viewed as the Jets best lineman, Carpenter has seen his play plummet this season.  Cutting or trading Carpenter would be far more manageable than Beachum, coming with a negligible hit of just over $2 million.  Mere pennies for a team projected to have up to $90 million in cap space this off-season.  After playing at a very high level in each of his first two seasons with the Jets, pro football focus has Carpenter rated at a shockingly low 37.4 this season, placing him 71st out of 77.
C Wesley Johnson:
More good salary news here for the Jets as Johnson, arguably the worst center in the NFL, is playing on just a one-year deal.  Still, Maccagnan's failure to draft a center to compete with Johnson was irresponsible at the very least.  The best thing that could happen to the Jets would be to upgrade at center this off-season and find that the abysmal play of Carpenter and right guard Brian Winters is due in part to knowing they have a gaping hole on the line between them in Johnson and trying to over-compensate.
RG Brian Winters:
Winters' deal is the one that looks worse than any other on offense at the moment and being that it was just signed this off-season, parting ways any time soon will be virtually impossible.
The Jets would get no cap relief while taking on a $7 million cap hit if Winters were to be let go.  It's hard to fault Maccagnan for paying a player who looked to have turned the corner after three poor pro seasons transitioning from small school offensive tackle to NFL guard.
Even still, would the Jets be that much worse off if they'd let Winters walk and allowed Dakota Dozier to audition for the spot?  That's something we'll never know, but what we do know is that between Winters and Beachum, the Jets would take on $14 million in dead money if they looked to upgrade both spots.  As mentioned with Carpenter, the Jets will likely hope that improved play from the center spot will turn things around for both Carpenter and Winters.
Brandon Shell:
It hasn't always been pretty, but Shell has held his own in pass protection against some of the best pass rushers in the NFL at times, but his run blocking leaves quite a bit to be desired.  Shell hasn't displayed the nastiness you'd like to see out of a right tackle and they may ultimately be his undoing, but for his current level of play, age and price tag, this extended look is well worth it as he may become the team's right tackle for years to come after being chosen in the fifth round of last season's draft.
As is often the case with the Jets, their biggest need this off-season will be quarterback, but the O-line is a close second.  How Maccagnan navigates the current deals in place in an effort to import better talent be a story line worth keeping an eye on.
*All salary data per overthecap.com
Videos
Aaron Rodgers Injury Fallout & Jets/Bills Recap