With the 6th Pick in the NFL Draft, the Jets Select …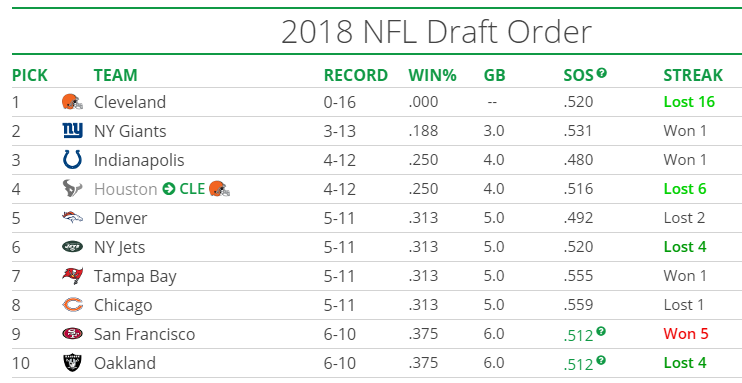 The season is officially over for the NY Jets and their draft position has been set. According to Tankathon, the NY Jets will have the 6th overall pick in the 2018 NFL draft. They lost to the Denver Broncos, but head-to-head isn't a tie-breaker for draft position, it comes down to strength of schedule. So even though the Broncos and the Jets have the same record, the Broncos will pick 5th.
Josh Rosen and Sam Darnold are rumored to be the top two picks. Do the Jets trade up? Do they select a QB from the next tier of QB's, Baker Mayfield anyone?
We know the season just ended, we will cover the draft and all the options extensively in the upcoming months. When free agency starts in March that will tip the Jets hand heavily. There will be QB options available via free agency (Kirk Cousins?) so the one thing that is known is the Jets have to address the position. Having 80 plus million in cap room means that the depth chart simply can't read McCown, Petty, Hackenberg next season.
One other thing worth mentioning is that the Jets will have three picks in the top 50. They have their own 1st and 2nd rounders and the have the Seattle's 2nd rounder from the Sheldon Richardson trade. That will give Mike Maccagnan the option to either stand still and add another potential starter or trade up.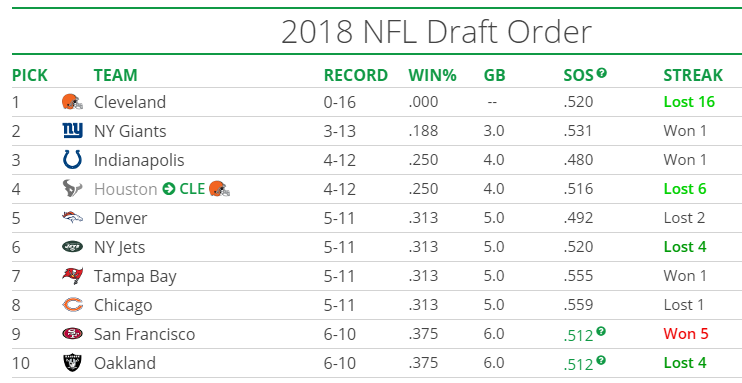 Videos
New York Jets OTA Presser Takeaways, Aaron Rodgers' Impact and Summer Delusion