When it Comes to Cousins, Some Fans Tossing Logic, Facts and Reason out the Window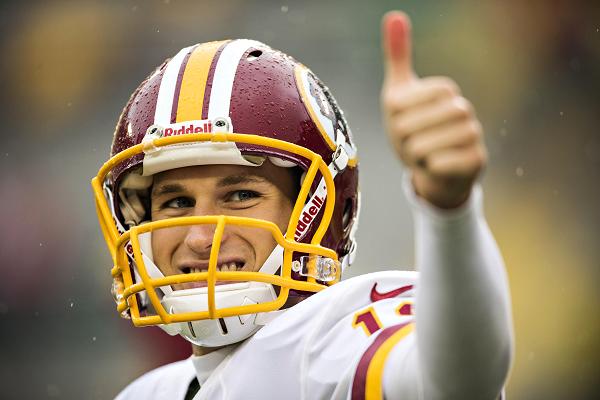 As unbelievable as it may seem, there are currently New York Jets fans who are opposed to the idea of Gang Green pursuing quarterback Kirk Cousins in free agency should he fail to come to terms on a new deal with the Washington Redskins.
Here, we'll take a look at some of the more popular questions being asked or arguments being made that are against signing Cousins, while sprinkling in a few facts to show why Cousins is in fact the way to go for Mike Maccagnan and company.
1) Why would we want another team's trash?  If his own team doesn't want him, why should we?
This is false in every possible sense of the word.  Over the course of the past two seasons, the Redskins have paid Cousins roughly $43 million and reportedly offered him a deal that included $54 million in guaranteed money.  The team even went so far as to inform their fans via twitter that they made Cousins a huge contract offer that he refused and no counter-offer was received.
#Redskins President Bruce Allen addresses Kirk Cousins contract negotiations. pic.twitter.com/l4C7fNyYTz

— Washington Redskins (@Redskins) July 17, 2017
The best move for the Redskins to make this past off-season if they actually didn't want Cousins would have been to trade him for multiple premium draft picks, but they chose to keep him on board for $23 million.  So the truth here is that the Redskins do want Cousins, but for whatever his reasons may be, at least up until now, he wants no part of them.
2) The Jets Should Draft and Develop their own quarterback
Yes, if Cousins (or another veteran QB) doesn't sign with the Jets, the draft is the way to go, and it has to be in round one.  However, this isn't John Madden football we're talking about.  The Jets and countless other teams have tried and failed in developing a quarterback.  John Elway and the Denver Broncos are expected to take a quarterback in the first round for the second time in three years.  "Draft and develop" is a hell of a lot easier to say than it is to do, right Chad Pennington, Kellen Clemens, Mark Sanchez, Geno Smith and Christian Hackenberg?
3) $30 million is too much so spend on a QB
This argument is the only one that has some validity, but there are factors that wash it out.  Cousins will want huge money, and nobody really knows if the number will be $30 million, but even if it is, the Jets have that money to spend right now with plenty of financial wiggle room to work around the deal in future seasons.  Like it or not, the market is what is. If the Jets sit this one out and Cousins gets his $30 million elsewhere and goes on to win a ring, the same fans saying he's not worth it now, will be ripping the organization for being cheap and not getting him when they had the chance.
4) Signing an aging veteran QB would be another "Same old Jets" move.
For anyone making this claim, please point me to the last time the team brought in an upper-tier 29-year old QB who is among the top rated QB's in the NFL since first becoming a starter.  This is not Neil O' Donnell, Vinny Testaverde, Brett Favre, Ryan Fitzpatrick or Josh McCown.  This is a player with a minimum of six high quality seasons of football left in him.  How could something the team has never done possibly be "same old Jets"?  There's also a very good reason why it hasn't happened, and that's because players of Cousins' stature don't become available via free agency unless there are injury concerns as was the case with Drew Brees several years ago.
5) This team is more than a quarterback away from contending
This may be the most nonsensical argument against Cousins that could possibly be brought up at this or any other point.  A fan base who will often bemoan the fact that this team never catches a break, wants to pass on what could be their biggest break ever because the team is "a mess" or "isn't' ready yet".  For anyone making that argument, look no further than this years San Francisco 49ers.  One of the few teams in the NFL who were far worse than the Jets as they sat at 1-10 through their first 11 games, the 49ers inserted Jimmy Garoppolo to their line-up and were a completely different team.  San Francisco went from averaging 18 points per game over their first 11 contests to averaging 28 points per game with Garoppolo, leading to a five-game winning streak to close out the season.  One player, because of the position he plays, made that much of a difference the second he was put on the field.  When the 49ers were 1-10, were they "ready" for an upgrade at quarterback?
5a) Still complaining about the team not being ready for a QB?
Not getting Cousins means the Jets have to take the best of what they can get with the sixth pick, or give up multiple premium picks to move up and draft the QB they want.  By signing Cousins, you address your top need and keep the sixth pick and both second-round picks.  With that being the case, you grab a Bradley Chubb at six and use the second round picks on other gaping holes such as cornerback (twice?) or an offensive tackle to challenge Kelvin Beachum and/or Brandon Shell.  What looks better, Josh Rosen and anyone added from the third round and beyond, or Cousins, Chubb, best available CBx2 or best available CB and best available OT/RB/C?
6) But he's never won anything, why should we bring in a guy who has no rings?
Newsflash.  Before winning their first championship, no QB had ever won a championship.  Sounds obvious, but that point seems to be lost on many fans when discussing quality signal callers.  If Jets fans were told the team had an opportunity to acquire Peyton Manning after the 2005 season and refused because "he'd never won anything", they'd be livid.  I'm sure Saints fans are also bummed over the fact that the team rolled the dice on Drew Brees when he'd  never won a ring.  Because a player hasn't won anything yet, doesn't mean he never will.  That thought process is beyond foolish.
7) Some of the kids in draft have a higher ceiling
There may be QB's in this draft with a higher ceiling than Cousins, but the odds of them being busts are higher than the odds of them being as good as Cousins.  If you get lucky, and they are, that quarterback is looking for a new contract in three or four years that will be close to $40 million annually, making Cousins' deal look like a bargain.
It's hard to imagine the Redskins allowing Cousins to walk away with no compensation and a tag and trade is a possibility, but this time last year it was hard to imagine them letting get to this point, but yet, here we are.
Care to join the madness of this debate in our forums?  Click the link here and sign up.
Videos
Aaron Rodgers Injury Fallout & Jets/Bills Recap