JetNation Prospect Interview; LT Brandon Parker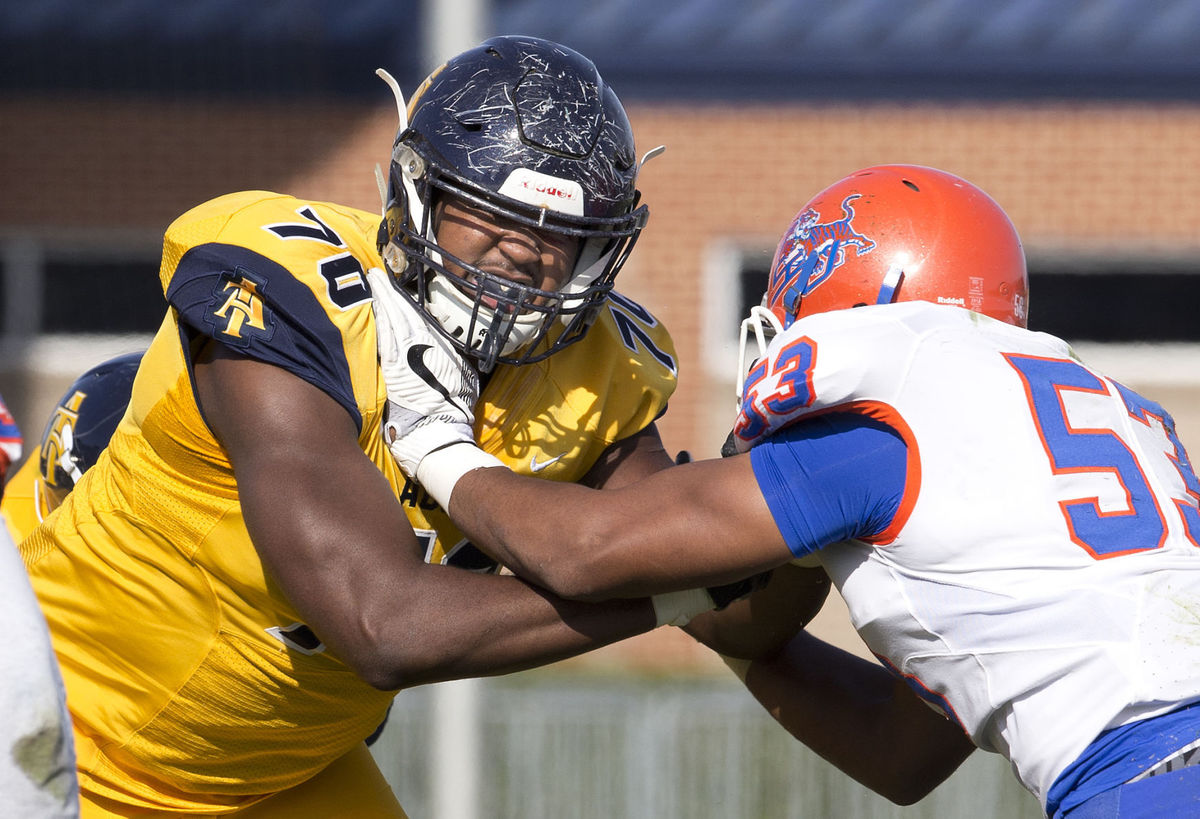 One week from today, NFL prospects will gather at Lucas Oil Stadium in Indianapolis where the Jets and every other pro team will have their top decision makers on hand to evaluate the 2018 NFL draft participants in attendance.  Armed with three picks in the top 50 (6, 37, 49) and seven picks overall, the Jets figure to be busy when the draft finally arrives.
One player who will likely be watched closely by Gang Green is left tackle Brandon Parker.  A small school player out of North Carolina A&T, Parker is an intriguing prospect who could see his stock rise with a strong showing at the combine.  Parker has prototypical attributes with surprising agility for a 6′ 7" 303 lb man.  That, plus his 85 1/4″ wing span make him an ideal fit at left tackle.
With Kelvin Beachum holding down the fort for the Jets over the next season or two at left tackle, Parker could be the ideal developmental player to bring in and work with at 1 Jets Drive.
JetNation.com recently had the chance to interview Parker regarding his experience at the Senior Bowl in Mobile and what teams have asked of him up to this point and some of his collegiate accomplishments.
JetNation:  Thanks for taking time out of your schedule to talk with us for a bit Brandon, much appreciated.
Brandon Parker: Yes sir, no problem.
JN: Some publications have you slated as a late-round pick with the chance to move up in the draft if you impress evaluators during the Senior Bowl and combine.  How do you think you helped yourself during your week in Mobile?
BP: Things went well for me.  I spoke to some scouts and coaches who told me the saw what they wanted to see and that I competed at a high level and looked like I belong which was my main mission in going to Mobile.
JN: With the Senior Bowl experience behind you and the combine upcoming, what's your plan between now and the draft to help yourself out that much more?
BP: My mind-set is to do a lot of combine-type stuff.  I have to get my shuttle time down and work on getting my bench press reps up to be able to do the things they're looking for.
GN: It seems no two sources have the same info on your height and weight, so what were your official numbers when you checked in at the Senior Bowl.
BP: They got me at 6′ 7" 303.
GN: It seems you have a lot of the measureables that teams look for in a left tackle which could mean you're more likely to stick there versus some guys who may have played left tackle in college but get asked to move inside or to right tackle because of poor agility or short wing span.  Has there been any talk of having you play anywhere other than left tackle from the teams you've spoken with?
BP: It's been different from team to team.  It's mostly been talk about me playing on the left side but a few teams have asked if I'd be comfortable playing on the right side.
JN: The most impressive note I've seen on you in terms of on-field performance is that you didn't allow a single sack during your time in college.  Is that accurate?
BP: It's not completely accurate.  I didn't allow any sacks this year, but before that it was about one sack a year on average.  I don't know where that came from or who started it because it was just the one year that I didn't allow one.
JN: One final question, Brandon.  Moving forward, what do you think is the one area where you need to show the most improvement?
BP: I think they know I'm pretty strong but one thing is that teams want me to show that I can use my length because I was blessed with long arms and show that I can keep defenders off of me in that region.
There are plenty of reasons why Parker would be a fit for the Jets both on and off the field.  Kelvin Beachum isn't a long-term answer at left tackle and they need a young player to groom behind him.  Parker was regarded as the 12th best player in Mobile by NFLdraftscout.com and pegged by Dane Brugler as a small-school player to watch.  From a character standpoint, Parker has no red flags and comes across as a very mature young man.  This also makes Parker making the type of player the Jets are trying to make a part of their organziation as they look to continue building a young nucleus of strong players on the field and in the locker room.
Once again, a big thanks  to Brandon for taking the time to allow us to get to know him better as the draft approaches.
Videos
Aaron Rodgers Injury Fallout & Jets/Bills Recap