Just Like That, Jeremy Bates is Most Important Person at 1 Jets Drive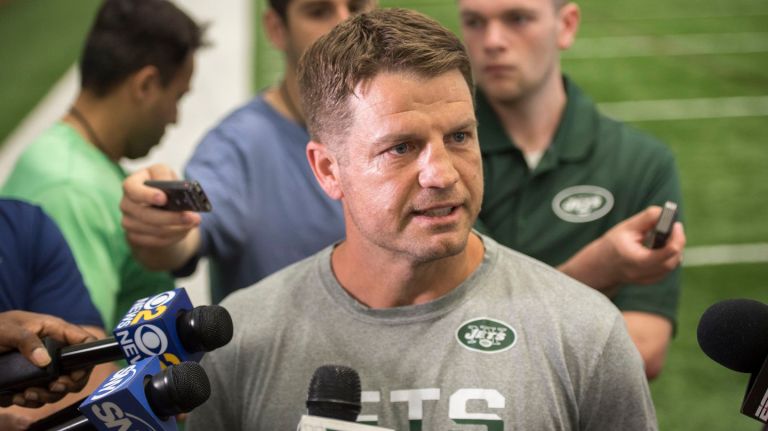 When all of the pre-draft dust settled, Mike Maccagnan's masterstroke trade with the Indianapolis Colts on St. Patrick's day allowed him to select the consensus top quarterback in the NFL draft in Sam Darnold.
Now it's time for the most important person in the building at 1 Jets Drive to get to work, and it's not the signal caller from USC, but the man tasked with helping Darnold transition to the NFL and make sure the Jets finally develop a franchise quarterback in offensive coordinator Jeremy Bates.
Every single year, highly productive and talented quarterbacks get taken early on in the draft, only to go down in flames a short time after. In a perfect world for Gang Green, Bates will be the key in preventing this from happening to the Jets once again.
A respected offensive coach, Bates has just one year of full-time duty as an NFL coordinator under his belt when he called plays for Pete Carroll in Seattle back in 2010.  That was a season that saw Seattle's offense sputter for much of the year as they averaged just 19.4 points per contest, good enough for just 23rd in the league.
Bates also called plays on a part-time basis as a member of Mike Shanahan's staff in Denver, but there's no way of knowing just how often he took on the role of play caller, making it difficult to determine just how much of a success or failure his results where in the Mile High City.
Past success or failures aside, all that matters right now is that Sam Darnold's introduction to an NFL offense, and how to execute one against an NFL defense, will be coming from Bates for the next few years. Yes, there will be mentor's such as Josh McCown along the way, but if the Jets want to develop Darnold, the aim should be continuity, and that continuity will mean Bates and Darnold should look to be in lockstep from the moment rookie mini camp kicks off in the coming weeks.
With an impressive arsenal at his disposal, Darnold won't be short on targets, but there are some concerns regarding the Jets' offensive line as they transition to a zone-heavy blocking scheme, but whether it's the good, the bad or the ugly, when Darnold has a question, Bates is the man he'll be turning to.  Whether or not Bates has the right answers is something we'll have to wait a few seasons to find out.
Videos
Aaron Rodgers Injury Fallout & Jets/Bills Recap