Darnold gets Help as Jets Select TE Christopher Herndon in Round 4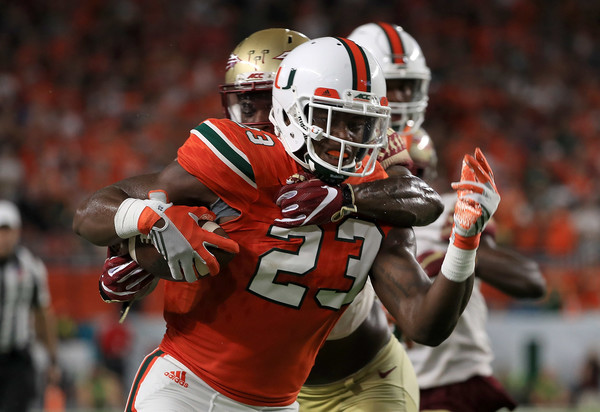 With their fourth round selection (107 overall) in the 2018 NFL draft, the Jets have added another weapon for quarterback Sam Darnold in Miami tight end Christopher Herndon, a player who Daiel Jeremiah referred to as "David Njoku light".
Per NFL.com, the breakdown on Herndon is as follows:
Player Bio
With junior David Njoku receiving much of the attention given to Hurricanes tight ends in 2016, it was easy to overlook Herndon's accomplishments. The top 20 tight end recruit out of Georgia actually started 12 of 13 games for Miami as a junior, catching 28 passes for 334 yards and two touchdowns on the year (3 receptions, 38 yards against Virginia in the team's Russell Athletic Bowl win). Herndon started 11 games his senior season (40 receptions, 477 yards, four TD), but a knee injury ended the year prematurely. The tall receiver with good quickness for his size (and willingness to block) started three times in 13 games played as a sophomore, grabbing 18 throws for 237 yards. Herndon played in only three games his true freshman year, making no receptions, but he got his most of his work late in the season.
Analysis By Lance Zierlein – NFL Analyst
Draft Projection
Rounds 4 – 5
NFL Comparison: Ricky Seals-Jones
Overview
Herndon's athletic ability will flash on tape, but his college production was pedestrian and he's still very raw. He has TE2 potential if he can improve his upper body strength and hand placement as a blocker. While Miami used him as a "run after the catch" option, NFL teams may lock in on his ability to threaten defenses on the second and third levels. Herndon has exciting athletic ability, but there is still plenty of room for improvement before he becomes a factor in the NFL.
Strengths
Long-limbed frame has room for growth
Former high school wideout with plus athletic ability for the tight end position
Good release quickness into routes
Rarely used deep but has that ability
Stride length allows for get-away separation from linebackers
Dangerous after the catch
Used as catch-and-run option on bubble screens
Can make first tackler miss or drop his pads depending on what situation calls for
Blocks with good pad level and desired hip roll at point of attack
Works to improve positioning as blocker
Blocked in-line and as H-back across formation and in space
Weaknesses
Uses knock-kneed stance in-line
Play strength doesn't always match listed size
Hands are too deliberate and wide leading to poor placement
Consistently gives away his frame as blocker
Struggles as block finisher
Goes through the motion as route-runner
Rolls into route breaks
Lethargic underneath and slow to open to his quarterback
Inconsistent hands
Slow to make hands catch-ready at times
Needs to do better job of bodying up defenders in space
Had season-ending surgery on MCL in November
Sources Tell Us

"He's a good athlete and has ability to make big plays which is what I care about. He's not a soft blocker either. He's just really raw with everything. I'm okay with that. You take those guys later and you let your coaches develop them. It's all coachable for him." — AFC team executive
You can read more about Nathan Shepherd in our forums.
Videos
Aaron Rodgers Injury Fallout & Jets/Bills Recap