Jets use back-to-back Picks in Round six to add CB and D-Lineman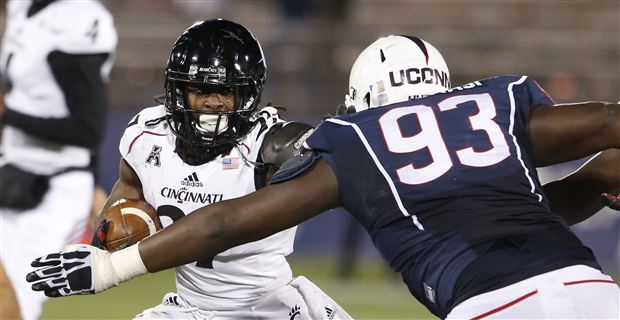 The Jets used a pair of back-to-back draft choices to address their need at slot cornerback and depth on the defensive line by drafting Tulane product Parry Nickerson who ran a 4.32 at the combine in Indianapolis, and defensive lineman Foley Fatukasi out of Connecticut.
Player bio's on Nickerson and Fatukasi who were both projected as 4th/5th round choices read as follows:
A first-team all-state pick from Louisiana, Nickerson thought he would get a chance to play for his home-state team as a true freshman. But he had to redshirt with a knee injury after just one game, despite making seven stops and forcing a fumble in that one appearance. Nickerson bounced back for his sophomore campaign, earning honorable mention All-Conference USA and first-team Freshman All-American honors by starting 11 of 12 games played, compiling 51 tackles, 2.5 for loss, six interceptions (ranking seventh in the FBS), and six pass breakups. Nickerson returned to the starting lineup for all 12 games in 2015, recording 46 stops, 3.5 for loss, and a team-leading eight pass breakups. He earned all-conference recognition once again in 2016 (second team) after intercepting four passes and returning them for 171 yards (ranked fourth in the FBS). Nickerson also deflected nine passes and posted 29 tackles on the year.
Analysis
By Lance Zierlein NFL Analyst
Draft Projection:  Rounds 4-5
NFL Comparison: Tavon Young
Overview
Nickerson is a gritty, undersized cornerback who possesses some of the more impressive ball skills in this year's draft. His lack of size and length will likely force him into the slot where his athletic ability and technique should allow him to make his mark. Nickerson is tough, smart and instinctive, but he needs to prove he can hold up as an NFL tackler. He should compete for a role as nickel cornerback early in his career.
Strengths
Competes hard in coverage
Usually plays on an island
Despite lack of size, can slow receivers with his press
Effective from press and off-man coverage
Quick feet and loose hips to match patterns from his backpedal
Ballhawk
Made plays on 28 percent of his targets over last two years
Highly instinctive and makes plays outside his area
Has burst to close and can carry long speed down the field
Tracks the deep ball like a veteran outfielder
Sinks and crowds receiver's catch space before turning to find the ball
Punches above his weight when it's time to get physical at the catch-point
Uses high-point talent and positioning to take away 50/50 throws
Weaknesses
Smallish with a thin frame
Leans on receivers after release and gets off-balance at times
Aggressive style can get him tossed around when big receivers get physical back
Gets grabby when he's knocked out of position at top of the route
Plays hard but size matchups could be a challenge on NFL level
Lacks length for optimal recovery from trail position
Ducks head and throws his shoulder into ball carrier's legs to tackle over wrapping up
Fatukasi, a projected mid-round pick is a two-gap lineman was described as follows:
Player Bio
Fatukasi (whose full name is pronounced foe-luh-RUN-soo faa-too-KAH-see) is a load in the middle that can take on multiple blockers and push through to the quarterback. "Foley" was the first player from his Long Island, New York high school to immediately enroll at a major college to play football. After a redshirt season, Fatukasi started three of 12 games played in 2014, making 31 tackles, three for loss. He garnered honorable mention All-American Athletic Conference honors as a sophomore, starting 11 of 13 games and being credited with 50 tackles, eight for loss, seven sacks, and four forced fumbles. He continued to excel as a junior, starting all 12 games with 43 stops and 2.5 sacks. Fatukasi did not earn all-conference notice from AAC coaches in 2017, but still started all 21 games for the Huskies (45 tackles, 7.5 for loss, four sacks).
Analysis
Draft Projection: Round 4
NFL Comparison: Abry Jones
Overview
Fatukasi is raw but talented and offers a well-built, versatile defender who can be played at a variety of positions by teams who employ varied defensive fronts. He needs to improve at the point of attack, but that could happen if he's asked to slant less and improves technique as a two-gapper. Fatukasi's flashes of power and disruption could be foreshadowing a future as a quality NFL starter with the ability to play on passing downs if he can reach his potential.
Strengths
Dense, well-proportioned frame with good muscle mass
Fires out of his stance with good pad level and initial quickness when working in the gaps
Has brute power to challenge a blocker's edges and constrict rush lanes
Has two-gap potential, with more technique work
Able to rock interior blockers with heavy, punishing hands in his pass rush
Uses hands and leg drive to cave the pocket and force quarterbacks to move
Flashed a fluid spin move that could have some legs on next level
Plays with energy and vigor on every snap
Raw but talented
Has necessary size and strength to play play nose or three-technique in a 4-3 and defensive end in a 3-4
Weaknesses
Plays with some tightness in his knees
Production as run defender is average
Lateral movement is nothing special
Has a hard time staying ahead of blocks when plays flow outside
Inconsistent in recognition of blocking schemes
Lacks feel for down blocks
Needs to work with more consistent technique against double teams to improve anchor
Gets caught up with fist fights in front of him rather than controlling point of attack with length and power
Shed timing is below average
Loses balance when he plays out of control
Pass rush would improve with greater focus
Videos
NY Jets Phase 3 OTAs, Expectations and a Minor Calf Tweak with Greg Renoff