Breaking Down the Jets Tight Ends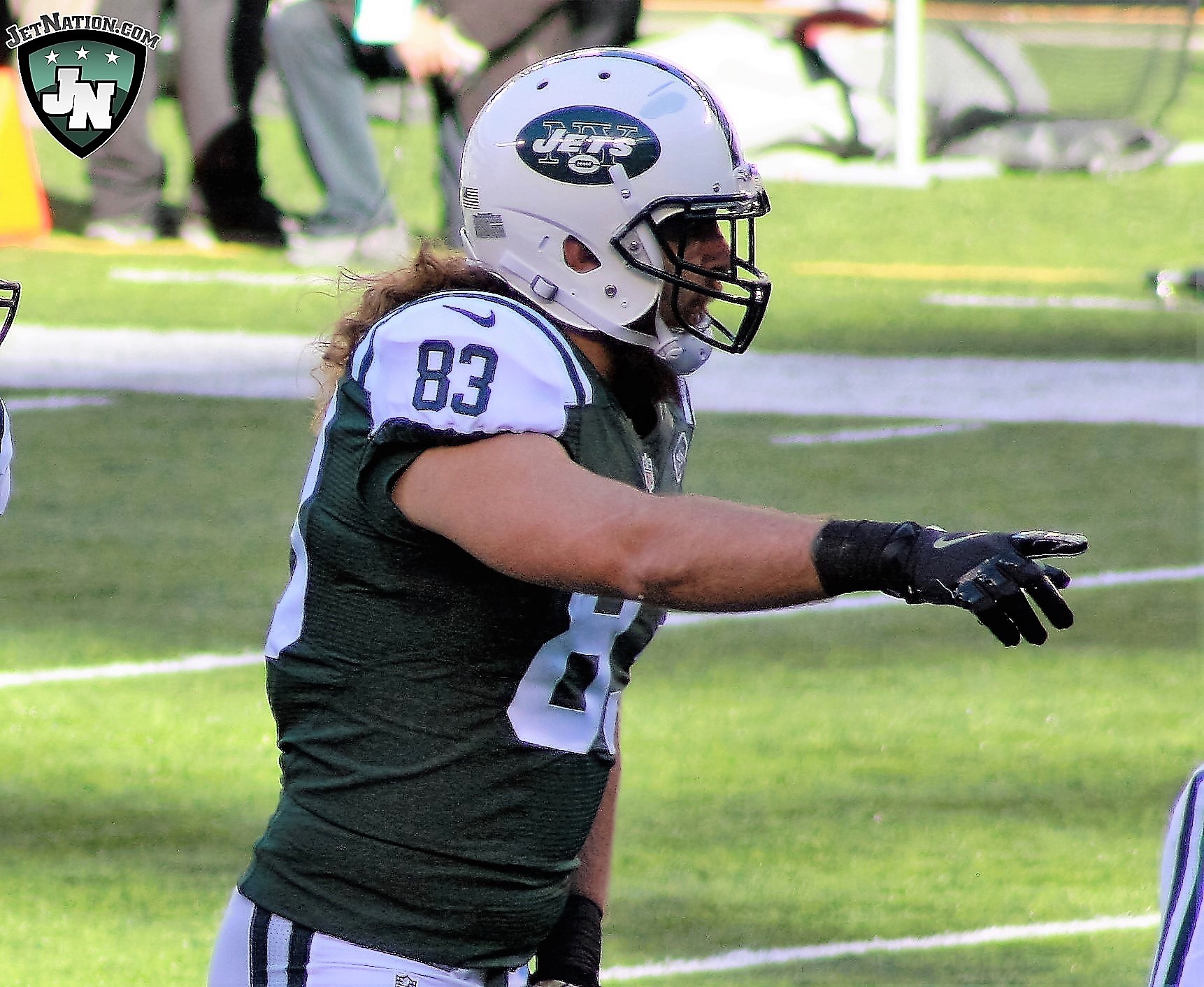 With the Jets having selected Miami Tight End, Chris Herndon in the fourth-round of the draft in addition to their other offseason moves, they've managed to turn a weakness into a solid group of tight ends. The free-agent acquisitions of Clive Walford and Bucky Hodges, paired with incumbents Jordan Leggett, Neal Sterling, and Eric Tomlinson are certainly not flashy but they can be serviceable at the very least, and very good if things break the right way.
Of course, at least two of the current tight ends won't make the final 53-man roster as Gang Green will probably opt to keep three or four of the six.
After letting Austin Seferian-Jenkins leave via free agency the Jets had a hole to fill at the position, but not as big of a hole as some might expect. The loss of Jenkins hurts but he didn't exactly set the world on fire in 2017 hauling in 50 receptions for 357 yards and 3 touchdowns. Although, as most Jets fans know, Seferian-Jenkins' TD total should have been a little higher. Even still, he was still the Jets' most talented tight end even though he saw a significant drop in production later in the year after getting off to a hot start.
Can the Jets current crop of tight ends replace Jenkins' 2017 production? Let's take a look at what they bring to the table.
Chris Herndon:
Drafted in the fourth-round of last week's draft, Herndon offers the most potential of the Jets current group of tight ends. His stats don't exactly jump off the page as he totaled 40 receptions, 477 yards, and 4 touchdowns in 11 games with Miami last season, but he is a good pass-catching tight end and can also contribute as a blocker. His 2017 was cut short due to a knee injury which is why he did not participate in the NFL combine.
Some feel that had Herndon been able to take part in the combine his draft stock would've been higher and he could have been a third-round pick. In that respect, the Jets may have gotten good value in round four.
Herndon has soft hands, is a very good route-runner, and excels at running after the catch. Although he must continue to work on his blocking, he's still only 22-years-old and has some learning to do before he can be a legitimate two-way threat for the Jets. However, if he and Sam Darnold can build a rapport they could be an excellent tandem for Gang Green in the years to come.
Bucky Hodges:
Hodges was a sixth-round pick by Minnesota in the 2017 draft but was cut by the Vikings before the season started. He was on Carolina's practice squad for a few weeks before they released him in October. Hodges jas yet to play in a regular season game in the NFL. He posted great numbers in his 3 years at Virginia Tech totaling 133 receptions, 1747 yards, and 20 touchdowns.
He stands tall at 6'6″ 257 pounds so he certainly has the size to play the position, but needs to work on his route-running and blocking skills to fully maximize his potential. His frame would certainly offer a big target in the red zone where he can be a threat for New York, but he is probably a long-shot to make the team with all of the other depth added this offseason.
Jordan Leggett: 
Leggett was the Jets fifth-round selection in last year's draft. The team had hoped that he would step in and be a pass-catcher alongside Seferian-Jenkins before he injured his knee. After showing some promise in the 2017 preseason (5 receptions, 64 yards) that knee injury ended his rookie season. He was a dangerous receiving threat during his days at Clemson catching 86 passes for 1261 and 15 touchdowns in 2015 and 2016 combined.
Leggett can still be a productive player in 2018, but he must prove that he can stay healthy. He can provide a big bodied target at 6'5″ catching passes in the middle of the field for the Jets this season. Drafted in back to back seasons, Leggett and Herndon will get every opportunity to win the starting tight end job. Both can line up and run routes out of the slot but must improve their blocking if they want to be more classic, in-line tight ends.
Neal Sterling:
Fourth-year tight end Neal Sterling was brought back this offseason as an exclusive rights free agent. He was a former wide receiver in College at Monmouth and he does have some value in the passing game. Sterling was the Jaguars seventh-round pick in the 2015 draft but was released before the 2017 season began. In terms of production, he did not do much for the Jets last season in the 11 games that he appeared in.
However, he did turn some heads in the final game of the season against New England, hauling in 5 catches for 74 yards on 8 targets. Although he is not known to be a great blocker, he also isn't a liability. Sterling is probably the most likely tight end candidate to be released when the team makes their final roster cuts to get down to 53.
Eric Tomlinson:
Tomlinson has a massive frame at 6'6″ 263 pounds. Unfortunately being that big of a target doesn't mean that he offers much in the passing game. His game is more centered around being a blocking tight end which is exactly what the Jets need out of him. With receiving tight ends in Herndon and Leggett they don't need Tomlinson to be a big factor as a receiver.
Last season he played in 14 games, catching 8 passes for 121 yards and 1 touchdown, never having more than 2 receptions in a game. He played 411 snaps which were second on the team at tight end behind Seferian-Jenkins. Tomlinson is the best blocking TE on the team and can also move around the formation to occasionally line up at fullback. He should be a lock to make the team for that alone.
Clive Walford:
Walford is a former 3rd round pick of the Raiders in the 2015 draft. He showed some promise in his rookie year finishing with 28 catches, 329 yards, and 3 touchdowns. In 2016, those numbers were almost identical as he totaled 33 catches, 359 yards, and 3 touchdowns.
Last season he was a complete disappointment as he only played 130 snaps for Oakland which was just under 13% of offensive snaps. He lost playing time to fellow tight ends Jared Cook and Lee Smith.  Walford tallied just 9 catches for 80 yards in 2017.
Walford is still young as he's only 26, and he does offer some upside as he can be both a receiving and blocking tight end. If he can match what he did in 2015/2016 there wouldn't be much of a drop off from the numbers that Jenkins posted last season (50/357/3).
Herndon and Leggett are virtual locks to make the team as they are GM Mike Maccagnan's "guys", especially Herndon since he was just drafted. Tomlinson offers the most value as an in-line blocker/swing tight end so he should be on the final 53 man roster as well.
If the Jets opt to carry a fourth tight end, Walford should make the final cut. He showed flashes that he belongs in the league during his early years with Oakland and has proven that he can stretch the field.
Hodges and Sterling are both still young but time will tell if they can develop and take their game to the next level. With a strong showing in training camp and preseason action they can make this a tough decision for Jets brass, but at the end of the day, the two are likley to end up on the outside looking in.
Gang Green will be expecting their young draft picks to take a step forward and blossom into solid contributors for the team going forward. Maccagnan has given the position new life by drafting players with a ton of upside, and low risk/high reward signings. Now they just need to hope that it pans out and the potential rewards come to fruition..
Videos
NY Jets Phase 3 OTAs, Expectations and a Minor Calf Tweak with Greg Renoff