Three Remaining Free Agents who Could Still Help Gang Green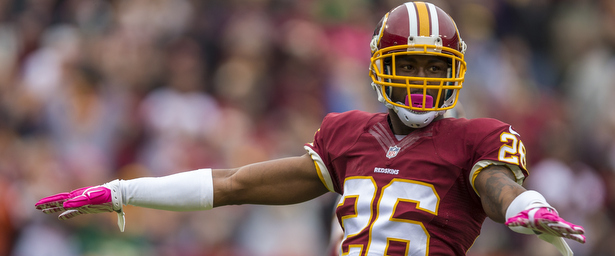 Jets General Manager Mike Maccagnan has signed plenty of quality veteran players this off-season in an effort to bolster his roster just one season after tearing it all down.  Cornerback Trumaine Johnson, linebacker Avery Williamson and center Spencer long top the list of key additions.
Even having made those moves, there are still a few quality free agents on the market who would quickly upgrade Maccagnan's roster if he were to pick up the phone and make a call.  Here are the top three in our view:
CB Bashaud Breeland: You can never have enough good cornerbacks.  Breeland signed a deal with the Carolina Panthers in the opening days of free agency but had it voided when he failed a physical with the team.  Reports claimed that a failed physical was due to an infection in Breeland's foot that developed after being struck with a golf cart while on vacation in the Dominican Republic.  Breeland plays one of the most important positions in the game, is only 26 years old, and has proven he can play at a high level.  Somebody is going to add a young, very talented cornerback before the season kicks off.  Why not the Jets?
TE Coby Fleener: Fleener is a new addition to free agency when he became a New Orleans cap casualty today.  Fleener signed a $28 million contract with the Saints two seasons ago, but hasn't been featured in their offense the way he was with the Colts prior moving on to New Orleans.  Fleener would immediately become the to tight end on the Jets roster.  Prior to missing significant time with a concussion last season, Fleener had averaged 626 yards and 6 TD's over the previous four years.
OLB/DE Junior Galette: At 30 years old, Galette wouldn't fit with the current youth movement at 1 Jets Drive, but with a gaping hole on the edge, Galette would become the Jets' best pass rusher.  Galette didn't start any games for the Redskins in 2017 and had just 3 sacks in a back-up role.  During the previous two seasons however, he logged 22 sacks in 28 starts for the Saints.
No longer rolling in cash as they were earlier this off-season when they had close to $100 million to spend, Maccagnan and company are down to roughly $20 million to work with, but with close to $100 million again next year, targets could be signed with a manageable salary in 2018, with a big bump in salary next season.
Videos
New York Jets OTA Presser Takeaways, Aaron Rodgers' Impact and Summer Delusion