Jets Hope Going Small in Draft has big Impact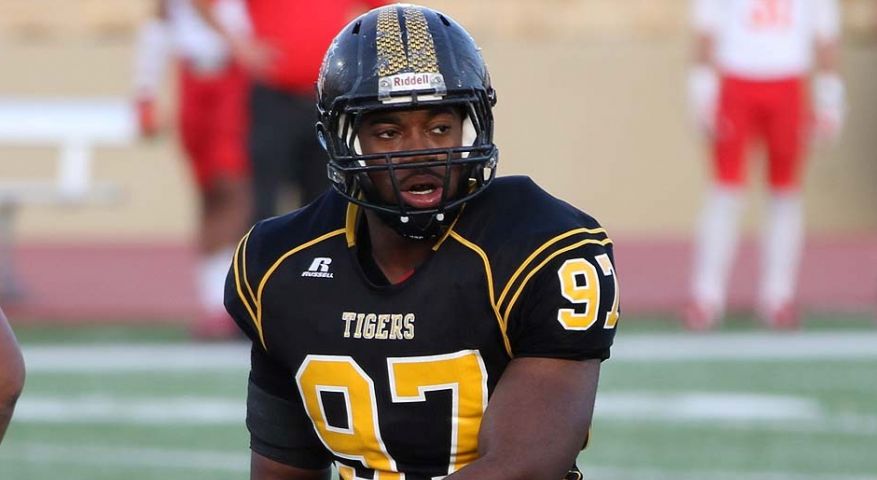 In his first three years as Jets GM, Mike Maccagnan has made a habit out of drafting players from the Power 5 conferences. His only Division II pick through three drafts has been linebacker Dylan Donahue out of West Georgia. In 2018 Jets hierarchy went outside of the box and took a chance on a few more players from smaller schools.
Four of their six selections were spent on small program, under the radar players. Nathan Shepherd (Fort Hays St.), Parry Nickerson (Tulane), Folorunso Fatukasi (UConn), and Trenton Cannon (Virginia St.) will all be looking to prove that they belong in the National Football League.
As most fans know, Division I players from the top conferences play against some of the best Collegiate competition. Although the jump to the NFL is still a big difference for them, the gap is not as wide as it is coming from a lower level DI or DII school. But just because these prospects are coming from a smaller program doesn't mean that they can't end up being quality NFL players.
Gang Green's talented youngsters may need more time to develop because of the jump in competition, but many successful NFL players have made the transition from Division II schools to the pros. Cornerbacks Malcolm Butler and Janoris Jenkins, and defensive end William Hayes have had solid pro careers just to name a few. However, the odds are still stacked against them.
Only a handful of prospects have ever been drafted out of Fort Hays and Virginia State. It will be a bit of a culture shock for the likes of Shepherd and Cannon to acclimate to the level of competition in the NFL. Of course, all players are different so it remains to be seen how their game will end up translating to the pros.
Shepherd was the first Division II prospect to be selected in this year's draft and the first player to be drafted out of Fort Hays since 1987. While some thought he was a reach in the third-round, the Jets hope that the 6'4″ 315-pound defensive lineman will let his play answer those questions.
He was almost unblockable in college with 27 tackles for a loss and 10 sacks from 2015-2017. He'll find NFL offensive lineman much more difficult to shed though, especially coming from a DII college. Shepherd has a high motor and does not take any plays off. If he puts forth the same effort and intensity that he has his whole career, he should end up being a solid player for the Jets in the years to come.
Cannon is a speedy running back that made a living out of making opposing defenders miss in the open field during his days at Virginia State. Not only can he be a change of pace back for Gang Green, but he can also play a key role on special teams returning kicks.
However, he has a small frame at 5'11" 185-pounds and may be in for a rude awakening in the NFL. Defenders will be stronger and faster than his competition was with Virginia St, but he was still worth taking a flier on with a sixth-round pick.
Parry Nickerson and Folorunso Fatukasi came out of Tulane and UConn respectively. Both are Division I schools that play in the American Athletic Conference, which isn't exactly the highest level of competition. Players from these schools such as running back Matt Forte and safety Tyvon Branch have actually gone on to have successful careers in the NFL which is more than can be said for Fort Hays and Virginia.
Nickerson and Fatukasi's transitions to the pros should be a little smoother than their fellow draft mates. Nickerson should have no trouble keeping up with opposing receivers with his blazing speed, but he'll find the receivers in the NFL are light-years ahead of his opposition at Tulane. He must also improve his tackling, especially when he is matched up against much bigger receivers or tight ends.
Fatukasi was also a disruptive force along the defensive line at the collegiate level like Shepherd was. He racked up 45 tackles, 7.5 for a loss, and 4 sacks in 2017 at Connecticut. He has a massive frame at 6'4″ 318-pounds and was often double-teamed because of his size and strength. However, he won't be seeing much of that in the NFL until he can prove otherwise. Fatukasi, like Shepherd, will quickly learn that NFL offensive lineman will be much more difficult to move than his competition in the AAC.
Mike Maccagnan identified his targets and made the moves that he had to make to get them, regardless of their school background. He hasn't had much middle round draft success with big school players so he will hope that he has better luck with this year's draft crop, finding some diamonds in the rough. But it can be a tall task to rely on and to try to build a team with small school players.
The odds are slim that his late round picks will be able to contribute immediately as they are projects that will need time to flourish. However, even though they may not be ready to help the team in year one, they should be able to take the time to adapt to such a big jump to the pros. It'll be up to the Jets coaching staff to develop their talented players into starters in the NFL.
Videos
Aaron Rodgers Injury Fallout & Jets/Bills Recap