Jets Still Tight-Lipped on Terrelle Pryor; Who Steps up if he Stays Down?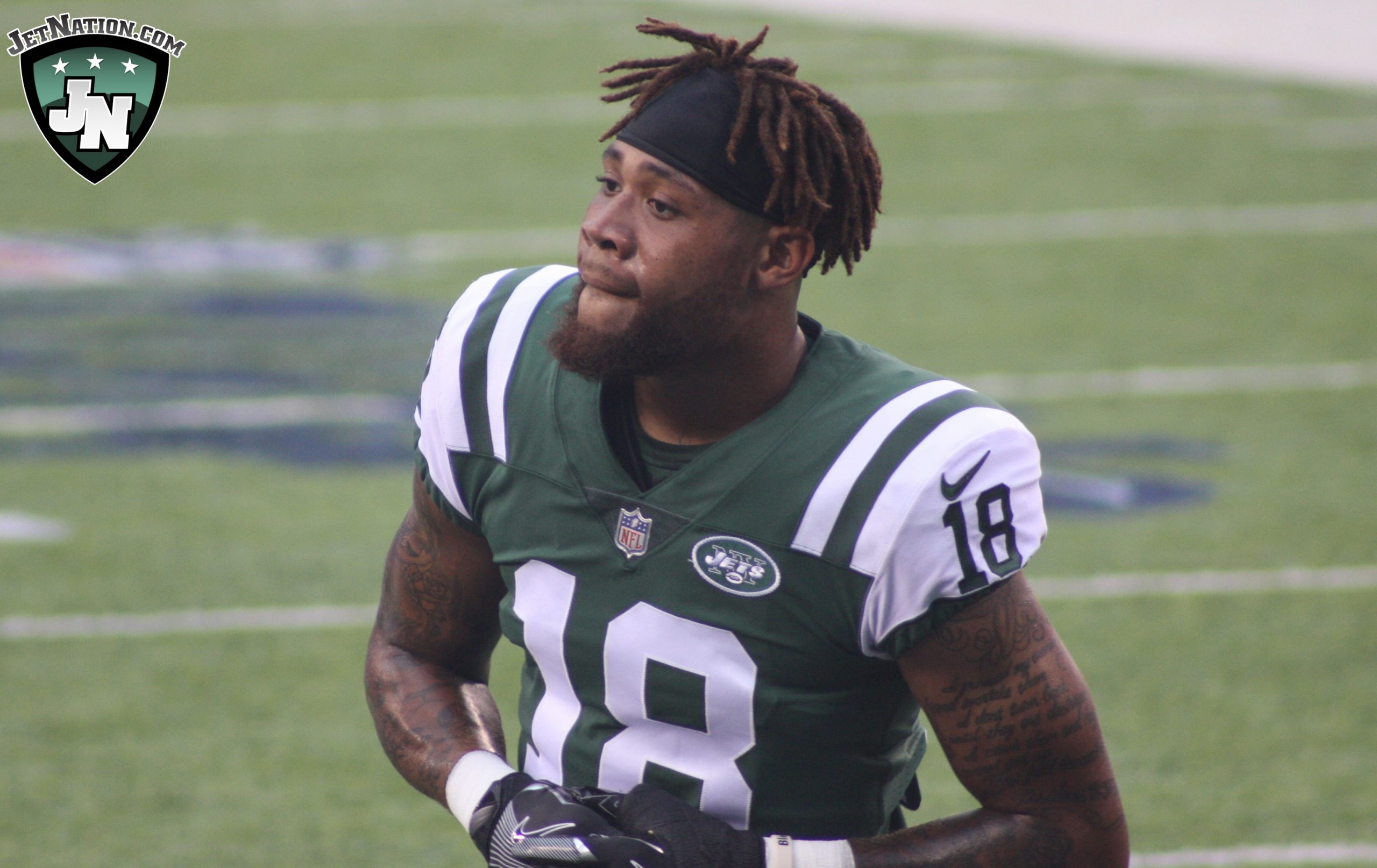 By Clayton Smarslok
With two completed OTA sessions with open access to the media, some of the big headlines thus far have included Sam Darnold's increased work with the starters, Christian Hackenberg being dealt to Oakland, Trumaine Johnson picking off Josh McCown and Nathan Shepherd getting plenty of run with the starters.
However, there's one story that isn't being talked about at great length and that's wide receiver Terrelle Pryor missing both sessions. Although it doesn't seem to be the same injury that bothered him all of last season according to Todd Bowles, it's clear that Pryor sustained an injury to his ankle.  What the injury is, how long he'll be out and where he is in his recovery is all being kept under wraps.
It's still only May, but right now it seems that Robby Anderson, Quincy Enunwa and Jermaine Kearse are all ahead of Pryor on the depth chart as we are approaching summer. But if Pryor goes down for an extended period of time, who will Todd Bowles be looking towards to step up?
Chad Hansen:
Hansen is entering his second season after being selected in the 4th round of the 2017 draft. Coming out of Cal he was expected to need some seasoning, particularly as a route runner. He was seen as a legitimate deep threat option but was never able to connect with either quarterback last season. While it did take some time for him to see some action, he was able to get some reps by the end of the season, lining up for just roughly 55% of the offensive snaps from week 8 onward. In his limited snaps, Hansen was targeted just 18 times, pulling in 9 receptions for 94 yards.
This off-season he will need to show improvement in creating separation with more crisp route running. He lacks the ideal quickness in and out of cuts to separate, so he will need to continue to make difficult catches in traffic and find other ways to create space. 
Thus far It seems that the coaching staff really likes Hansen's development. With Pryor being seen as a big body and a threat both deep and in the red zone, one would tend to think that Hansen would be the logical choice to be the one to get the first opportunity. Also keep in mind that while he was cleared of any charges by the legal system, Robby Anderson could still be facing disciplinary action from the league due to multiple arrests.  However, anything more than one game at this point would come as a surprise.
While it's only OTA's, it is nice to see several Jets scribes raving about Hansen, including Dennis Waszak Jr. of the Associated Press:
Chad Hansen having another noticeably good OTA practice. #Jets

— Dennis Waszak Jr. (@DWAZ73) May 29, 2018
Ardarius Stewart:
Stewart was the first of their back-to-back wide receiver selections in last year's draft, being taken in the third round. After Enunwa went down last year, many hoped Stewart would take over in the slot. He is a tough, physical runner when he gets the ball in his hands who can create some yards after the catch. However, throughout the season the coaching staff seemed to be more comfortable with Jeremy Kerley, limiting the playing time and looks for Stewart. Last season he only touched the ball 13 times, 7 of those being rushing attempts. His 6 receptions went for 82 yards and that includes one that went for 46 in week 17.
Both Steward and Hansen will need to show the ability to get open more consistently in the intermediate part of the field. Not only that, but he will need to show that he can actually provide what the Jets expected out of him, yards after the catch, only generating 8 total yards last year.
Looking at Stewart's playing style, he may get an opportunity to be the 4th receiver with Pryor down but not necessarily taking Pryor's role. These are two completely different players so it's not a guarantee that this injury will open up more reps for the Alabama product. However, if Maccagnan has shown anything it's that he will make sure his draft picks get their chances.
Devin Smith:
Devin Smith was the 37th pick in the 2015 draft and only has 10 career catches, yet still has a slim chance entering his fourth season. His first three years didn't go according to plan to say the least. His rookie season he suffered broken ribs during the summer and then a torn ACL in week 14, causing him to miss the rest of the year and most of the 2016 season. Upon his return last summer, it was expected that he would battle for a prominent role in 2017. Unfortunately he suffered yet another ACL tear, causing him to miss the entirety of the 2017 season. Pretty sure it's not a stretch to say luck has not been on his side.
Now in a contract year, he has everything on the line. Smith possessed great straight line speed to take the top off the defense and the ability to win contested balls deep despite a smaller stature.  Will that still be the case with a pair of torn ACL's in the books? Some will say he never showed anything in 2015 but Ryan Fitzpatrick threw a very poor deep ball which never fit Smith's strengths. With Josh McCown showing consistency with the deep ball with Anderson last year and Darnold showing the ability to make plays down the field as well, one should expect this to be a much better situation for Smith if he still has that fifth gear.
Obviously Smith has a lot riding on this summer and is looking up at quite a few receivers on the depth chart. In order to move up, he needs to prove his knees are no longer a concern and can stay healthy. Then show that he still has the skills that made them use a second round pick on him just a couple years ago and build off of that. It will still be tough given the number of receivers currently on the roster, but with Pryor missing time, he just may get the opportunity he so badly needed to prove his worth.
Videos
Aaron Rodgers Injury Fallout & Jets/Bills Recap