Enunwa Quick to Defend Offense in Face of Doubters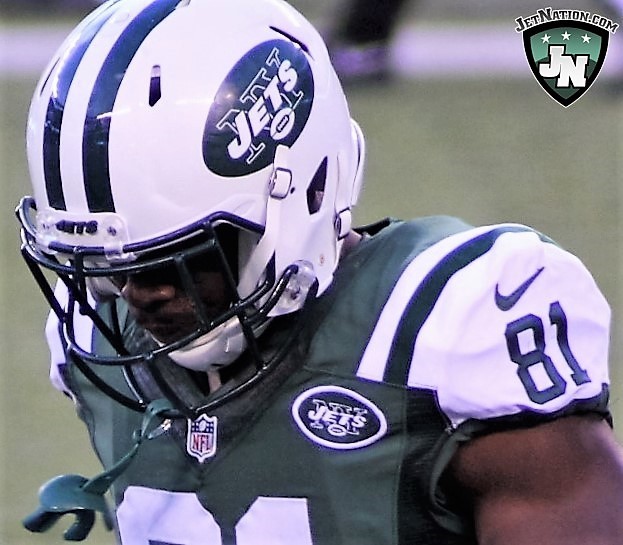 While Jamal Adams' heavy presence on twitter may rub some fans the wrong way, you'd be hard pressed to find a true Jets fan who had any issue with wide receiver Quincy Enunwa coming to the defense of his teammates following some criticism of the team's offense.
In a tweet from former NFL quarterback Dan Orlovsky, the ex-Lion voiced his concerns over the development of rookie quarterback Sam Darnold due to the Jets lack of proven targets in the Jets huddle, asking who Darnold was going to throw to.
Here's my fear with Darnold. No team in the NFL has less NFL catches on their roster from the starting 2 WR's and starting TE then the Jets. Who's he honestly gonna throw to?? Hard to put a rook in that kind of situation.
Allen just worries me unless Dabol protects his mind

— Dan Orlovsky (@danorlovsky7) June 21, 2018
It was at that point that Enunwa chimed in and reminded Orlovsky of the fact the Jets are the only team in the NFL with four 800+ yard receivers.
No other team has 4 different receivers with an 800+ yd season under their belt. But we choose not to talk about that… 🤷🏾‍♂️ https://t.co/S6LuqwrfbD

— Quincy Enunwa (@QuincyEnunwa) June 21, 2018
With all of the talk we hear in regards to the importance of quality depth and the game's evolution to a pass-heavy league, how is it that a team with four receivers who have put up those numbers is regarded by anyone as a team whose quarterback won't have anyone to throw to?
This is a point that hasn't been brought up nearly enough in talking about the potential for the Jets offense in 2018 but we took the chance to raise this exact point just a few weeks ago.
The Jets have four young WRs who have posted at least 800 yds within the last two seasons in Anderson, Kearse, Enunwa and Pryor. How many teams have that king of established depth? Can't be many. Or any?

— Glenn Naughton (@AceFan23) June 3, 2018
Sometimes a cursory glance at the stat sheet isn't enough, and it was nice to see Enunwa step in and show that despite the opinions of the doubters and a small minority of Jets "fans",this is a team that should have more than enough options for Darnold to choose from.
Even in looking beyond the receivers, the presence of  Enunwa, Robby Anderson, Terrelle Pryor and Jermaine Kearse should do wonders in freeing things up underneath for whomever the Jets plug in at tight end.  Add to that the fact that they have a pair of running backs in Bilal Powell and Elijah McGuire who both possess excellent hands out of the backfield and there will be plenty of targets, but it'll be up to Darnold to hit them.
Videos
Aaron Rodgers Injury Fallout & Jets/Bills Recap