Why J.J. Wilcox Offers Upgrade Over Rontez Miles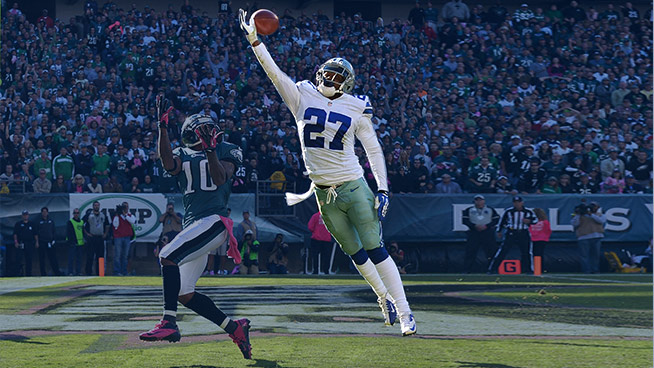 Free agent safety J.J. Wilcox was meeting with the San Francisco 49ers when he received a call that the Jets were interested in his services. He then left the 49ers facility without a contract and quickly signed a 1 year deal worth $1.25 million with New York. His reasoning per Rich Cimini of ESPN was, "I always wanted to play for Coach Bowles. I had the opportunity and I took it."
Yes, I could see that happening. Bowles used three-safety packages a handful of plays in each game last season. As always, it depends on matchups. Wilcox told me one of the reasons he signed is because of their creativity on D. https://t.co/4mSjbYAR5P

— Rich Cimini (@RichCimini) June 24, 2018
Words that most are not accustomed to hearing in recent years when it comes to playing for the Jets. A player actually wanted to join the Green & White to play for Todd Bowles and the ascending Jets rather than the 49ers who are also well on their way.
Wilcox isn't exactly a big-ticket free agent, but he provides solid depth at the safety position. Depth that the Jets needed after losing special teams ace and fan favorite Rontez Miles for a few months to a knee injury.
Wilcox has played in 70 games over 5 years in the NFL starting 39 of them. Although his numbers don't flash he has still been a solid safety in the league. He's totaled 226 tackles, 2 forced fumbles, 6 interceptions, and 16 passes defended since 2013. 2014 was by far his best season as he started all 16 games, racking up 81 tackles, 3 interceptions, and defended 5 passes.
In comparison, Miles has 71 tackles from 2015-2017 to go along with 1 forced fumble and 1 interception. Miles isn't close to a full-time player having played in only 124 defensive snaps for the Jets last season which was roughly 11% of snaps. He is, however, a very good special teams player as he played in roughly 69% of snaps and led the Jets in tackles with 16 in 2017.
When Miles is actually on the field in certain defensive packages he is better suited at playing down in the box and stopping the run. He has been known to deliver some big hits to opposing running backs, wide receivers, and tight ends, but he is a huge liability in coverage when he's asked to cover in space. He is not nearly fast enough to cover running backs out of the backfield or pass-catchers in the open field and he's often left flat-footed, trailing behind the play.
That being said he was still a solid backup and situational safety for Gang Green. The addition of Wilcox not only softens the blow, but he also brings more to the table than Miles.
Wilcox is arguably a much better all-around safety than Miles so the Jets have actually upgraded behind their top two safeties in Jamal Adams and Marcus Maye. Wilcox is much more versatile and offers better cover skills than Miles.
In years past he's mostly played the deep middle of the field, but he's proven that he can move around the defense playing free or strong safety. He also has experience playing in the box and in man/zone coverage. He is a good special teams player as he has served as a punt gunner and covered kickoffs, but Miles probably tops him in that aspect of his game.
Todd Bowles is known to use three-safety packages which is where Wilcox should fit in. He is a sure tackler and is also known to be a big-hitter so he can be useful in run support. Although he does have experience in the nickel, he does not exactly excel in man coverage, but he is still much better than Miles as a cover defensive back.
Wilcox can pick up receivers in zone coverage and should be serviceable in the dime package where he may see some time on the field. Still, Wilcox doesn't figure to be much more than a rotational/situational player. His playing time will vary depending on getting on the field in certain packages and the health of Maye and Adams.
That's all the Jets can really ask out of Wilcox for now. With their young safeties dominating the snaps and playing time, Wilcox will get playing time but he should not be on the field a ton. while offering a veteran presence with plenty of snaps under his belt to work with the tandem of Adams and Maye. One way or another, Wilcox should have a role with the Jets this season.
A knowledgeable, versatile safety that has coverage skills, can help in run support, and is a solid tackler will be a welcome addition to a team that can use all the depth they can get in the secondary.
Videos
Aaron Rodgers Injury Fallout & Jets/Bills Recap