Jets Backs Stand out on Day 1 of Training Camp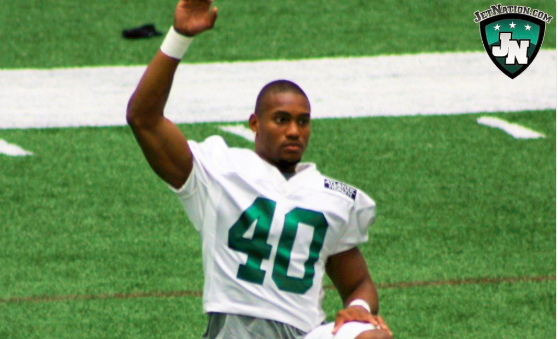 While Sam Darnold being a no-show at day one of training camp 2018 was on everyone's mind, there was still a practice to be held indoors at Florham Park to get the 2018 season rolling.  As per usual, there were some standout performers (Nathan Shepherd, Charles Johnson, Avery Williamson and Chris Herndon) and a few players who struggled (Teddy Bridgewater, Eric Tomlinson, Jonah Trinnaman,) but one group stood out for multiple reasons and that was the running backs.
Throughout the session, the group showed off several attributes that indicate just how versatile they can be on offense, giving offensive coordinator Jeremy Bates plenty to work with.
One of the more surprising aspects of the session was the amount of work that was given to rookie running back Trenton Cannon, who consistently showed off excellent speed.  Cannon was able to get to the edge on several plays and got outside on one run that looked to be "stuffed" before spinning off of the pile and bouncing it to the outside.  Again, keeping in mind that the defense isn't tackling in these sessions, Cannon appears to be as fast and explosive as advertised.  A bit of patience will help him as he comes along and he's still raw, but the staff got an extended look at him today.
Isaiah Crowell looked about as good as you would expect based on his body of work with the Browns, and perhaps it's the fact that it's day one, but there were several plays on which Crowell showed more speed than expected.
Free agent pick up Thomas Rawls looked quick and decisive when hitting the hole, and also looked very fluid in catching the ball out of the backfield on a pair of swing passes.  Rawls is a long shot to make the roster, but if he regains the form he showed back in 2015 when he battered his way to a 5.6 yards per carry average in Seattle, the Jets will have a nice problem on their hands.
Of course Bilal Powell was exactly what he's always been.  He showed off some excellent wiggle evading defenders on some big runs up the middle and while Eli McGuire left practice with what looked to be an ankle injury, he too looked good catching the ball out of the backfield while showing off some nifty moves when cutting against the grain.
Poor offensive line play definitely held McGuire back last season and former coordinator John Morton should have given McGuire more opportunities as a pass catcher as he may have the best hands of any back on the team.
All in all, an impressive start to the 2018 season.  Now if the Jets could just get the right guy handing the ball off to them….
Videos
NY Jets Phase 3 OTAs, Expectations and a Minor Calf Tweak with Greg Renoff