Todd Bowles on Sam Darnold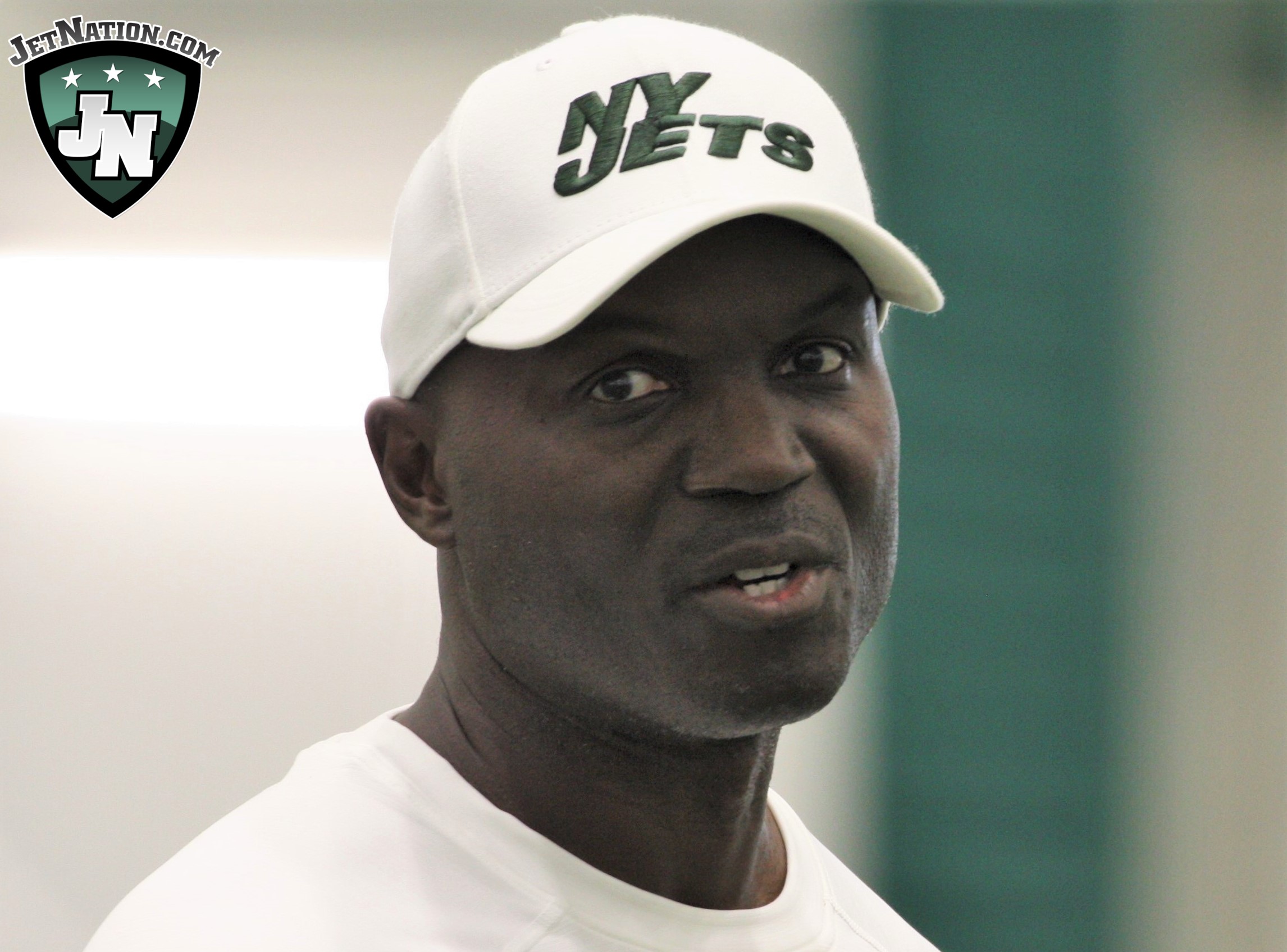 The hold out is over and Sam Darnold's first practice is in the books. Here is what head coach Todd Bowles had to say after practice on Monday.
On Sam Darnold being at practice for the first time…
He was late. That's about it. First day of camp for him, it looked like the first day of camp. He'll get some studying in and he'll catch up.
On Darnold having enough practice time to play in first preseason game…
He had enough time to run out here and practice in his first practice. So, he will probably have enough time to play in the preseason game. We'll see what he learns, and we'll see what he applies, and we'll go from there.
On how important it was for Darnold to get to camp…
You always want everybody in camp on time but it's a part of the business. Obviously, you understand the ramifications when you aren't in camp and when you get into camp you just got to put your head down and work and he'll do that.
On Darnold possibly having a specific date to be at camp in order to play in first pre-season game…
Like I said, I wasn't worrying about that, I was just coaching the guys that were here. He gets here when he gets here, and circumstances make you play or coach accordingly and we did that. But he got here, so we'll get him down and get him ready to play and we'll go from there.
On how much time it will take Darnold to get up to speed…
Well we'll see, it'll take some time. He's just got to put his head down and work.
On increasing Darnold's reps each day…
Depending on what he takes in, he's going to see some things from the defensive standpoint that for three days we've put in that he hasn't seen in the spring, so it's going to take some time, but he'll get some reps.
On if Darnold missing three practices is detrimental…
All depends. You want everybody here on time, like I said, but it's a business and you understand the ramifications and missing three practices, but he can catch up. He's got time to catch up, but he's got to put his head down because everybody has a head start.
On doubling up Darnold's reps in the beginning and not the end of practice…
There were similar plays of which he ran in the Spring and we had other things going on later on so everybody wasn't going to get full reps today regardless.
On if Darnold was operating on recall from Spring practices…
Or whatever we could tell him that he could walk up to the line and run but he got his feet wet and it was the first day of camp for him and he'll just work.
On the team now being "whole" with Darnold being signed…
We're always whole. You come in and get hurt the first day and you're down you still lost him, whether it's him or any other player. So, you're always whole and injuries are going to happen, suspensions happen unfortunately, holdouts happen, and you go ahead with your team. You don't ever think the other way and that's not how I think, so I'm fine.
On when Darnold will get full reps in practice…
Tomorrow's a day off. He'll practice Wednesday and we'll put in what he can take, and he can handle and get time to run them. So, we'll just play accordingly and go from there.
On the quarterback competition…
Josh (McCown) is one, Teddy (Bridgewater) is two, Sam is three. The competition has been underway, it didn't just start today, it started on Thursday when we reported for camp. (Darnold) has got some work to catch up and do so, throughout the course of preseason that will take care of itself and we'll go from there.
Videos
Aaron Rodgers Injury Fallout & Jets/Bills Recap