Darnold a hit in Training Camp Debut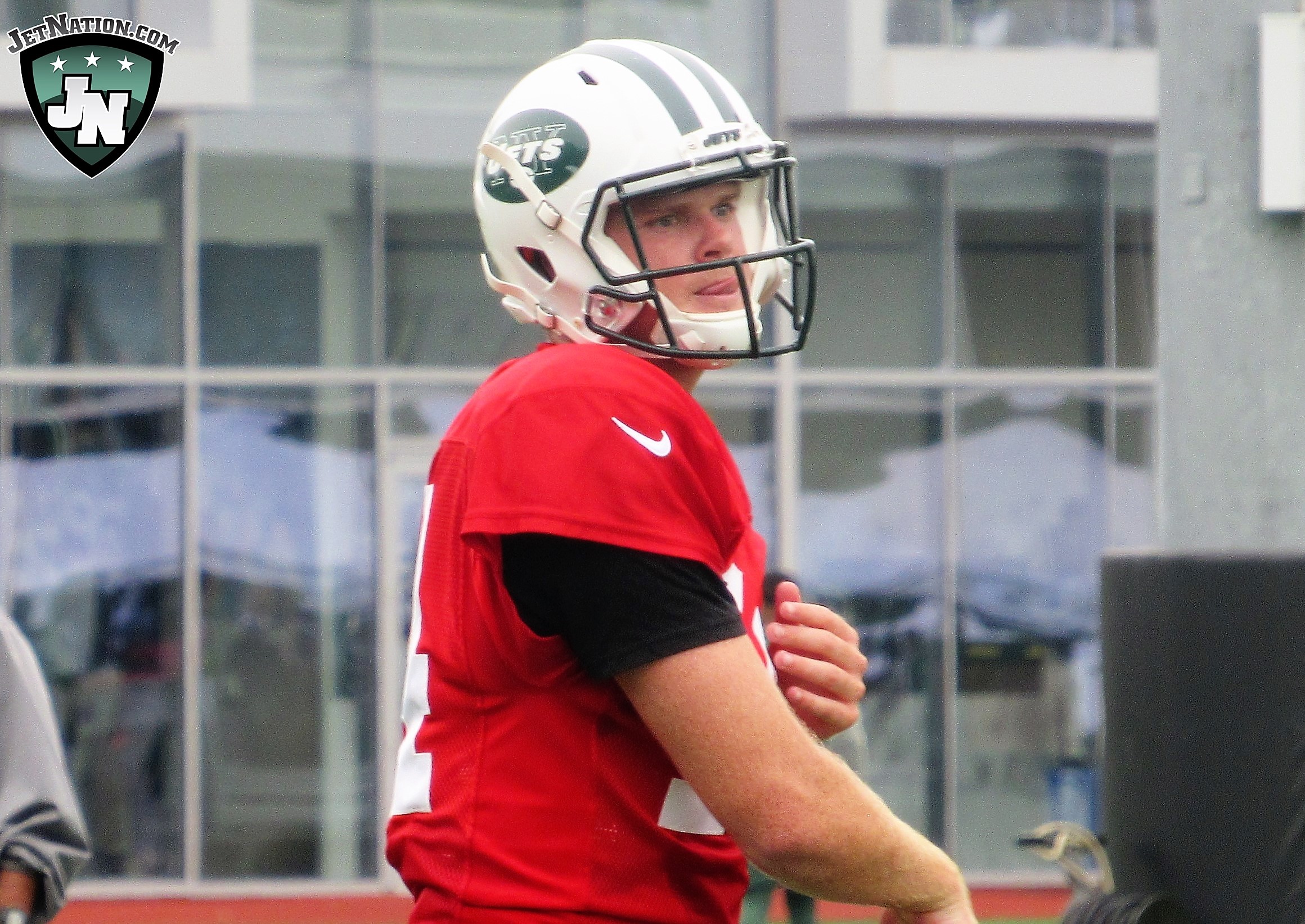 And just like that, all is forgotten.  Sam Darnold's three-day absence from Jets training camp came to an abrupt end a little more than an hour before practice at Florham Park yesterday, and Jets twitter and our message boards at JetNation.com began to light up.  He was going to sign, but was he going to sign today?  Would he practice?  Would he be limited if he did practice?  Nary a peep about his silly 72-hour absence, and rightfully so.  The man who is tasked with saving the franchise was signed, sealed and delivered.  That was all that mattered.
There was no sign of Darnold early on in practice.  Team stretching was under way, and only two red Jersey's stood out in the group.  Those of veteran quarterbacks Josh McCown and Teddy Brigewater, but that was short-lived.
Before the Jets would even finish stretching, Darnold's red Jersey would appear in the distance as he emerged, helmet in hand, jogging over to join his teammates to kick off his first ever pre-season training camp.
— Glenn Naughton (@AceFan23) July 30, 2018
The third overall pick would be welcomed by a very pleased group of teammates who started a long slow applause as Darnold drew closer and the warm-up period entered its final few seconds.  Darnold was greeted with hugs, handshakes and high-fives just before he would jog off to a separate field with McCown and Bridgewater to start getting loose by just tossing the ball around with his teammates.
Before taking a single practice rep, camera shutters were firing away and all eyes were trying to spot Darnold through a sea of players, coaches, assistants, team employees and the great big tree that sits between the two fields.  Eventually, there would be no need for rubbernecking as team periods would commence, with McCown, Bridgewater, and then finally Darnold, getting reps behind different combinations along the offensive line.
Spencer Long, who has had a stellar camp but is being brought along slowly, didn't begin the session with the starters, but he would come in when Darnold was up with the first group.  Things were a bit shaky early on.  This came as little surprise given the fact that not only had Darnold miss the first three practices, but that morning's warm-up.
Darnold's first pass attempt was a poorly thrown deep ball that saw him overshoot his target, followed by an attempt that saw him drop back, step up in the pocket to avoid pressure, and try to squeeze a throw to Robby Anderson over the middle on a ball that was batted down by Derrick Jones (who is having an outstanding camp) and intercepted by safety Doug Middleton.  Attempt number three was incomplete, but to give credit where it's due, from our perspective, it appeared to be a fantastic diving pass break-up by second-year cornerback Xavier Coleman.
The fact that Darnold was going to be limited on his first day meant there wouldn't be many opportunities, and his first shot didn't offer much.  However, once Darnold was under center for the Red Zone period, he would find the end zone twice.  Once to rookie tight end Chris Herndon over the middle, and then again to a wide open, almost uncovered Quincy Enunwa on a quick hitter toward the right sideline.
It was an incredibly small sample size as Darnold threw just a handful off passes during the team periods, but he did do a few things well.  Darnold did show was his ability to move well both inside and outside the pocket, reacting to pressure and getting the ball out quickly when he had to.
With the contract drama in the rear view mirror, the time for Jets fans to look forward is now, because one could make the case that the view has never been this good.
Videos
Aaron Rodgers Injury Fallout & Jets/Bills Recap