Jet's Positional Analysis: Wide Receivers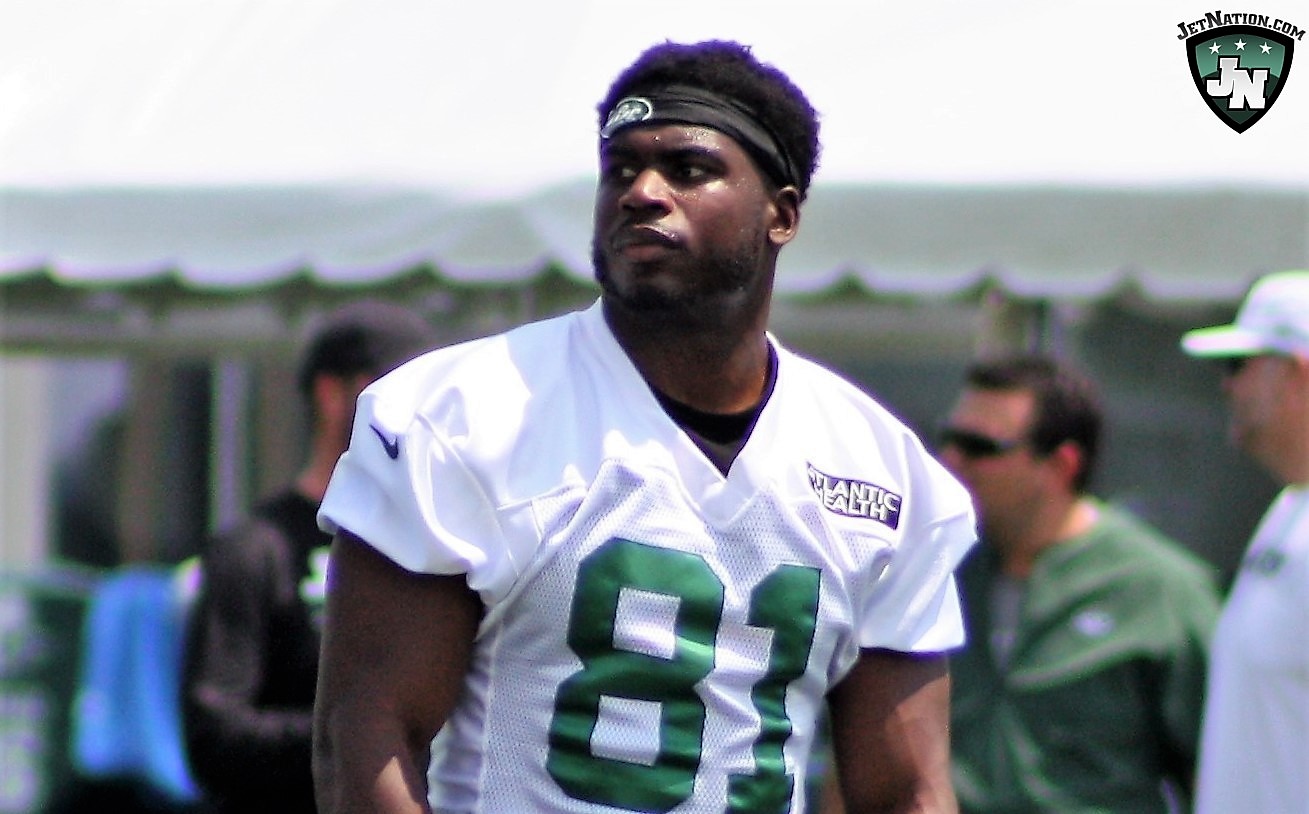 During last offseason, you'd have to look long and hard to find a single pundit or analyst who didn't feel that wide receivers were not only the worst positional group on the team, but were bound to be one of the league's worst. In fairness, from their perspective, it wasn't all that far-fetched.
Top target Quincy Enunwa had gone down early in camp with a severe neck injury that would sideline him for the entire season. Even before the injury, many questioned the Jets receiver corps as Enunwa was the only pass catcher on the roster to put up more than 600 yards the previous season. Robby Anderson was considered the only other legitimate threat, but he hadn't proven he could be a consistent target yet.
Then the 2017 season began, and the Jets wide receivers started shattering expectations. Robby Anderson proved he could be a legitimate deep threat. Jermaine Kearse had a career season and showed he can be a #2/#3 guy after being obtained from the Seattle Seahawks in the deal that sent Sheldon Richardson out West.  Eununwa, Anderson, Kearse and the newly add Terrelle Pryor has the potential to be a formidable group.
Yet somehow, as we head into the 2018 season, we're hearing some of the same things as last year about the Jets wide receiver corps as they're consistently undersold.  Fair assessment?  Let's look at the Jets' current wide receiver depth chart and who's likely to be suited up for the Jets on September 10th when they kick off against the Detroit Lions.
Lock to Make the Team
Robby Anderson– Despite being a long-shot undrafted free agent out of Temple just a couple of seasons ago, Anderson caught the attention of Jets coaches as a quality deep target. He then went on to have 42 receptions for 587 yards, averaging an impressive 14 yards a catch; a very solid rookie campaign and carving out a role as the Jets deep threat with blazing 4.34 second 40 speed. Last season, he went in as the #2 behind Enunwa, until Enunwa's devastating neck injury. This is when everyone said the Jets receiver corps would possibly be worst in the league. Robby Anderson answered the call with a breakout performance of 63 receptions for 941 yards and 7 touchdowns. He averaged almost 15 yards a reception and had 3 games over 100 yards. He proved he is not just a deep threat and a true #1 WR. To top that off, he just turned 25 in May.  With his off-season issues behind him, is Anderson ready to keep his nose clean and continue his upward trend?
Quincy Enunwa– Similarly to Anderson, Enunwa was a 6th round pick back when John Idzik was the team's GM and was never expected to be a legitimate threat, let alone a top guy. He spent the majority of his rookie season on the practice squad and had a minor role in the offense in 2015 (that is the year Brandon Marshall and Eric Decker lit it up, so not a surprise). In 2016 though, after Decker went down, it opened the door for Enunwa and he proved he deserved it. He caught 58 receptions for 857 yards and 4 touchdowns, averaging close to 15 yards per reception. As we know though, Enunwa missed all of last season with a severe neck injury. He says the surgery went well and he feels like he used to, and he has looked good in practice so far. Neck injuries are often very serious though, so it will be something to monitor now that pads are on. Will he be the same player he was before the inury? Is he healthy enough now that there is contact? If yes, him and Anderson could be a nasty formidable 1-2 punch. Enunwa is a lock to make the team as long as he stays healthy.
Jermaine Kearse– Kearse, like Anderson, was an UDFA, though he is going into his 7th season (2nd with Jets). One interesting note that among the Jets top 3 wide receivers, none were drafted earlier than the 6th round and 2 were undrafted altogether. Kearse played his first 5 seasons with the Seattle Seahawks were he was a solid receiving option but unremarkable. As already stated, he came over in the Richardson trade. Though unremarkable in Seattle (he did win one Super Bowl there), he would be one of the Jets top guys since Enunwa went down and everyone else other than Anderson was unproven.  It turns out he answered the bell.  He was Gang Green's most consistent receiver last season, setting career highs in receptions (65), yards (810), 100-yard games (2), and touchdowns (tied 2015 with 5). Because of this Kearse will have little to prove, but his position on the roster will depend on how healthy Pryor and Enunwa are, and how they look in camp and the preseason.
Terrelle Pryor- For those who do not know Pryor's story, it sure is an interesting one. He was taken in the supplemental draft of 2011 as he was accused of recruiting violations at Ohio State, where he played quarterback, not wide receiver. Pryor is one of those QB to WR stories you hear about when the QB is large and a freak athlete but not a NFL-level QB. The Raiders gave the Pryor at QB experiment 3 years before they cut him, and the Browns picked him up to try at WR. His first season he didn't do much, but in 2016 he had a breakout season with 77 receptions for 1,007 yards, 4 touchdowns, 3 100+ yard games, and averaged 13 yards per catch. Due to his freakish athletic ability and his size, and the fact that he had only played the position for a year previous, many thought he might become a great WR. He looked to cash in last season, the Browns let him walk, and the Redskins gave him a nice sized contract. He then hurt his ankle early in the season, never fully recovered, and eventually went on injured reserve. He didn't even put up 250 yards last season. Due to this the Redskins let him go and the Jets decided to roll the dice and see if he is healthy. He hurt the same ankle back in OTAs and didn't participate, so only time will tell.  Also, many writers attribute his breakout season to his heavy use in the Browns offense (had almost 80 receptions), but it will be interesting to see what type of player he will be for the Jets, as long as he is healthy. If he is and he regains his 2016 form, he could be as high as the #2 WR and an excellent red zone threat. His contract is for 1 year at around $4.5 mil, with $2 mil guaranteed, so it would be a real surprise to not see him make the 53 man roster.
Players on the Bubble
Chad Hansen– Hansen was drafted by the Jets last season in the 4th round out of Cal. He didn't do anything in his rookie season (didn't even break 100 yards), but has been compared to the Vikings Adam Thielen and the Patriots Chris Hogan which is encouraging. He looked very good in OTA's  but has been quiet so far in training camp and could be on the bubble with Tre McBride and Charles Johnson emerging.
Charone Peake– When the Jets drafted him in the 7th round, Peake was considered a steal. He has prototypical size and top speed to be a very good WR. He played his college ball at Clemson always buried under a current top NFL wide receiver depth chart that included DeAndre Hopkins, Martavis Bryant and Sammy Watkins. So he never really got a chance to shine. He fell down the depth chart however by having an unimpressive rookie campaign and missing almost all of last season with an ankle injury. Before last season however, there was talk that he was in the running for the #3 receiver spot, so it will be interesting to see if he is healthy and what he makes of his limited opportunities.
Andre Roberts- Going into his 9th season already, Roberts is what he is. He will not make any crazy leaps or defy any expectations. He had some good receiving years with the Cardinals, but he hasn't played there in 5 years. He is an excellent kick returner however.  Roberts has returned over 2,000 yards of kickoff and punt returns in just the last 2 seasons. For this reason alone, Roberts has a chance to make the Jets roster as a returner.
Charles Johnson- Johnson had a breakout rookie season in 2014, and that was it. He failed to live up to expectations doing next to nothing the following 2 seasons, and was out all last year with a knee injury. Already 29, and so many players ahead of him on the depth chart, the odds are against Johnson making the roster.
Tre McBride- Though he is still only 25 years old, McBride has done nothing in 3 seasons to show he belongs on an NFL roster. He couldn't even make the Bears very thin receiver corps last season but has surprisingly earned high praise early on with the Jets.  With Hansen and Steward pulling a pair of disappearing acts, could McBride take advantage?
Players Most Likely to Be Cut
Lucky Whitehead- Brought on last season from the Cowboys, Whitehead was going to be the Jets' main return man until he got hurt. He has not proven he is a competent WR in this league either. Even though he is a decent return man, Roberts is better and has been more productive. With rookie Cannon in the mix as well, it seems a long shot Whitehead makes the roster.
Jonah Trinnaman- A burner out of BYU and an UDFA, he has Robby Anderson speed, but has Wayne Chrebet height. With Anderson looking now like he won't be suspended for long (if at all), Trinnaman looks to be a practice squad candidate.
Suspended
ArDarius Stewart- A 3rd round pick out of Alabama in last year's draft, like Hansen, Stewart did very little last season. Many thought of him as WR who could play a variety of roles, given his toughness and hard-nose playing style. He has now been suspended the first two games of the season for violating the league's performance enhancing substances policy. Unlike Hansen however, he has not looked as impressive in OTA's or camp. Even though he is only in his second year, with the suspension and so many receivers ahead of him, he may not make the Jets 53 man roster.
Videos
Aaron Rodgers Injury Fallout & Jets/Bills Recap