Jets Young Corners Trending in Right Direction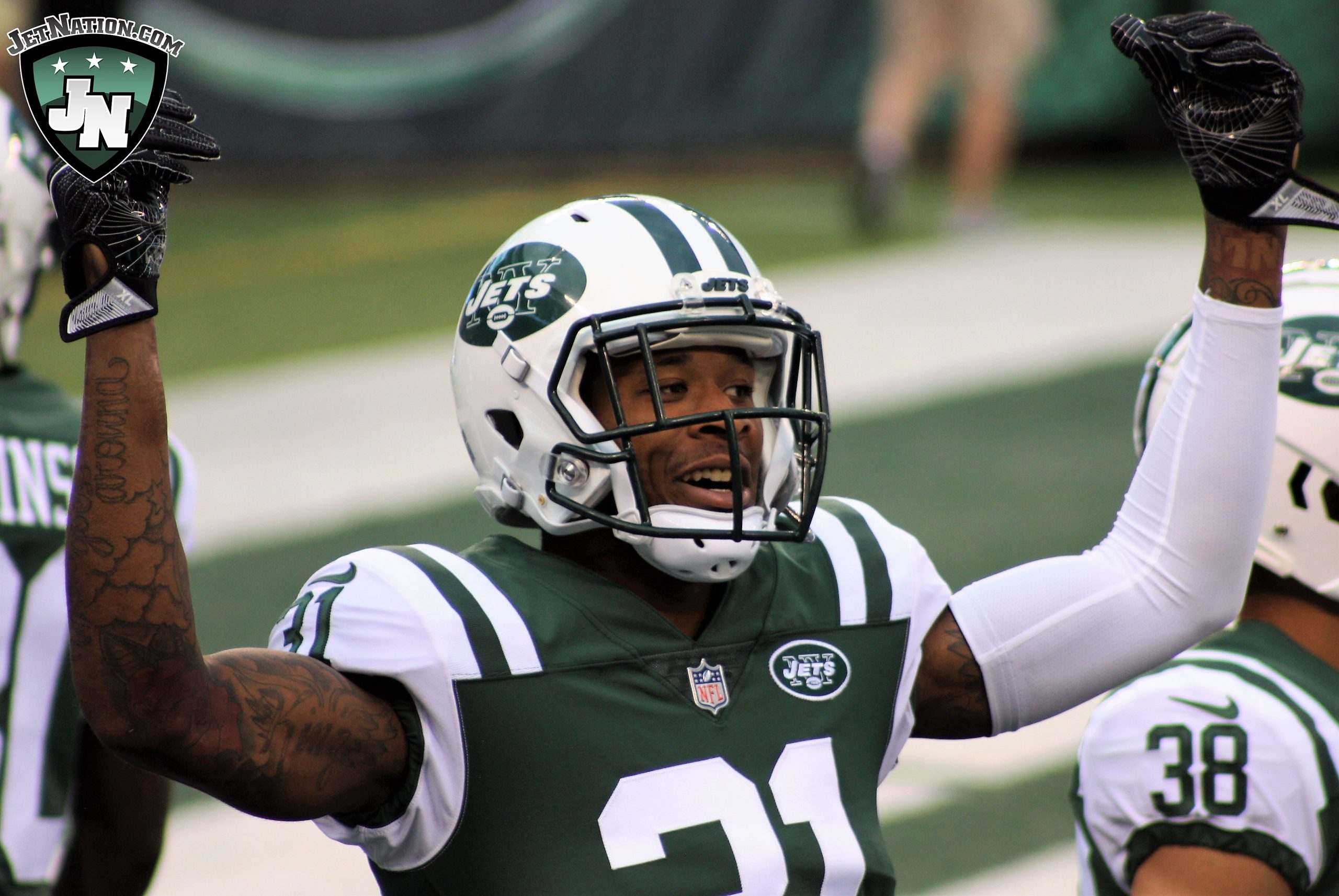 While it was the top of the Jets cornerback depth chart that drew most of the attention this off-season with the addition of free agent Trumaine Johnson and re-signing Morris Claiborne, it's the bottom of the depth chart that's been turning heads for much of the pre-season.  If some of this preseason's top performers can carry their play through to the regular season, the Jets may be far better off in the secondary than previously expected.
You can't talk about this team's training camp and preseason performances without having former sixth-round draft choice Derrick Jones as a prominent piece of the conversation.  From the early days of camp when Jones opened plenty of eyes when he was asked to cover Robby Anderson on a go route.  Anderson, who has embarrassed plenty of top corners in the NFL wasn't able to get any separation from Jones as the pair sprinted down the left sideline stride for stride on what was an incomplete pass.
Once the pads came on, we saw Jones come away with multiple interceptions, and several near-picks that were a matter of judgement calls from the refs, or momentum carrying Jones out of bounds before getting his feet down.  The bottom line however, was that Jones was consistently disrupting the Jets offensive flow.  Jones eventually cooled off, but then showed off more of his ball skills in the preseason finale when he broke up a deep ball down the middle of the field and intercepted a pass late in the game.
One could make a case for Jones being the most physically gifted athlete on the roster, and if he's not at the top of the list, it might be because Rashard Robinson takes the spot.
Robinson started out camp rather quietly, but made strides as the weeks went on.  While he gave up a few key catches against the Redskins, his body of work was rather impressive.  Robinson earned the praise of head coach Todd Bowles when the preseason schedule wrapped up, commending him for his play on the field and his attitude off of it.
Praise from Todd Bowles: "Rashard Robinson has done an outstanding job. From attitude standpoint. From playing standpoint. From professional standpoint. I couldn't be more proud of strides he made coming in personally"

RR suspended 4 gms, but maybe trade will work out after all pic.twitter.com/ARNklNMzlT

— Manish Mehta (@MMehtaNYDN) August 31, 2018
According to Pro Football Focus, Robinson and Jones were targeted more than any other Jets cornerbacks this preseason with 11 and 10 targets respectively.  Robinson allowed six receptions (54.5%) and Jones surrendering just four (40%).  Both corners had a pass defended and Jones had the lone interception between the two.  Having a pair of 6′ 2" cornerbacks with blazing speed showing this kind of promise can only be a good thing.
Aside from Robinson and Jones, there's  rookie corner Parry Nickerson, who was having an outstanding camp before straining a hamstring and now looks to be back to full speed.
As is the case with every fan base in the NFL, Jets fans have seen plenty of past preseason stars burn out as soon as the lights come on.  But if things keep trending the way they are in the Jets cornerback room, the secondary could be going from the outhouse to the penthouse.
Videos
Was Boomer Right to Blast Becton? Former Jets QB Sounds off Against Jets Tackle.