Previewing Gang Green's Linebackers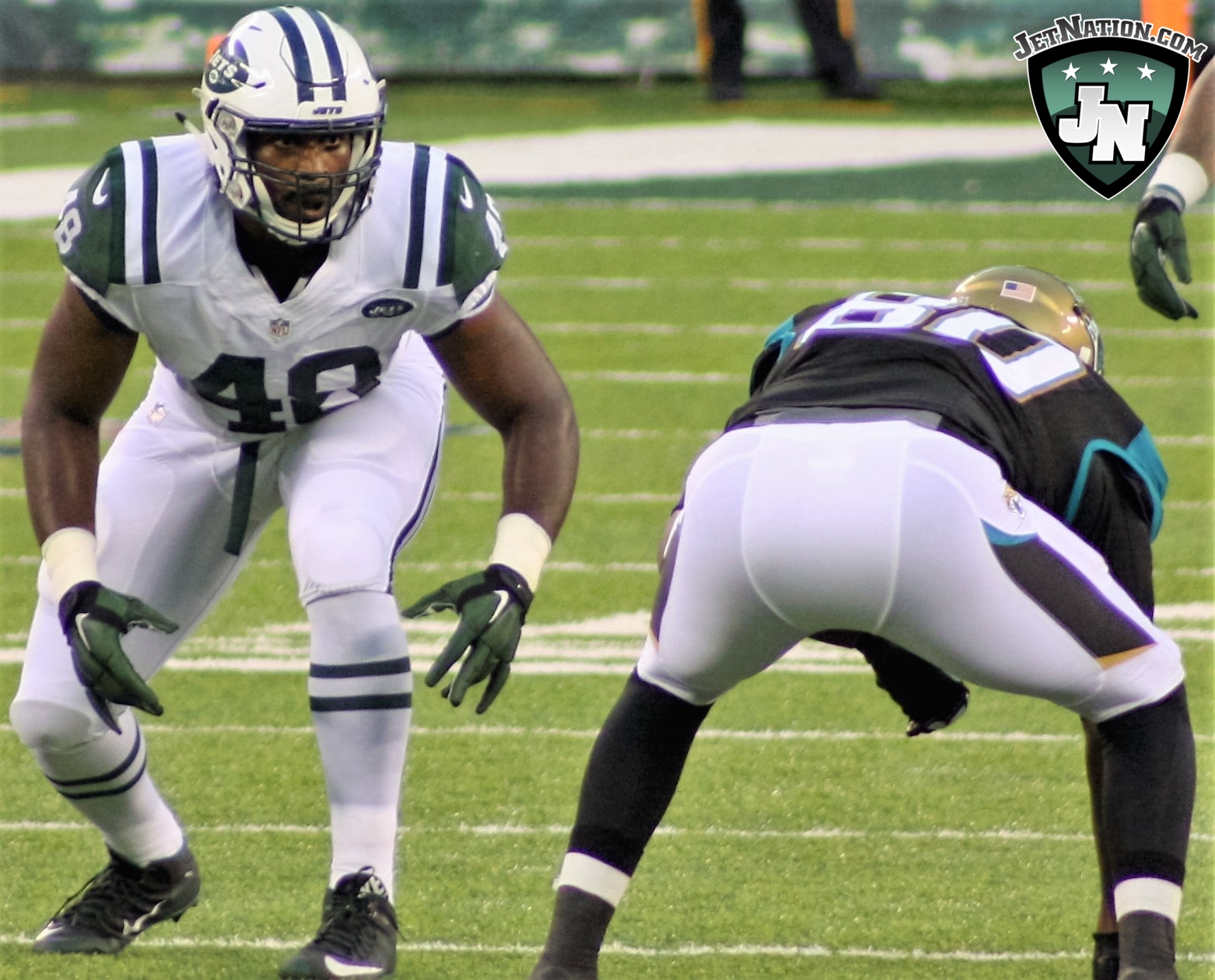 The Jets look to have a solid, but unspectacular group of linebackers heading into the start of the 2018 season. While the starters appear to be set in stone there are still a few spots up for grabs. If one or two more players can emerge from this unit, Gang Green can have a respectable linebacking corps. Until then, they'll still be searching for quality depth and the ever elusive game-changing pass rusher.
Starters
Darron Lee and Avery Williamson project to be the starting inside linebackers. Lee is coming off an up and down sophomore season in 2017 in which he totaled 94 tackles, 3 sacks, and 2 forced fumbles. However, the 23-year-old will still be looking to take a major leap this season.
Lee still struggles in pass coverage which has come as a surprise for a defender with his speed (4.47 40-yard dash), but if he can improve in coverage and start making big plays he can be a very good player for the Jets' defense. Lee's speed can also be useful coming off the edge in pass-rushing situations. As of now, it seems unlikely that he will ever live up to his first-round draft status.
Williamson signed early in free agency to replace Demario Davis who had a stellar 2017 for New York. Williamson will have big shoes to fill as Davis was a menace last season recording 135 tackles and 5 sacks. Those are numbers that Avery will certainly hope to replicate as he is what Todd Bowles has dubbed, "a tackling machine" in his own right.
The 26-year-old Williamson is entering his 5th season in the NFL after spending the first four in Tennessee with the Titans. He racked up 92 tackles, 3 sacks, and 2 forced fumbles in 2017 but most notably was ranked by Pro Football Focus as the #3 inside linebacker in the NFL. Williamson is very good in run support, but it remains to be seen how he will perform in coverage. He will look to be the new anchor in the middle of the Jets' defense and prove that he can be an every-down player.
The Jets are set on one side of the field as third-year outside linebacker Jordan Jenkins is locked in as a starter. Jenkins has mostly been a good player his first two years in the league totalling 85 tackles and 5.5 sacks in 2016/2017. Jenkins excels at setting the edge and stopping the run, but he's not exactly known for his pass-rushing skills. However, he did manage 8 QB hits and 6 tackles for loss in 2017 proving that he can occasionally get in the backfield.
The other side is a bit of a question mark, but Josh Martin who has been with Gang Green since 2016 seems to have the upper hand. Martin was mostly utilized as a special teams ace in years past, but last season he got his chance to show what he can do for the defense. Although his numbers don't jump out, he still managed to impress.
Martin finished the year with 31 tackles and 1.5 sacks but also had 20 QB hits and 12 tackles for loss. If Martin can continue to improve those numbers he can be an average to an above average starter for a defense that badly needs some type of pass-rushing presence. If he can at least continue to disrupt quarterbacks with pressures and hits it would be a boost, but he must actually see an uptick in sacks with an improved secondary.
Backups
As it stands now Neville Hewitt and Kevin Minter appeared to have done enough to earn a place as the reserve inside linebackers on the final 53-man roster, but Minter was cut loose yesterday. Hewitt has played well through the first three preseason games leading the team with 21 total tackles, an interception, and also has value on special teams which is always key for a backup.
Kevin Pierre-Louis has some speed and figures to play in certain passing situations and on special teams. He has been injured in camp so he hasn't been able to showcase what he brings to the table but has $2.5 million of guaranteed money which probably earns him a spot on the roster once he returns.
On the outside, third-year linebacker Brandon Copeland and undrafted free agent Frankie Luvu look like they will stick as backups/situational players. Both were on the field quite a bit in the Jets' third preseason game against the Giants which is usually a good sign. Copeland played in 53% of defensive snaps while Luvu played in 29%.
Copeland, a former member of the Lions had 3 tackles and also set up the athletic Luvu with a sack of backup QB Davis Webb. Copeland got a hand on Webb forcing him to step up in the pocket and Luvu showed his speed off the edge by taking down the quarterback nearly causing a fumble. Luvu also had a QB hit in the game.
On the Bubble
There are a number of players that the Green & White will have to make a decision on come Saturday, the biggest name being Lorenzo Mauldin who played only 2 snaps last Friday. Mauldin's time with the Jets appears to be coming to an end as he has just not shown enough this summer to warrant a spot on the roster after being sidelined with yet another injury.
The emergence of Copeland and Luvu have pushed David Bass off the roster as it appears unlikely that he will make the team.despite Bass showing some flashes last season recording 3.5 sacks.
Dylan Donahue is still waiting to see if he will serve a suspension from the league for his legal issues, and there's a good chance he will miss the first few games of the season. Donahue didn't show much last season before injuring his elbow, but the former fifth-round pick still has an slim shot at cracking the Jets roster once he returns.
Undrafted free agent out of Florida International, Anthony Wint probably has the longest odds to make the final roster. It's simply a numbers game and Wint has not done much to earn a spot over a veteran such as Minter. Wint is still young and raw, but he has potential so remains a candidate for the practice squad.
In some cases, the players will make this an easy decision, and in others not so much, but in the NFL you can't keep them all.  The Jets have some solid players at the linebacker position, but they still lack a true talent that can get to the quarterback so it's very possible that they will look to add players after teams trim their rosters on Saturday. Mike Maccagnan, Todd Bowles, and the rest of the Jets coaching staff will have their hands full this weekend when it comes to final cut-downs.
Videos
NY Jets Phase 3 OTAs, Expectations and a Minor Calf Tweak with Greg Renoff