Jets Add Davis Webb to Practice Squad; Cut Wolford
The Jets made a change to their practice squad today at the QB position. They let John Wolford go and signed former Giants QB Davis Webb.
Webb (6'5″, 230) was the Giants' third-round selection, No. 87 overall, in the 2017 draft out of California, where he played only his senior season (after the previous three seasons at Texas Tech) and completed 382 of 620 passes (61.6%) for 4,295 yards, 37 touchdowns and 12 interceptions.
Coming out of college many scouts had concern that he played in a spread offense and he did lose his starting job at Texas Tech to Patrick Mahomes. Webb is an intruiging prospect though, he has the ideal size for a QB, 6'5″. He is known for the deep ball, per this CBS Sports article in his senior year 18 of his 37 touchdowns traveled at least 20 yards in the air.
Here are his college stats from both Texas Tech and at California.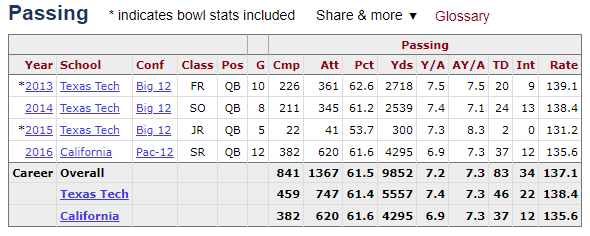 Webb is the kind of QB you want on your practice squad, they can try to groom him into a long term backup behind Sam Darnold. It was a suprising move from the Giants when they let him go. He was drafted by Jerry Reese and the new Giants regime apparently had other plans
Fans are sounding off on Davis Webb to the Jets in our forums.
Videos
Aaron Rodgers Injury Fallout & Jets/Bills Recap