NY Jets Head Coach Todd Bowles Press Conference 10/1/18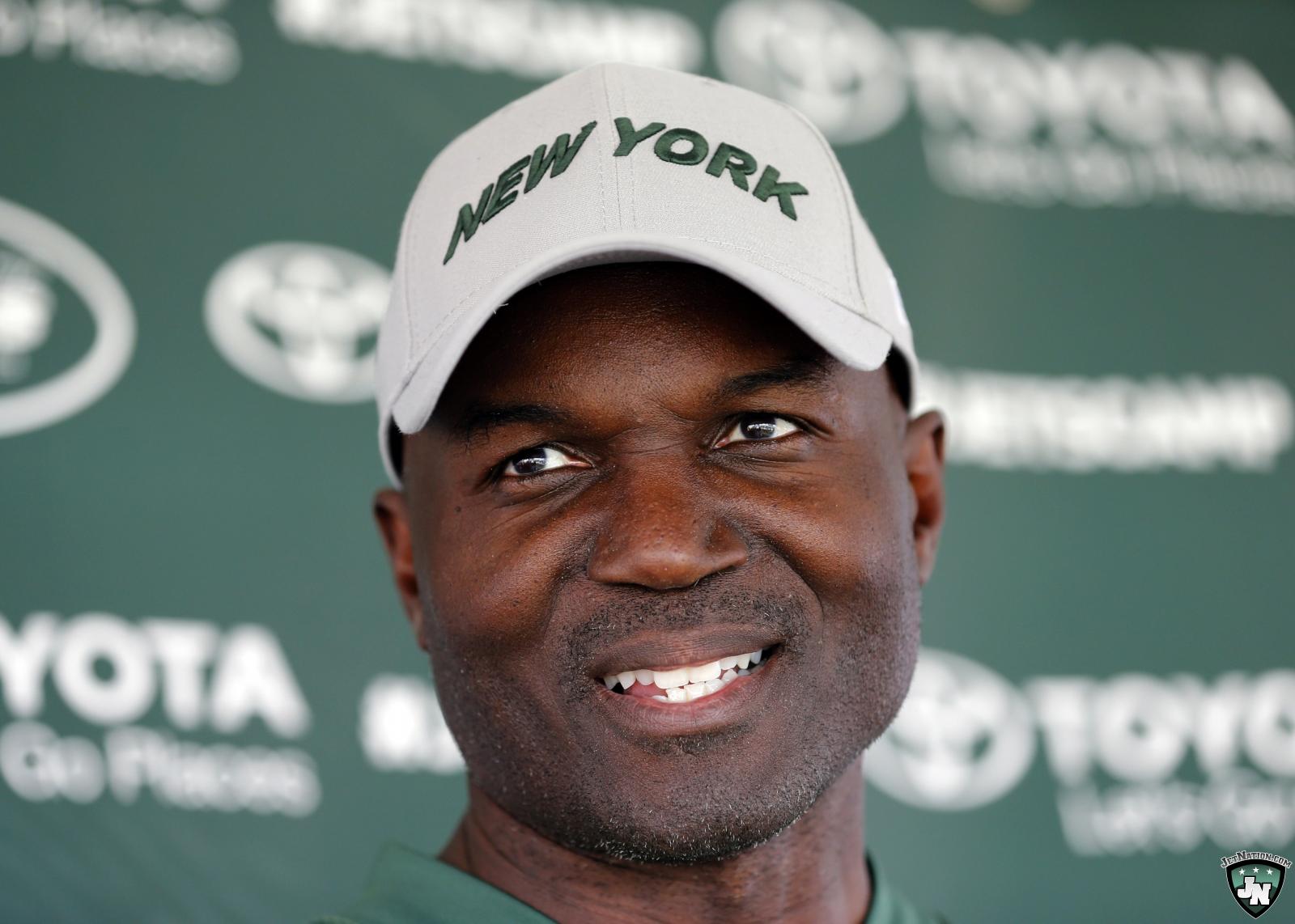 During the press conference today Todd Bowles confirmed that Josh Martin did sustain another concussion against the Jaguars. Otherwise, how do you recap the current state of the team coming off a 31 – 12 loss that puts the team at 1 and 3? Well, we will let Todd Bowles recap things, in his own words. Here is his press conference that took place earlier today.
On if he was able to figure out what went wrong against Jacksonville after watching the film…
I knew when it happened yesterday what went wrong. We had some things that we blew underneath that we don't usually blow, and we watched the film and corrected and addressed it and we'll take care of that going forward.
On if the blown coverages were due to mental or physical errors lead to the blown coverage underneath…
Mental and physical. It's things that we do every day that we just didn't do. We'll address it and take care of it going forward. It doesn't usually happen and it happened, but we will take care of that.
On if it's more frustrating when it seems to be different problems each week rather than the same thing each week…
It's all frustrating when you lose, so you just try to take care of them as they happen and you kind of move on from there.
On why the team has not been able to string together consecutive halves of good play…
That's a good question. That's something we've definitely got to be better at and maintain. We've shown we are capable of it, it's just a mistake here and a mistake there that we've got to sure up going forward of we want to do anything.
On if Terrelle Pryor only played two plays against Jacksonville because of the groin injury…
No, he worked out on Friday fully, but he was still a little sore and we kind of went with the guys we had that were going in. We couldn't find any offensive continuity really, so we weren't on the field long enough to be substituting. So, it kind of just worked out that way.
On if he anticipates Pryor's role going back to the way it was in previous weeks…
He should play, depending on the gameplan. It's still early in the week. I'll see how the gameplan looks and kind of go from there.
On if Rashard Robinson is back from suspension…
He is eligible to come back this week, yes.
On his plans for Rashard Robinson this week…
We will see. We have until (Monday 10/8) I think, and we will make a decision going forward there and see where he is.
On what he does to address the way the team came out in the game against Jacksonville…
It's just about guys staying in their lanes and being where they are supposed to be. The quarterback run got us early, that got him started. We had him pretty good, then the quarterback run got out there, then we made another mistake and kind of got out to a bad start from a fundamental standpoint or a technical standpoint. There were things that we've got to sure up that we will sure up and take care of this week in practice so it doesn't happen on Sunday.
On what is his overall faith in the offense as a whole…
I have a lot of faith in our offense. I think we're still getting some of the kinks out of it really as a whole, but I don't know if we played well yesterday or well enough on any one of the positions, offense, defense or special teams, to win the ball game. But I have a lot of faith in the offense. Like I said, some guys didn't play well and we can coach it better.
On if there would have been a benefit to not kicking a field goal early in the fourth quarter…
I mean, it's hindsight. I'm not an arm chair quarterback, so you never know how those things work out. You never know. I thought it was important for us to get points on the board.
On if he saw any signs of progress from Sam Darnold yesterday…
Yeah, I did. Actually, I thought I saw some positive things from him. It doesn't show on the scoreboard or in the game and we can all do better, but I saw some positive signs from him that I was pleased with.
On if it was encouraging that Darnold took more shots down the field…
Yeah, it was. It's something we talked about and we know we need to take more chunks shots down the field and get some big plays or try to get some big plays. Or at least back some people up and that was encouraging, we just got to connect on them.
On the running game yesterday…
Well, initially, in the first quarter, we couldn't get on the field because the defense couldn't get off the field. In the second quarter, we fell behind a little bit. And the second half was kind of a blur after the first series or two when we were backed up and it got into a passing game. So I don't think we ever got into a rhythm to get into a run game. Although we need to run it better and we need to run it more. I don't think we ever found a rhythm to get into the run game.
On how he thinks the offensive line performed…
It's tough, it was a tough game. When you face a bunch of pass rushers and they go up on you by two scores or more, it becomes one of those type of ball games where they can pin their ears back and when they can pin their ears back and you can't hard count or play action it becomes a difficult ball game. And I thought those guys on the other side made some plays and we knew they would. And then we made some plays, we just got to make more of them.
On his overall message to the team today…
Just watch the film, look ourselves in the mirror and make sure we understand our jobs, individually, to help the team and not try to do more than they have to do. We'll correct the mistakes moving forward. Film didn't look as bad as it was, we're not as bad as the film looked and we're not as good at some of things we did either. So, we're going to look ourselves in the mirror and we're going to come back on Wednesday, get ready for Denver and we're going to correct our mistakes. And we're still going to get ready for Sunday. We got some home games coming up, so we got to respond.
Videos
Aaron Rodgers Injury Fallout & Jets/Bills Recap