Draft Prospect Player Profiles
JetNation Prospect Preview: Ohio State Defensive End Nick Bosa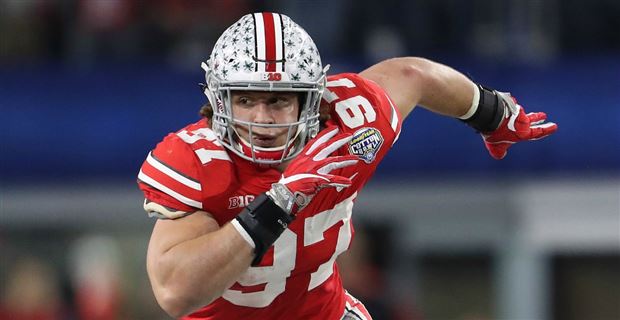 Prior to the NFL Draft each and every season, analysts and other media members generate rankings for the upcoming prospects. On top of nearly every single list is Ohio State defensive end Nick Bosa. Coming from a family of footballers, Bosa has the toughness and true competitive nature that makes him the standout player he is.
At 6'4" 265 lbs, Bosa was a 5-star recruit coming out of high school. His junior year was cut short after three games due to a core muscle injury. He dropped out to pursue his NFL career in October 2018. Barring a trade up for a quarterback, or Arizona surprising the world and pulling the trigger on Oklahoma quarterback Kyler Murray after coach Kliff Kingsbury raved about him, Bosa's name should be the first one called by commissioner Roger Goodell.
Name: Nick Bosa
Position: Defensive End
School: Ohio State
2018 Stats (3 games):
14 tackles (11 solo), 6 TFL, 4 sacks, 1 FF, 1 TD
Strengths:
Bosa has a unique explosion of the line of scrimmage, and does an excellent job of using his hands to free himself from opposing blockers. Much like his older brother Joey of the San Diego Chargers, Nick Bosa has a non-stop motor that any defensive coordinator would love to have to work with. Bosa has the potential to be a perennial All-Pro.
Weaknesses:
Bosa's only major concern is his injury history. He played in just three games for Ohio State this season due to an abdominal injury
Scheme Fit:
Nick Bosa is a versatile edge defender who would plug into the Gregg Williams scheme with ease. He will immediately boost the play of those around him due to the amount of focus an offense will have to put on him. He is the definition of a game changer.
Videos
JetNation
4.6K
Subscribe
Broken Brains; Critics of Jets Quarterback Aaron Rodgers Begin Stirring up Conspiracy Theories