Draft Prospect Player Profiles
JetNation Prospect Preview: Oklahoma State Running Back Justice Hill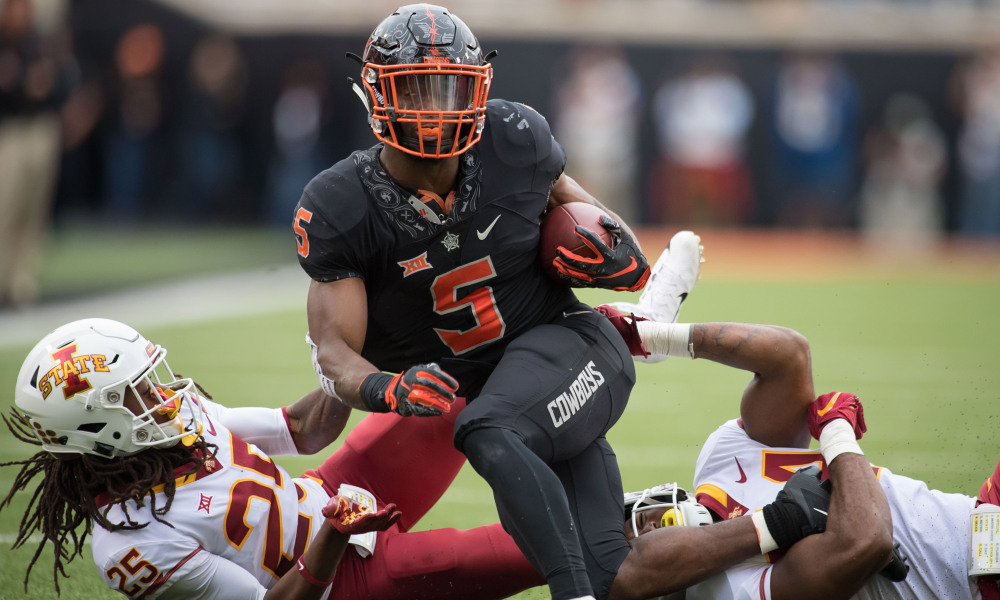 With the 2019 NFL Combine behind us, all the focus now shifts to free agency and the draft. Many teams use free agency to acquire players at a position of need, then use the draft to fill in remaining spots with ascending talent. In this prospect preview, we will be profiling Oklahoma State running back Justice Hill, who was a standout at the combine last week.
Hill was a 3-year starter for the Cowboys, where he averaged over 1,000 yards and 10 touchdowns. He will most likely hear his name be called on Day 2 of the draft in April. Hill was among the smallest of the running backs in Indy, measuring 5' 9 ⅝" 198, but he was an absolute monster in the drills.
Name: Justice Hill
Position: RB
School: Oklahoma State
2018 Stats (10 games):
158 carries, 930 yards, 9 TDs, 13 receptions, 68 yards
NFL Combine Results (Rank amongst RBs):
40-Yard Dash: 4.40 sec (1st)
Bench Press: 21 (T – 7th)
Vertical Jump: 40" (1st)
Broad Jump: 130" (T – 1st)
Strengths:
Not only did Hill prove that he has all the athletic traits to be an NFL caliber RB, but he was first in nearly every category at the combine. He is a balanced runner, who at the same time is not afraid to lower his shoulder and welcome oncoming defenders. He has potential to be a threat in the passing game as well, although he may not have the best hands. His speed is his most noticeable attribute, as he can take any handoff the distance. For his size, he is a solid pass protector. Mixed with his proficient change of direction, Hill is an intriguing prospect that can fit as a three down back for many teams.
Weaknesses:
Hill has not had much experience with loaded boxes at the college level, so it will be interesting to see how he adjusts at the pro level. He lacks the overall power to become a short yardage back, but that is not his skill set. Hill is a very instinctive player, sometimes to a fault, bursting through holes before letting his linemen establish running lanes. While he may have a lot of home runs plays, he will also have his share of zero or negative yardage plays.
Scheme Fit:
Justice Hill is the type of player every coach wants. He has tremendous attention to detail, even on plays where he is not asked to carry the football. He runs, catches and blocks, something that is a must in today's league. Despite his smaller frame, he has enough strength to bounce off defenders as well as protect his quarterback. He has the ceiling of an every down back, but a team may want to pair Justice Hill with a proven veteran before he can fully take over the lion's share of the carries. The Jets have a need at the position, Eli McGuire is not long-term solution, so to see Hill in Green & White next year, he would be a nice compliment to Le'Veon Bell.
Videos
Aaron Rodgers Injury Fallout & Jets/Bills Recap