Draft Prospect Player Profiles
JetNation Prospect Preview: Penn State Guard Connor McGovern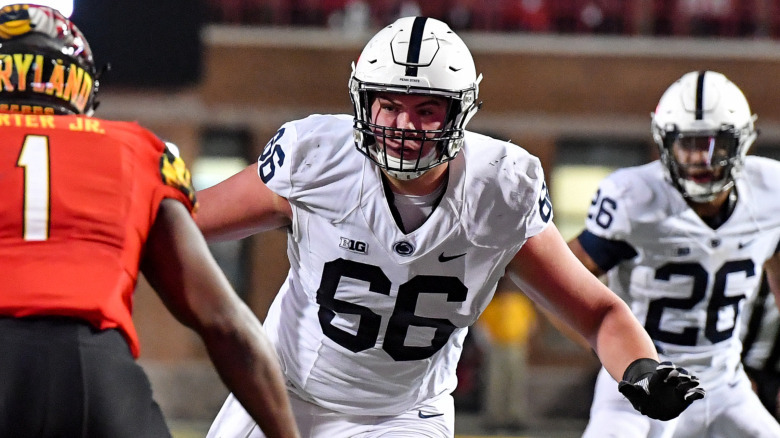 The NFL draft is just over a month away and the Jets, along with the 31 other NFL clubs, are likely making minor adjustments to their draft board that has been almost a year in the making. As the draft approaches, JetNation.com will be previewing dozens of prospects with a focus on those positions that are of greatest need to the Jets.
With that in mind, today we're looking at Penn State offensive lineman Nate McGovern, who should be an option for Gang Green at some point in the draft.
Name: Connor McGovern
College: Penn State
Positon: C/G
Ht/Wt: 6′ 5" 308
Combine Results:
Bench Press: 28 reps
Broad Jump: 112"
3-cone drill: 7.66
20-yard shuttle: 4.57
Strengths:
McGovern displays good agility for a guy who came in at 308 lbs at the combine in Indy. He does an excellent job of coming out of his stance to pull around the corner to attack oncoming defenders. Consistently plays with good pad level and is stout against bull rushers. When going head-to-head with a defender, McGovern has shown the ability to hang in there with some of the best defenders in the country.
Here we see McGovern at center again, doing a nice job of handling Maurice Hurst (73), one of the top D-linemen in the country in 2017. pic.twitter.com/Zoq1K9cYax

— Glenn Naughton (@AceFan23) March 25, 2019
McGovern is listed as a guard by the folks at NFL.com, but he did spend all of 2017 playing center for the Nittany Lions in what was a great year for running back Saquon Barkley. Now, it's likely that Barkley would have put up huge numbers if he had traffic cones blocking for him, but McGovern also looks to be an eventual starting offensive lineman in the NFL.
Weaknesses:
Opposing defenses looked to have a good degree of success when coming on a blitz from a spot McGovern hadn't anticipated or simply didn't pick up. Despite playing with a good base, McGovern would occasionally find himself off-balance when reaching/leaning.
As is the case with any prospect who isn't of the blue-chip variety, McGovern has some holes in his game, but they are correctable. In looking at what he can do well, if other areas can be coached up, McGovern has the ability to be a quality starter in the NFL at center or guard.
Scheme fit:
Given the fact that Adam Gase has shown an affinity for moving the pocket when he has a quarterback who is capable of making plays on the move, one would have to expect him to prefer a lineman like McGovern who has shown he can move well and could be an asset on bootleg/rollout type of plays. With Le'Veon Bell on board at running back and Gase's frequent use of screens, it could make an ideal match if the Jets were to use one of their third-round picks on the big Penn State product who will likely be asked to open up holes for Bell on backside runs like this.
Saquon Barkley TD largely made possible by Connor McGovern playing C and leveraging blitzing Michigan linebacker inside and away from Barkley backside run. McGovern should be an option for Jets as a player with experience at C and G. pic.twitter.com/ZKnptjMWtD

— Glenn Naughton (@AceFan23) March 25, 2019
McGovern is currently projected as a late second to mid-third round pick, meaning there's a chance the Jets will have at least one shot to take him on draft day.
Videos
New York Jets OTA Presser Takeaways, Aaron Rodgers' Impact and Summer Delusion