New Uniforms a hit With Jets Faithful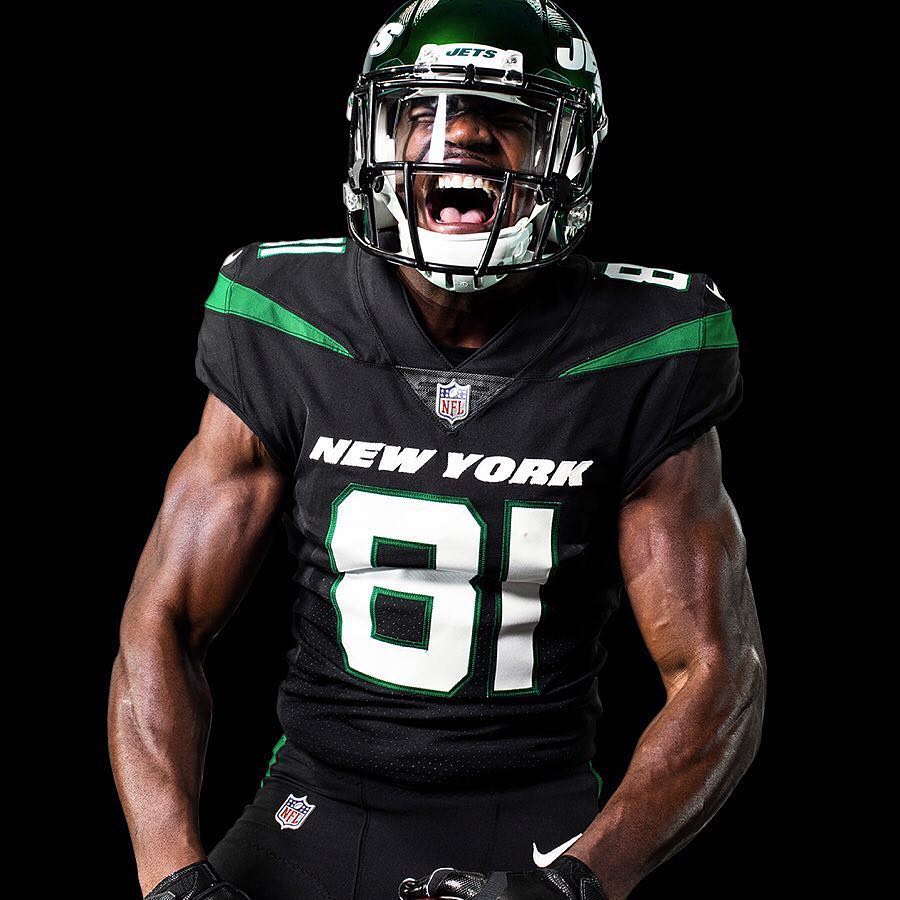 After unveiling their new digs at an event in New York last night, it looks like the majority of Jets fans, they liked what they saw.
New unis are out, folks. How do we feel about them?

— JetNationRadio (@JetNationRadio) April 5, 2019
A JetNation Radio poll has logged over 700 responses from fans with 65% offering a favorable rating, 31% not overwhelmed and a surprisingly low 4% saying they "hate" the new look.
Here is more information in the press release from the NY Jets.
New York Jets Unveil New Uniforms and Refreshed Logo During Event at NYC Gotham Hall
First Redesign of Primary Uniform in 20 Years
New Uniform Colors Include "Gotham Green", "Spotlight White" and "Stealth Black"
April 4, 2019 (NEW YORK, NY) – The New York Jets unveiled three new uniforms, along with a refreshed logo, at a Manhattan event earlier this evening. The team, along with the NFL and Nike, designed and produced the new uniforms as one of the key pieces of an overall re-branding initiative for the organization.
"Our goal was to create a modern and innovative look for the future of our franchise," said New York Jets Chairman and CEO Christopher Johnson. "We believe these uniforms will appeal to fans of all ages and is one that both fans and players would be extremely proud to wear. I am extremely excited to usher in the next generation of the New York Jets." 
The uniforms consist of three new colors, including "Gotham Green," "Spotlight White," and "Stealth Black". "Gotham Green" is a brighter, more modern green developed exclusively for the Jets. "Spotlight White" is an evolution of the traditional white uniform. Inspired by the toughness, grit, and resilience of New York City, "Stealth Black" is the Jets newest color, and will be added to the traditional green and white uniforms and can be worn three times per year.
"When this process first began as an idea, we never imagined that it would come to fruition how it has," said New York Jets President Neil Glat. "This was a process that underwent a variety of prototyping and design work to ensure a flawless finish, and we took great pride in ensuring that every detail – big or small – was correct and that our ownership's vision was implemented."
The innovative new design is a forward-looking statement for the organization. "New York" is proudly and boldly stitched across the chest of each uniform as a declaration of the region the team represents. Inspired by relentless speed, the "Jet Edge" is a foundational design feature on all three uniforms. The new helmets feature a dynamic new shell design and includes an updated secondary logo.
The team also revealed a refreshed primary logo, which takes the current logo and brings New York to the forefront. It features an updated shape, color, and connecting design of the football. The mark is designed to feel more modern and forward-facing compared to the previous one.
Hosted by comedian and long-time Jets fan, J.B. Smoove, the event Thursday evening featured a special appearance by artist MAX who performed his signature song, "Still New York" while Jets players Jamal Adams, Robby Anderson, Sam Darnold, Quincy Enunwa, Chris Herndon, Leonard Williams and Avery Williamson modeled the uniforms for the 400+ crowd. Also in attendance were Jets current players and Legends, WWE Superstars, and a variety of other celebrities and influencers.
"From the beginning of this project, it was clear to both the NFL and Nike creative teams that this uniform redesign needed to honor the team and its fans," said Chris Stackhouse, Art Director, National Football League. "That meant respecting the Jets rich tradition, while also taking an exciting leap forward with a bold, youthful, modern and fearless look which embodies the New York Jets. Above all, this was done for the Jets fans who bring their own unique New York attitude and intensity to football, and now have a uniform representative of that for years to come."
As part of the re-branding initiative, the Jets introduced the new tagline, Take Flight. The tagline, which will be used throughout the stadium and at the Atlantic Health Jets Training Center, is a call to action for players and fans to celebrate the future of New York Jets football. While paying homage to the franchise's rich history, this campaign is about looking forward to the future.
Tonight's launch was only the beginning of the team's re-brand. With changes occurring over the next few months, there will be noticeable changes of the Atlantic Health Jets Training Center prior to the start of the 2019 preseason. There will also be modifications to fan facing elements at MetLife Stadium, including new end zones, wall wraps, large graphics and in-game entertainment designs.
Videos
Aaron Rodgers Injury Fallout & Jets/Bills Recap