Jets Look for Depth on O-line and Edge With Undrafted Free Agent Additions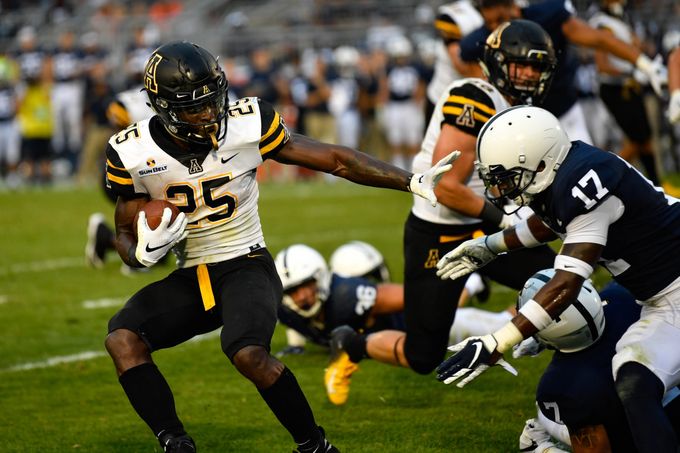 With the NFL draft in the books, the Jets have started to add undrafted free agents to their list of players who will start their journey as pro football players at 1 Jets Drive. There are a couple of names that will ring familiar with Jets fans as a pair of players have familial ties with one current and one former Jet. None of these signings have been announced by the team, but reported by the players themselves via twitter, or a variety of draft outlets.
RB Jalin Moore, Appalachian State:
A power runner who was projected to go in round five by NFL.com, Moore is a bruiser at 5′ 10" 212 pounds. During his time in college Moore ran for 3,570 yards on 582 carries to go along with 33 touchdowns. Moore missed much of last season with a fractured ankle.
WR Greg Dortch, Wake Forest:
A small slot receiver at 5′ 7", Dortch will get some work as a return man as well as the Jets hold auditions for the spot. Don't be fooled by Dortch's size. He's a tough target over the middle who posted 1,078 receiving yards in 2018 and a total of 17 receiving touchdowns in just two collegiate seasons. As a return man, he averaged 11.0 yards per return and two touchdowns last season on punts, and 20.9 yards per kick return. Dortch was viewed as a priority free agent by NFL.com.
OL Wyatt Miller, UCF:
The Jets met with Miller at his pro day and it appears they liked what they saw and heard. An O-lineman who blocks through the whistle and checks in at 6′ 4" 306. He played both right and left tackle at UCF, starting 37 consecutive contests at one point.
OL Toa Lobendahn, USC:
Versatility is a word that comes up a lot when discussing another one of Sam Darnold's former offensive lineman. During his time with the Trojans, Lobendahn played right guard, left tackle and center. Lobendahn will likely move inside as a pro.
OL Tyler Jones, NC State:
Jones is a big lineman who has earned some high praise. According to pro football focus, Jones had allowed just 14 pressures in 2017, the lowest total in the ACC.
Tyler Jones of NC State allowed just 14 pressures last season; tied for the fewest among returning ACC tackles pic.twitter.com/TVFdC7C9BE

— PFF Draft (@PFF_College) May 21, 2018
OLB Jeffrey Anderson, Fresno State:
A productive player and 2018 Mountain West Defensive Player of the Year, Anderson racked up 132 tackles (6 for loss) and two interceptions in 2018.
S John Battle IV, LSU:
There' s no denying Mike Maccagnan tends to favor LSU defensive backs. By our count, Battle becomes the fourth LSU DB Maccagnan has added in the past two seasons, joining Jamal Adams, Mo Claiborne and Rashard Robinson. During his time at LSU, Battle appeared in 38 contests, picking up 143 tackles, 4.5 sack and five interceptions. Battle has spent some time in the slot and looks to play much faster than his 4.67 40 time in Indy would suggest.
DL MyQuon Stout, Appalachian State:
An undersized lineman at 6′ 1" 280 lbs, the North Carolina product finished his college career with 56 tackles, 4 sacks and 9 tackles for loss.
OLB Malik Reed, Nevada:
A project edge rusher at 6′ 2" 235, Reed was an impact player in the Mountain West conference, picking up 25.5 tackles for loss and 16 sacks over the past two seasons.
DL Trevon Sanders, Troy:
Likely to get a look at nose tackle, the 327 lb Sanders had 30 tackles (7 for loss) and 2 sacks last season at Troy.
LB Jamey Mosley, Alabama:
The brother of current Jets linebacker CJ Mosley, the 6′ 5" 239 lb Mosley is a longshot to stick with Gang Green. He appeared in just 12 games during his career at Alabama, picking up 18 tackles, 3.5 for loss and a sack.
WR Jeff Smith, Boston College:
Smith had an impressive showing at his pro day as the 6′ 0" receiver clocked at 4.34 in the 40 as a receiver but also offers intrigue with his ability to throw the ball as a gadget player. Smith played some quarterback at BC, attempting 93 passes, completing a less than impressive 36.6% of his passes, including 6 touchdowns to 3 interceptions. As a pass catcher, Smith had 72 receptions for 1,078 yards and 9 touchdowns.
Two players at @BCFootball's pro day now on NFL radars:

– WR Jeff Smith (6-0, 191) ran exceptionally well. 4.34 40, 36.5 VJ, 10-7 BJ, 4.06 ss, 6.87 3-cone and 15 reps. Moved himself into late-round of draft

– DT Ray Smith (6-1, 302) looks like a priority FA. 27 reps, 4.90 40

— Gil Brandt (@Gil_Brandt) March 21, 2019
OLB/DE Justin Alexandre, University of Incarnate Word:
A 6′ 5" 256 lb New York native, Alexandre picked up 55 tackles, 12.5 tackles for loss, 8.5 sacks and 3 forced fumbles in 2018.
CB Kyron Brown, Akron:
An experienced corner who played in 43 games for Akron, intercepting six passes. the 6′ 1" Brown lacks top speed (4.61 40) and is long-shot to make the roster. Will probably get a look at slot and special teams.
DE/OLB Jabril Frazier, Boise State:
Listed as one of the top undrafted free agents on the market by NFL.com, the 6′ 4" 238 lb Frazier had a total of 18 sacks and 24 tackles for loss in his time at Boise State.
DL Fred Jones, Florida State:
The nephew of former Jets great Marvin Jones, Fred Jones measures 6′ 2" 304, appeared in 35 career games with the Seminoles, picking up 67 tackles, 8 TFL's and 2.5 sacks.
DL Kyle Phillips, Tennessee:
Per rotoworld, the Jets and Bills showed plenty of interest in Phillips during the pre-draft process while several others kicked the tires on the defensive lineman. In the end, Phillips lands with the Jets after a pro day that saw him bulk up to 277 lbs from 265 and running a 4.65 40. He finished 2018 with 55 tackles, 7 tackles for loss and 4 sacks.
S Santos Ramirez, Arkansas:
A big hitter who forced five fumbles during his time at Arkansas, Ramirez could be an interesting tool in Gregg Williams' defense and might compete with Rontez Miles for a roster spot in his current role.
We'll keep you updated if and when more additions are made.
Videos
Aaron Rodgers Injury Fallout & Jets/Bills Recap