Jamison Crowder: What Can He Add To The Jets?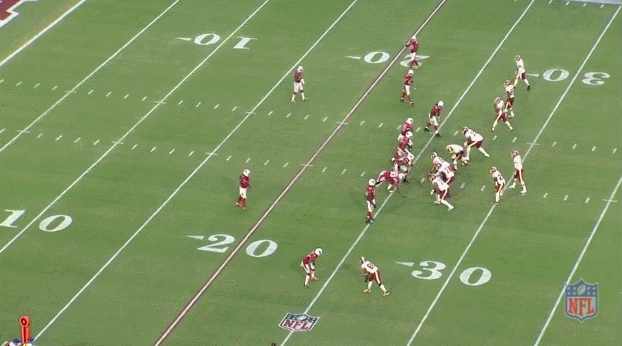 Today, we will take a look at Jamison Crowder, and how he's going to help the Jets, and specifically Sam Darnold, take a leap forward in 2019.
Contract:
The Jets signed the receiver to a 3 year, $28.5 million contract in the off-season to bolster the receiving crew. The guaranteed money in that deal works out to be $17 million, which includes a $3 million signing bonus. From the Jets perspective, this is a 2 year deal, with the third year providing an easy out. If Crowder is released in the third year, the dead money hit on the contract is only $1 million, and would save $10.5 million according to overthecap. Sticking with the site, the Jets rank 18th in positional spending for wide receivers, albeit this is without a Robby Anderson extension. The cash spending for 2019 on the contract is at $9 million, which places him on par with DeSean Jackson and slightly below Devin Funchess as players signed this year. There are others like Julio Jones in this range, but free agent deals tend to be at a premium, rather than contract extensions.
Since the contract is out of the way, let's perform a player comparison.
Jamison Crowder's last two years:
12.4 Yards per Reception, 49.0 Yards per Game, 62.5 Catch Percentage, 7.7 Yards per Target, and 5 TDs.
Player B:
11.9 Yards per Reception, 43.1 Yards per Game, 62.8 Catch Percentage, 7.5 Yards per Target, and 4 TDs.
Who is Player B? Robert Woods in the last two years with the Buffalo Bills.
We have a player that was underutilized with a certain team, move to a new team, and showcase better stats. However, since this example is much more recent than ones from the past, we will use Next Gen Stats from the NFL assist the theory.
2016:
Robert Woods had an average cushion of 6.4, and gained separation of 3.5.
Jamison Crowder had an average cushion of 6.7, and gained a separation of 3.6
2017:
Robert Woods had an average cushion of 6.5, gained a separation of 3.0
Jamison Crowder had an average cushion of 6.5, gained a separation of 3.2
2018:
Robert Woods had an average cushion of 6.4, gained a separation of 3.0
Jamison Crowder had an average cushion of 6.4, gained a separation of 2.9
As you can see, their separation numbers are fairly close, which shows similar ability to get open down the field. Furthermore, Woods moved to an offense that had a young offensive coach with a 2nd year QB, which is what Crowder will be doing as well. Adam Gase is not on the level of Sean McVay, but definitely shows some potential. In fact, if you go and look at Crowder's best year in terms of production and ability to create separation, it was in 2016 with Sean McVay as the offensive coordinator. Crowder was the top wide receiver that year in separation stats, according to Next Gen Stats.
As you may notice with the separation stats, they are on a decline, and you might be wondering if Crowder is on the decline as well. However, the problem here is mainly tied to personnel and how a defense operates to shut down all facets of an offense. In 2016 (Next Gen Stats only start in 2016) the Redskins employed one of the best deep ball threats in the game, with DeSean Jackson. When a defense has to worry about over the top speed, they tend to roll safeties towards that receiver, or keep two safeties back to split the field. For slot receivers such as Crowder, this means better match-ups in the middle of the field as the safeties are further back. With the Jets, they have a great deep field threat in Robby Anderson, forcing defenses to give up underneath routes.
In Woods' last year with the Bills, they passed for 203.1 yards per game, of which Woods caught at a rate of 47.2 yards. Last year, Washington passed for 205.4 yards per game, of which Crowder caught at a rate of 43.1 yards.
Physical Profile (Combine)
Height/40 Yard Dash/3 Cone Drill/Vertical/Broad Jump/20 Yard Shuttle
Crowder: 5'8"/4.56/7.17/37 inches/115 inches/4.32
Woods: 6'0"/4.51/7.15/33.5 inches/117 inches/4.47
It's also worth noting that Crowder did improve upon these numbers at his pro day, clocking in around 4.47 on the 40 yard dash, 4.25 on the 20 yard shuttle, and 6.98 on the 3 cone drill.
As you can see, their physical profile is very similar as well, apart from the height. It was mentioned in a couple of stories that Crowder was thrown off by the start at the combine (he had 2 false starts) which ended up slowing his 40 time. For slot receivers, I love the 3 cone drill because it really shows an ability to change directions quickly, and Crowder definitely shows good skills there. If we take his pro-day 3 cone drill time, it would be very close to Andy Issabella's time at this year's combine. This isn't to say Crowder is the next Robert Woods, but so far they were both underutilized by their initial team.
This is where the good portion of the comparisons end, because Woods blows Crowder out of the water in production in the last two years. He's easily ahead of Crowder, which works into the theory that a better QB/System can utilize a talent like Crowder. So, let's break down some film as to showcase instances where Crowder is underutilized.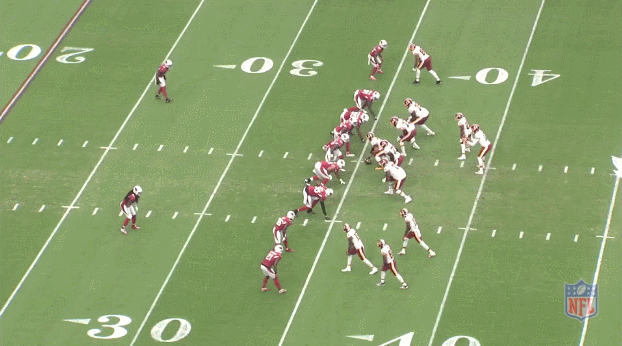 On this play, Crowder is wide open on 3rd and 4 for an easy completion. However, Alex Smith decides to pass to the running back, who breaks a tackle to get the first down. Crowder is the better option here, but is ignored on the play, even though he does a great job of being open within the play design.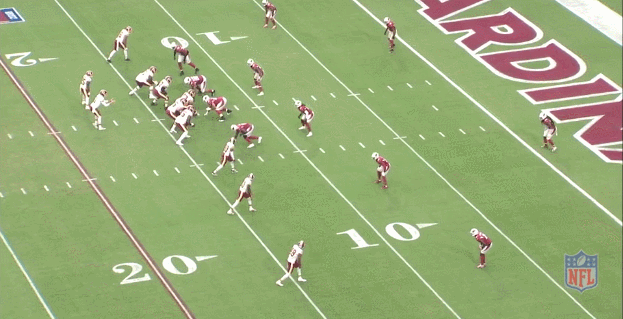 On this play, he's lined up in the slot to the right of the formation. He's running a deep corner route and is bound to be wide open at the corner of the end zone. However, Smith ignores this option, and chooses to look towards the running back once again. As with the prior play, it works out because the running back breaks a tackle and scores a touchdown. This is another example of how Crowder is getting open in this game, but his stats don't quite reflect it because the offense doesn't take advantage of him.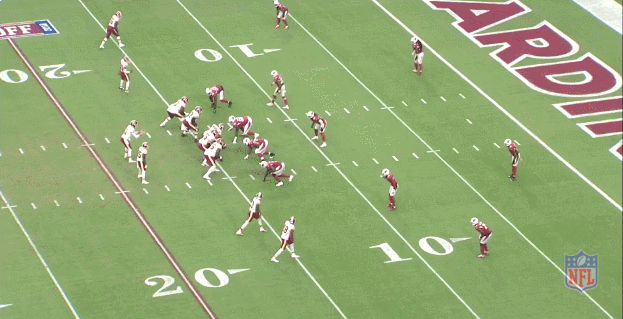 This is a play that should become a familiar sight on Sundays, with late motion and quick hit pass to break zones. Notice how fast Crowder explodes past the linebacker in this instance to create a throwing lane. Smith chooses a rather safe path for the ball by aiming low, but I'm much more impressed with the route set up. Crowder explodes away from the linebacker and allows for an easy pitch and catch in the red zone.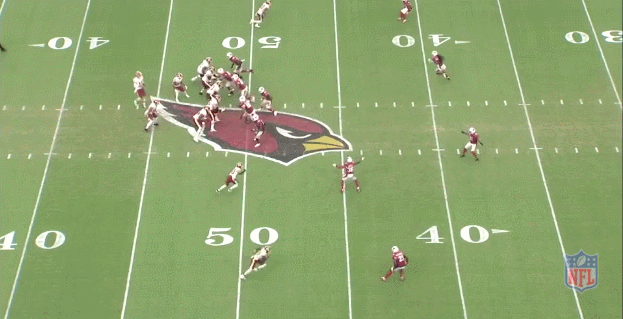 Crowder starts in the slot to the right of the formation, running a deep slant route. He's in perfect position for a pass towards the sideline, as he's split the defenders. This is a picture perfect opportunity towards the sidelines, as he will outrun the linebacker and the outside defenders have cleared out. However, he's once again ignored by Alex Smith.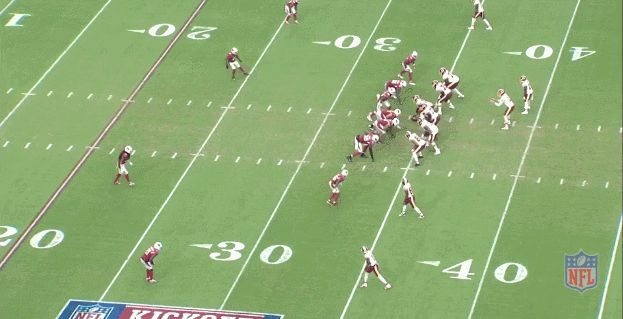 He gets a 17 yard first down on this 3rd and 12 play, as Smith picks up the slot corner blitz. Once again, you see Crowder freezing the defender before breaking inside and providing a throwing lane. This is probably his best quality as a receiver, with his ability to create instant separation horizontally.
Those are 5 instances where Crowder showed the ability to get open, but his stats were limited. The team loves Chris Thompson out of the backfield, so they clearly targeted him in short yard situations, which takes away from Crowder's effectiveness.
Now, let's go back to 2016 with the McVay offense against the same Cardinals.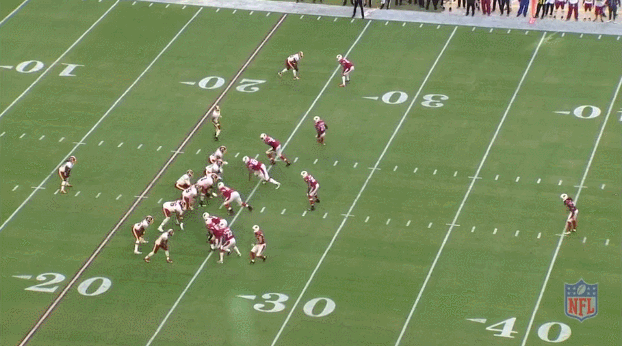 On this play, Crowder is lined up in the slot to the right and is open for a fairly easy crossing pattern. Cousins picks the harder route, but is also under pressure.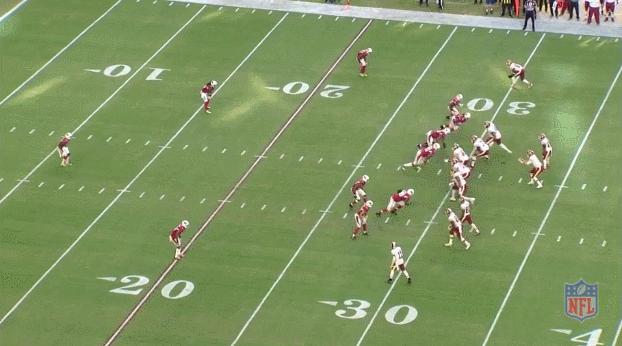 Crowder is lined up to the left of the formation in the slot, and is wide open for a first down here. However, Cousins is quickly under pressure and makes a weak throw to Chris Thompson. Notice the deep safety on the play here because DeSean Jackson is lined up on the same side as well. The safety respects Jackson's deep threat speed and doesn't close down on the gap to Crowder, which is why the receiver is wide open.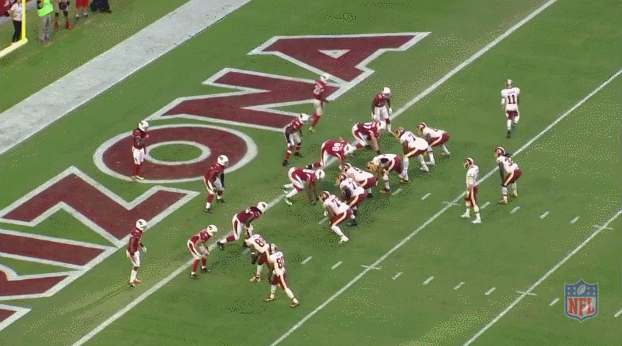 Notice Crowder to the bottom of the screen. It's a wide open touchdown, even though the camera focuses in on the other side of the field. The route concept is perfect, and there isn't going to be a defender near him in the end zone. However, Cousins has decided pre-snap to throw this pass for DeSean Jackson. This is another concept that will come up often with Adam Gase. He loves to have "pick routes" in short yard situations because they are incredibly hard to defend.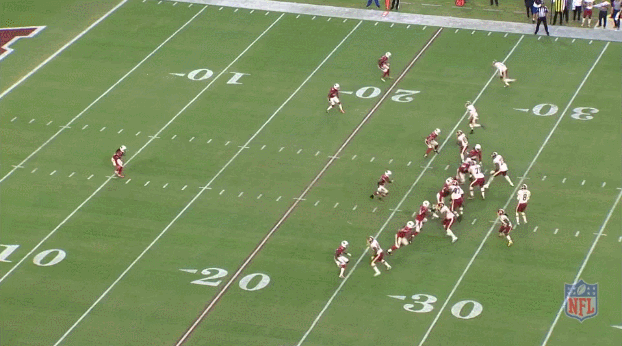 This pass is deemed incomplete, but notice how Crowder manipulates the defender with his hips to be open towards the sidelines. Once again, Cousins is under pressure and makes a late throw, but Crowder's ability to create horizontal separation is impressive.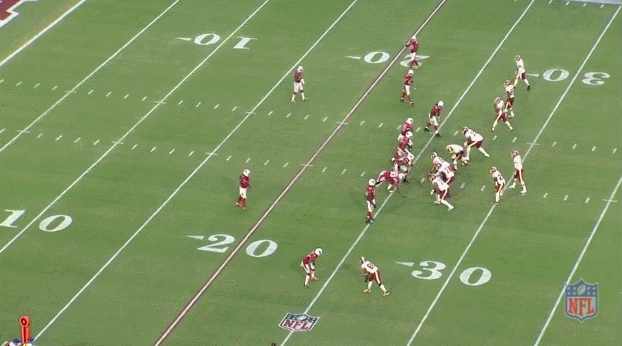 This is the very next play from the last clip. On the previous play, Crowder worked from the slot and then cut outside to be open for the pass. Notice the defender completely fall for the outside route here because he's so good at creating that horizontal separation. He's wide open for this touchdown because they have to respect his ability to cut inside or outside with excellent proficiency.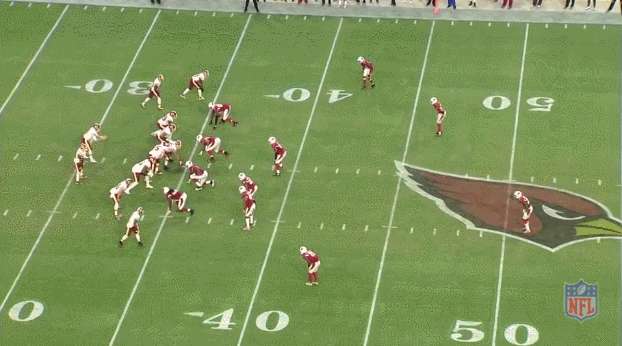 Forget Crowder on this play, this is an easy pitch and catch for him. Notice the other side of the field, with DeSean Jackson. Look at the safety near the top, because he's following the movements of Jackson, effectively double teaming him. When Crowder goes in motion, the safety that is in charge of that side of the field can't roll down, because the safety on the other end is tasked solely to watch Jackson. Without Jackson, or a deep threat on the field, the safety over Crowder will move towards the slot receiver, while the second safety would roll towards the middle to be the single high safety. In this case, this easy pitch and catch is because they have to respect Jackson's speed.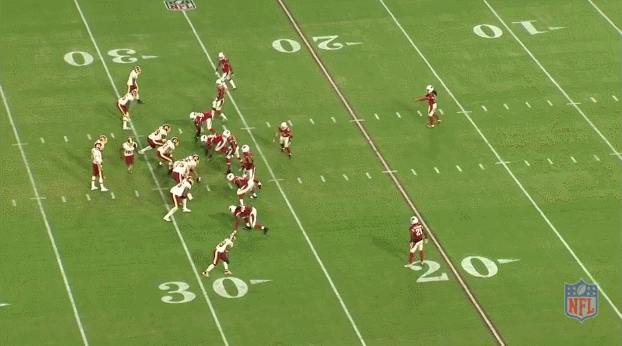 This interception ends the game on a 3rd and 4, with Crowder wide open for a pass. When Crowder goes in motion, the defender moves with him to show man coverage. However, the two defenders move to a high low coverage switch, but Crowder has them completely beat. He's not only open for the first down, but a good pass here could possibly could mean a touchdown. Unfortunately, Cousins ends up with pressure in his face and makes a terrible throw before Crowder could turn around.
Jets Issues:
Last year for the Jets, the main issue revolved around getting separation from defenders during crucial downs, especially from the slot. Jermaine Kearse was a good slot receiver a year ago, but he completely lacked explosiveness last year.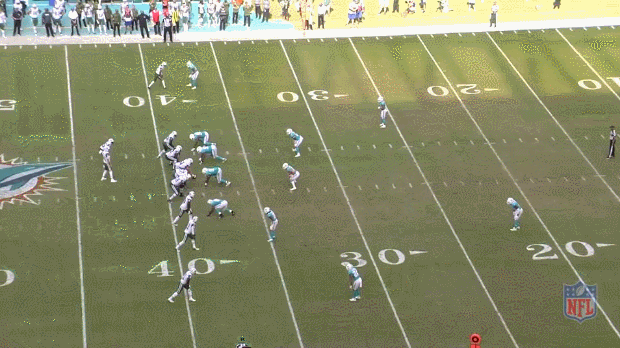 Don't pay attention to the pass, as it's irrelevant to the issue. Notice Kearse in the slot to the right of the formation on this 3rd and 8 play. We've already seen Crowder gain horizontal separation from defenders in the slot, but notice Kearse getting absolutely no separation at all. The play is blown up because Spencer Long absolutely gets destroyed, and forces Darnold out of the pocket. This level of ineptitude on third down is toxic for young QBs because they need their quick hit passes to at least be an option.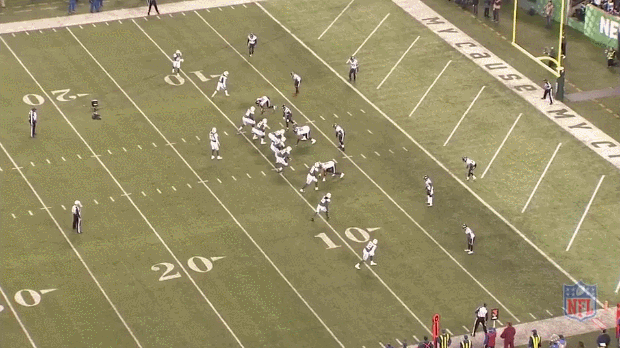 Remember the earlier play, where Crowder created horizontal separation near the end zone? Here, we see the exact opposite as Kearse doesn't create any throwing lanes whatsoever. The Jets stacked Kearse here to get him a better match-up, but the defender isn't fooled with the slant.
There are other examples as well, but the whole idea deals with the lack of receivers creating separation on their own in critical situations. Last year, the Jets did not have enough guys to create separation horizontally, which meant tougher reads on 3rd downs for Sam Darnold. A player like Crowder, as long as he stays healthy, can be a difference maker to the offense. The presence of Robby Anderson is key, because having the safeties avoiding the box will have a positive impact on Crowder's ability to get open in the intermediate area. He shows elite ability to create horizontal separation, which can serve as a good safety valve for Sam Darnold.
This isn't saying that Crowder will definitely be a difference maker to the Jets, much like Robert Woods turned out to be for the Rams. However, they have eerily similar profiles, and this could turn out to be a value signing by the end of the year.
Videos
JetNation
4.6K
Subscribe
Broken Brains; Critics of Jets Quarterback Aaron Rodgers Begin Stirring up Conspiracy Theories