Quinnen Williams To Practice on Saturday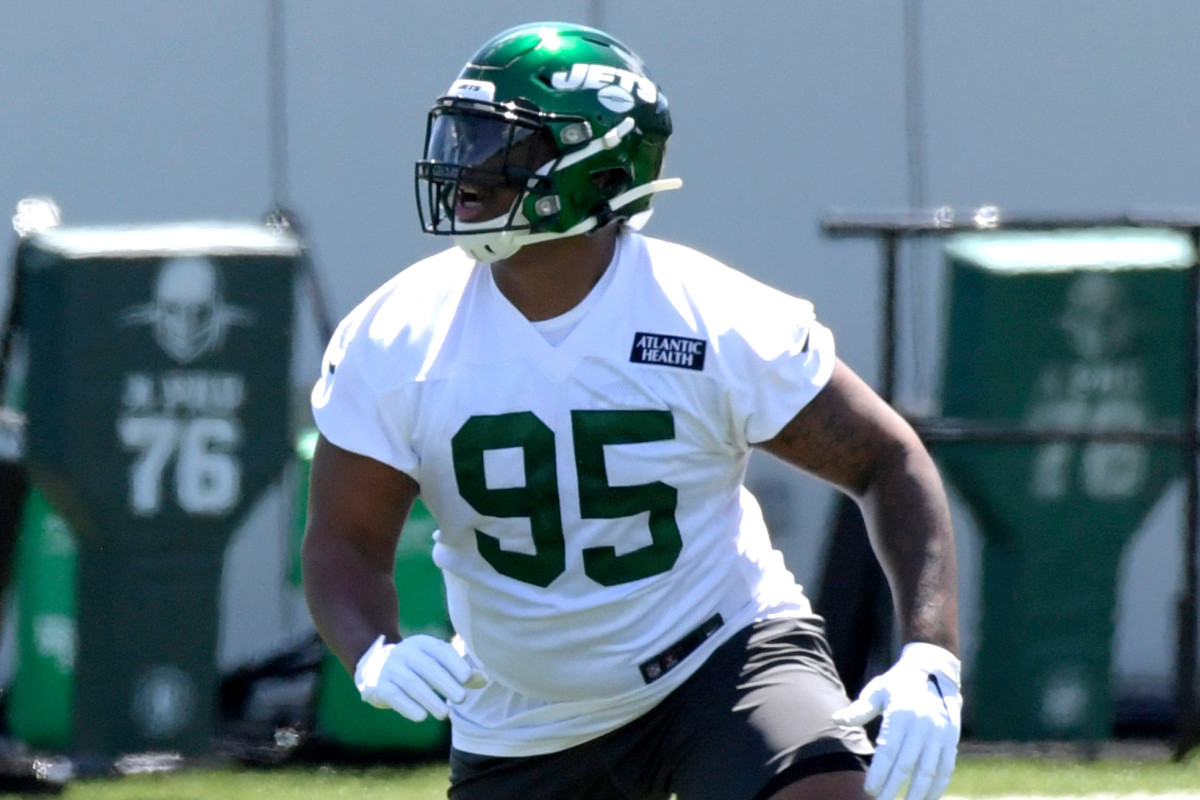 As we mentioned Quinnen Williams signed after the Jets first practice on Thursday. Today he was at practice but he didn't participate in drills. Head coach Adam Gase confirmed that Quinnen will practice with the team on Saturday.
That was good news yesterday for those guys to get that done and then him getting on a flight and getting here last night and coming out here and crushing the conditioning test. Just thought it was a right move pulling him out of practice, not putting him in a bad situation. Doing the conditioning test and practicing, he hadn't really been in meetings, he's been in one meeting so far. We'll get together this afternoon with our walk-thru and then tomorrow morning, he'll be ready to go.
Gase was asked several questions about the rookie first round pick, here is what he had to say.
On the kind of impact he can have on the team as a rookie…
I think that's another good player up front. I think that's a good place for us to start with the two lines going – defensive line and offensive line – I figure defensive line is slightly ahead of the depth-wise of what we have on offensive line. There's some good players up there and every day that I'm out here and I'm looking at what we're going against on defense. It's tough. Those guys battle every day.
On if he'll teach Williams one spot for now to get him comfortable…
I don't know if there's just such a thing as one spot on Gregg's (Williams) defense. The thing is, with him, his intelligence and how he picked everything up in the spring, he's a quick study. His football intelligence is off the charts. They're able to move him around and the way that Gregg's system is, they do a good job of teaching it, guys do a good job of learning it.
On if Williams will be seen playing nose tackle…
He'll be all over the place just like all the rest of those guys. Leonard (Williams) lined up on a couple of spots today where I was kind of like, 'All right, that's good to see.' So, I think Gregg does a great job of moving those guys around. It's hard to figure out where everybody's going to be.
On his experience working with defensive linemen and if those guys have a smoother transition into the NFL than other positions…
I think a lot of the positions, it would be yes because those guys can play with more instinct. You can design a defense to say, 'Hey, get off the field and penetrate' and make it simple for them and they can go do that. There's some guys that you just keep building their library up and Quinnen can do whatever they ask him to do because he's smart and he picks things up so fast.
On Quinnen Williams' comments about knowing the plays while watching practice…
Yeah, it's very annoying when you have these defensive linemen that seem to know where you're going before you move and we've got a couple of those guys. They always tell me it's because they played us the last couple of years. They're like, "We know your offense," I'm like, 'Thank you, that's why we never move the ball on you (joking). But, that's a smart group. Those guys, they're working hard, they're studying hard. When they're coming out here and you listen to those guys talk – the information that you're hearing them kind of speak to each other – it's really amazing.
On if Quinnen Williams' intelligence is what stands out to him the most…
He's in the backfield a lot. I mean, he's a good player. That intelligence just helps him. That helps him get another extra step outside of his athletic ability. That's where you see a lot of those guys up front – you look at the guys that have a lot of success like, Aaron Donald, he is smart and he's a freak athletically. So, when you put those two things together, they make it tough to stop. He's going to have some things that come up over the year where he's never seen before or somebody traps him and he's not anticipating it. So, he's going to go through some times where he's learning how to handle what the offense is giving him.
.@QuinnenWilliams continues to be the greatest person ever.

"I can YouTube everything"

So how did he use YouTube to prepare for his first day back🤔 Story here ➡️https://t.co/7KyeaADLYD pic.twitter.com/4BN8E7WAPk

— Olivia Landis (@livlandisjets) July 26, 2019
Videos
Aaron Rodgers Injury Fallout & Jets/Bills Recap