Douglas Still has Options to Strengthen Roster With Opener Approaching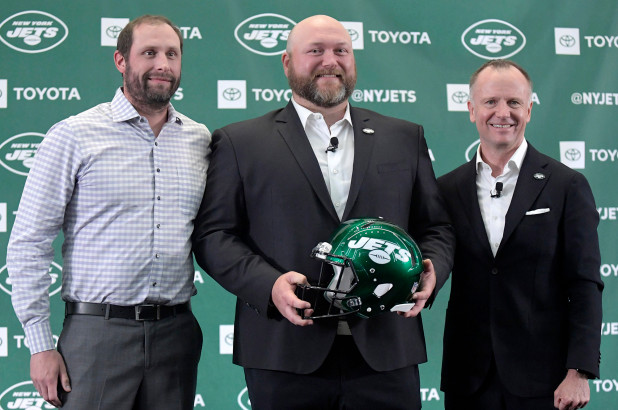 However the New York Jets 2019 season transpires, much of the credit or blame will likely go to former Jets GM Mike Maccagnan who was responsible for bringing in almost the entire roster, and as of now, essentially all of the 22 starters with the exception of center Ryan Kalil. He also played a large role in hiring head coach Adam Gase.
So with just a few weeks before the season kicks off, can current GM Joe Douglas make this roster his? Well, not entirely, but there are still some moves to be made that could have a big impact on Sundays in 2019 that will allow Douglas to show what he's got.
Douglas took on the Jets job with just two positions that needed serious upgrades in center and cornerback. With the formerly retired Kalil deciding he wanted to lace 'em up again, Douglas pounced and took care of the center position for the immediate future.
Next up is cornerback where a combination of ineffectiveness and injuries make Trumaine Johnson a question mark at best. Darryl Roberts has a chance to be a decent CB2, but there are still questions about his consistency. A look at right tackle shows a promising young rookie in Chuma Edoga and a guy in Brandon Shell who missed 2 games in 2017, 4 games in 2018 and is dealing with a minor knee injury at the .
The addition of Quinnen Williams is expected to boost the pass rush numbers for the defense but there is still no proven edge rusher on the roster. Those guys don't come available often, but there may be a player out there who could help as a situational player. How can Joe Douglas address these holes between now and September 8th against the Buffalo Bills? Here are a few options.
Cornerback:
We said a few days ago that Douglas should be on the phone with the Dallas Cowboys to try to pry Jourdan Lewis away from Jerry Jones as he enters his third season and that hasn't changed. However, what has changed is that former Rams and Buffalo Bill EJ Gaines has been let go by the Bills in an injury settlement and is now a free agent. Gaines was a highly thought of player just two years ago and at 27 years old could immediately become one of the top 3 cornerbacks on the roster who has started and played at a high level.
Edge Rusher:
This is about as unlikely as a position to find a free agent floating around who can have a big time impact, but as a situational pass rusher who can generate pressure on 3rd down or in a big spot, why not kick the tires on former Green Bay Packer Nick Perry? Perry had 18 sacks in just 23 games from 2016-2017 before missing most of 2018 due to injury.
Offensive Line:
The aforementioned Maccagnan traded for Kelechi Osemele, signed Tom Compton and drafted Chuma Edoga. On the back of that, Douglas signed Ryan Kalil and traded for Alex Lewis. Those moves put the Jets O-line in a much better position now than it has been in previous years. Even still, while Brandon Shell has been a serviceable player, he's had some nagging injuries and there are some possible upgrades sitting on the market as we speak. At 31 years old, former Atlanta Falcon Ryan Schraeder is longer in the tooth than Shell, but has been a better all-around blocker. More of a mauler in the run game and a good pass protector, Schraeder could upgrade Shell's biggest weakness which comes in the run game, without losing anything as a pass blocker.
Another player worth looking at in this spot would be former Jaguar Jeremy Parnell, but at 33, he may have a tougher time getting a call.
Wide Receiver:
My understanding is the Jets made a strong offer for WR Dontrelle Inman, who recently parted ways with Patriots. Inman signed back with the Chargers, but NYJ is serious about adding as many potential weapons for Sam Darnold/Adam Gase as possible. Good sign from the new regime

— Manish Mehta (@MMehtaNYDN) August 20, 2019
According to Manish Mehta of the New York Daily News, the Jets made a "strong offer" to free agent receiver Dontrelle Inman to continue surrounding Sam Darnold with quality targets. Aside from Inman, there's wide receiver Terrance Williams, who averaged 671 yards per season with the Dallas Cowboys from 2013-2017 while finding the end zone 20 times. If the Jets are willing to make a push for Inman, no reason not to kick the tires on Williams.
Final Roster Cuts:
Of course there are moves to be made when teams make their final cuts and for Douglas, the first priority should be to add the best kicker who shakes loose. Look for Dan Bailey to be at or near the top of the Jets list. Douglas will also likely be keeping an eye on any cornerbacks let go by his former team, the Philadelphia Eagles, who are carrying 11 at the moment and have one of the deepest groups on the NFL.
With kickoff just around the corner, expect to see some new faces in MetLife Stadium against the Bills.
Videos
Was Boomer Right to Blast Becton? Former Jets QB Sounds off Against Jets Tackle.