Sam Darnold on Braxton Berrios & Week One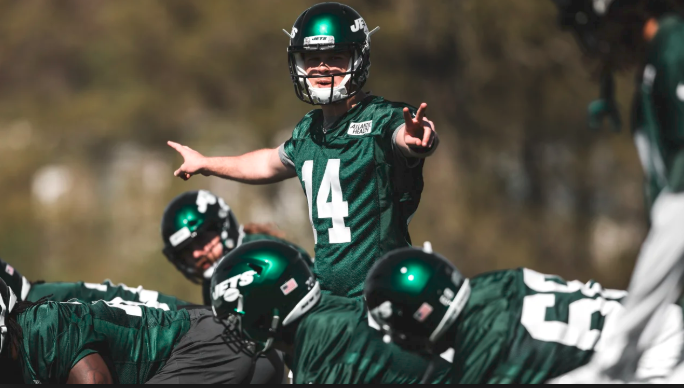 Sam Darnold spoke to the media about Braxton Berrios, the week one matchup against the Buffalo Bills and a few other topics.
On if it feels like game week to him…
Yeah, I think after this morning's meetings, even yesterday watching Buffalo a little bit, starting to get the jitters, starting to feel like a game week and we are ready to kick off the season and get off on the right note.
On Braxton Berrios…
Yeah, I actually got to hang out with him a little bit at the combine. I got to talk to him a little bit there, unfortunately he had that bad accident with the bench press and I was actually in his group for that so that was a bummer, but obviously having him here, another good guy to have in the locker room and I know what he can do as a receiver or even returning kicks and punts, so we are happy to have him.
On what type of receiver Berrios is…
Yeah, he can be that same role that Jamison (Crowder) plays-that slot guy that can bounce around outside, inside, do a bunch of stuff, maybe even go in the backfield and runs some routes, so kind of a jack of all trades kind of guy.
On facing Josh Allen on Sunday…
Yeah, it will be fun. We are both competitive guys and I think for me, going up against the same Buffalo defense that I went up against last year, it's going to be fun to see the different looks that they bring me, different kind of pressures, it will be fun to see what Coach (Sean) McDermott has up his sleeve this game.
On Davis Webb signing with the Bills…
It is what this league is, it is a business and it's just crazy. I talked to him yesterday and he said see you in a week. It is crazy to think about how all of that happens and it happens so fast, but I'm glad that he signed somewhere and I'll be really happy to see him next week.
On if Webb can do a good impression of him…
Yeah, he's seen me play and has seen what I do pre-snap and all that for the last year or so, so hopefully he has it down by now.
On his routine during this past weekend…
No, I was definitely engaged. I was trying to stay as engaged as I could this weekend with all the moves, all the moves especially that we were making. It's interesting, you never know what is going to happen in this league and to see some of the cuts and trades, all that stuff go down yesterday and the day before, you know never what could happen, so I was staying engaged with all of it.
On the unpredictability of Week One games…
I think you are trying to find your identity as a team, find out what you can do well. Obviously you want to try to see what you can do well in training camp and during the preseason as well, but those first couple of games you still are trying to figure things out and so, I think that's why sometimes it can be unpredictable and it's how teams respond to that, but especially during the middle half of the season and obviously towards the end of the season you start to figure out who teams are.
On if he could have predicted what happened last year during Week One…
No, especially not the first play (laughs). You draw it up and you play it in your head so many times and you play out how things can happen but it never seems to happen that exact way, but that's our job as quarterbacks in this league, is to just no matter what happens in the game, to continue to play ball and continue to keep your head down and play one play at a time.
On what personality he thinks the offense brings this year…
Electric. I think we are going to do some fun things out there with all the tempo and all the different things we can do, so it will be fun, it will be fun to watch us and hopefully we are going to put up a lot of points.
On if he anticipates growing pains early on…
I think it's definitely a fair question to ask. I think there might be, it's not like I'm expecting there to be growing pains but if there are we are just going to roll with them, kind of like what I just said, we are going to play it one play at a time. If something happens during the course of a series, I might go to the sideline and tell (Coach Adam) Gase how I'm feeling back there, how the defense is responding and all that, so we are just going to try and figure things out, but right now especially we have a really good foundation for where we want to go.
On how the wide receiver group being small in numbers affects him…
It doesn't, I think for me it's just about continuing to play, continuing to play football no matter who's out there, it's all about just keeping my head down and working and I know for me especially in this offense there are so many reads where I am going one, two, three and there are some pre-snap look reads that I have to make, but other than that just trying to get the ball to the open guy.
On the type of receiver Josh Bellamy is…
JB (Josh Bellamy) is awesome. Beezo (Josh Bellamy) has been great for us in training camp and even early on in OTAs you saw his leadership as an older guy and we all know what he can do on special teams that's kind of been his trademark around the league, but a lot of people don't know how special he is as a receiver. Once he gets his opportunity to get in there, like I said, he's been doing it for a long time, so he knows what to do once he gets in there.
On how Le'Veon Bell can impact the team Week One…
Yeah I think he can only help us, he's such a talent, what he can do not only catching footballs, not only running the ball, but also catching the ball out of the backfield, lining up wide and running some routes so I'm excited to see him live in a game and I know a lot of the guys are as well.
On how Bell makes his job easier…
First of all, the way he is able to protect out of the backfield, I know he's going to matchup with a linebacker, he's going to win that matchup and make the guy hold on for a little longer and also if the linebacker has him matched up out of the backfield I know he is able to win that matchup running a route and also running the football. There are so many different ways he can help but it all starts with the offensive line and we all know that, but we can count on Le'Veon (Bell) to find that opening and find the crease in there.
On if he anticipates any growing pains with Ryan Kalil on Sunday…
No, I don't think so, I think with Ryan he is such a vet, he's been through a lot and he's seen a lot of looks that we are going to see on Sunday, so I am not expecting too many growing pains. For me it is just about keeping things consistent, I think just in terms of the cadence and all that. Obviously, we are going to mix it up, but for the most part keeping things really consistent and stable.
Videos
New York Jets OTA Presser Takeaways, Aaron Rodgers' Impact and Summer Delusion