Jets Injury Report; Robby & Trumaine Feeling Good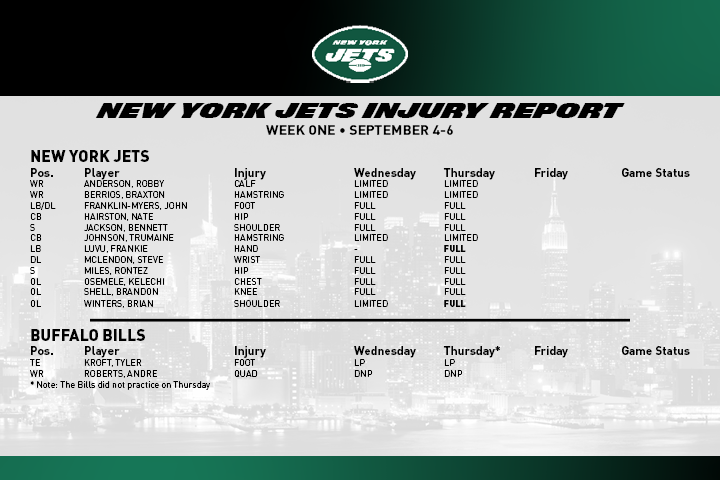 The Jets are starting the season off relatively healthy. They suffered the big injury to Avery Williamson during the preseason. As they head into week one though the news is getting better for several Jets that were banged up. The full injury report from the team appears below along with several updates from Adam Gase.
Three players were listed as limited: Robby Anderson, Braxton Berrios and Trumaine Johnson. Adam Gase did say before practice that he expected Trumaine Johnson to be a full participant and he will be ready for the game on Sunday.
Robby Anderson is also "good" for Sunday.
We're just being smart as far as how much we're using him and just making sure – because it had been a couple weeks. So, we were just trying to make sure he's good. He keeps saying he's fine. So, I think it's more us just being cautious.
Here are a few other updates from Gase:
Brian Winters, he'll be (a) full (participant) today, I think he was limited yesterday and then (Frankie) Luvu is going to be added to the injury report. (He) kind of had a hand yesterday. He'll be practicing, we think he'll be full. He's going to be working with some splint, but it looks like we'll be all right there. We got out pretty clean yesterday. It was a good day's work and we've got to put another one together today.
New center Ryan Kalil isn't injured but there were some questions about what kind of shape he was in since he planned on being retired and joined the team after camp started.
I think he's feeling good. I feel like the practices have been really good with him. I think he's gotten really comfortable with the offense. He's really studied hard to get on the same page with everybody else. I think those guys talk so much. To watch those guys at practice and see how much they're talking after a period is over, has been very impressive. 
For the Buffalo Bills, ex Jet returner, Andre Roberts missed his second practice in a row today.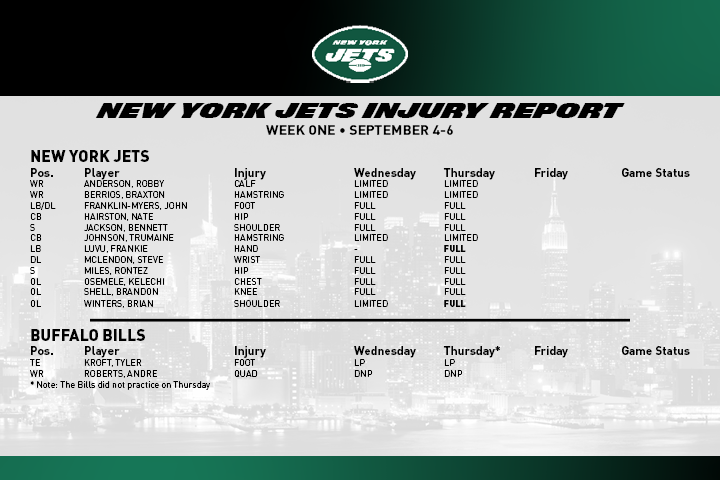 Videos
Aaron Rodgers Injury Fallout & Jets/Bills Recap