Injury List is Still Long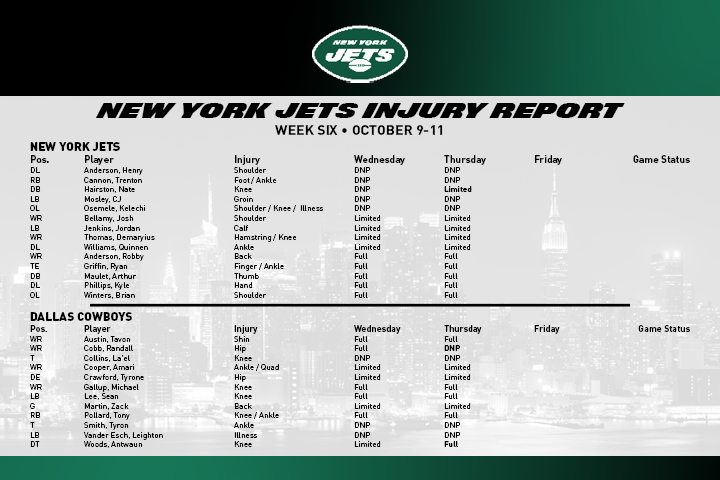 There is certainly good news with Sam Darnold being cleared for contact again this week. Darnold will wear special padding to protect his spleen but he says the padding isn't restrictive at all. He plans on wearing this special padding the rest of the season. He has been doing light conditioning, even while he was out, so he says he is in good shape and is ready to start on Sunday.
I think having a couple weeks of practices under my belt is a good thing. It's definitely going to help with that, but there's nothing like Sunday and I think going out there and going out there and playing the first couple series, I think will be a little bit of a shock to the system, I guess you could say. But I think I'm going to be ready and hopefully, after those couple series, I think, I'll feel right at home.
Any hope of the Jets having a strong surrounding cast seems to be fading fast. The injury list is still long and it seems likely that the Jets will be without many key players on Sunday vs the Cowboys.
Here are the injury updates that Adam Gase gave the media on Thursday after practice.
Opening statement…
Updates here on the injury report. (Trenton) Cannon, foot/ankle, he won't practice today, (Chris) Herndon, hamstring, he won't practice today, Kelechi (Osemele), shoulder, won't practice today, C.J (Mosley), groin won't practice today, Henry (Anderson), shoulder, won't practice today, Nate (Hairston), knee, it's up in the air, he is trying to figure out a way to do individuals, see how he feels, we're trying to debate whether or not he should go today or not, he is trying to go.
On if Kelechi Osemele's injury could be long term…
I am not sure. When you get veteran O-lineman, (and they) get banged up a little bit, it's not as easy to come back and stay on the field. We are trying to get him as healthy as we can, get back on the field.
On which of Osemele's injuries is more severe…
For him it's probably both. The shoulder right now, the knee does flare up on him right when he steps on the field.
On if surgery is an option…
It's not one of those type of things, he's just played a lot of football
On if Nate Hairston's knee injury was a reason why he didn't play on defense…
It kind of popped out of nowhere.
On when his injury occurred…
No, I think it was on game day. He kind of swelled up, he played and then it's progressively gotten worse since the game, so we were kind of caught off guard a little bit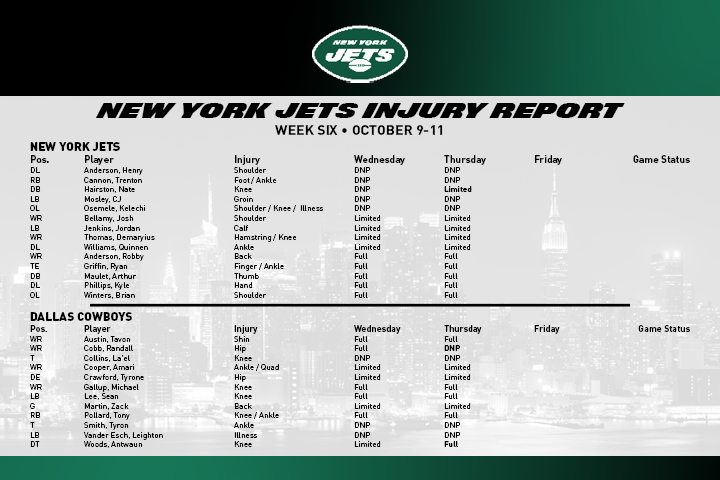 Videos
Aaron Rodgers Injury Fallout & Jets/Bills Recap