Darnold Throws for 315 Yards as Jets Rout Raiders 34-3; Week 12 Report Card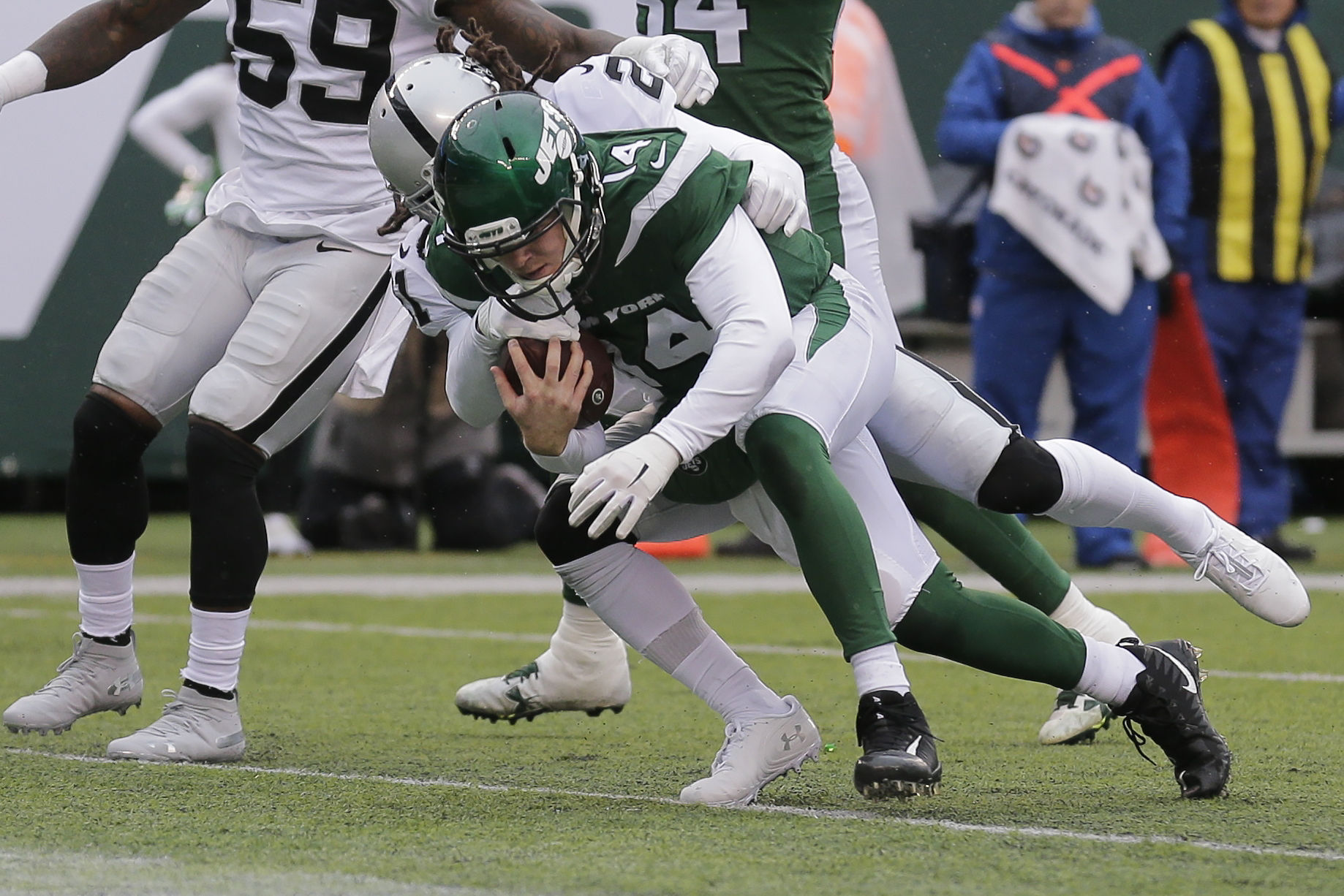 Well, fair to say nobody saw that coming.
In a game that many viewed as an opportunity to squeak out a close win, the New York Jets showed up at MetLife Stadium today and trounced the Oakland Raiders 34-3.  It was the third consecutive contest in which Gang Green up up 34 points and one in which high marks were earned from from top to bottom.
Quarterbacks: A+
Sam Darnold played turnover free football while throwing for 315 yards and 2 touchdowns on 20-29 passing.  Darnold would also run for a score while spreading the ball out, connecting on passes with nine different receivers.  Perhaps the most encouraging aspect of Darnold's game was his willingness to throw the ball away in the red zone and settle for a field goal opportunity rather than force a bad pass a turn it over.
Running Backs: B+
Le'Veon Bell didn't have a great deal of running room, but as usual, he made the most of what the O-line gave him.  Bell would average 4.1 yards per carry, picking up 49 yards on 12 attempts.  Finally becoming an option through the air, Bell also caught 5 balls for 59 yards on 5 targets.  In all, Bell had 104 yards from scrimmage.  Bilal Powell chipped in with 15 yards on 5 carries and one catch for 5 yards.
Wide Receivers: A
Robby Anderson made the best catch of the day on a flea flicker that Darnold tossed up in traffic as Anderson battled for the ball and lost it momentarily before pulling it in.  Anderson would later haul in a 1-yard TD pass.  Braxton Berrios had the biggest catch of the day on a quick slant over the middle that saw him sprint between a pair of defenders on his way to a 69-yard gain.  Damaryius Thomas, Vyncint Smith and Jamison Crowder would combine for 5 receptions on 62 yards to chip in on another offensive outburst.
Tight Ends: C
Not much action for the tight ends today but Ryan Griffin did celebrate his brand new contract by picking up his 5th touchdown of the season.  He would finish the day with 3 receptions for 13 yards.
Offensive Line: B
The running room was slightly better than it's been for much of the season and the pass protection was solid once again.  Darnold had plenty of time to throw for much of the day and was sacked just once.
Defensive Line: A
This was a big test for a defensive line that was facing one of the top rushing attacks in the NFL as Josh Jacobs has been one of the league's better backs of late.  Against the Jets defensive line, he managed just 34 yards on 10 carries.  Gang Green continues to stifle opponents at the point of attack.
Linebackers: B+
The 'backers also stepped up in helping shut down the Raiders run game as inside linebackers James Burgess and Neville Hewitt combined for sixteen tackles and one tackle for loss.  Brandon Copeland shared a sack with Jamal Adams.
Secondary: A
Fair to say Bless Austin is a good NFL football player, Arthur Maulet continues to open eyes and it's time for Brian Poole to get a contract extension.  Poole had a pick-6 while Austin and Maulet were keys to the victory.  Derek Carr entered the game completing 72% of his passes with a 3-1 TD to INT ratio.  When this one was all wrapped up, Carr had completed just 55% of his throws, going 15-27 without a score.  Jamal Adams was his usual heat-seeking-missile self and managed to get another notch in the sack column as he shred one with Brandon Copeland and narrowly missed on two other plays.
Special Teams: B
Not a very active day as the Jets didn't punt until late in the third quarter.  Braxton Berrios had an impressive 26-yard punt return and Sam Ficken went 2-3 on field goals and was a perfect 4-4 on extra points.
Coaching: A+
Give Adam Gase credit for putting his ego aside and taking on board the advice that was given to him several weeks ago by Sam Darnold.  Since Darnold pulled Gase aside to advise him on how to adjust the offense after the Jacksonville loss, the unit has been reborn and is kicking down doors.  Gregg Williams continues to do a masterful job in calling the defense.
Videos
Aaron Rodgers Injury Fallout & Jets/Bills Recap