Joe Douglas Represents Harsh Reality for Jets Fans Anxious for Winner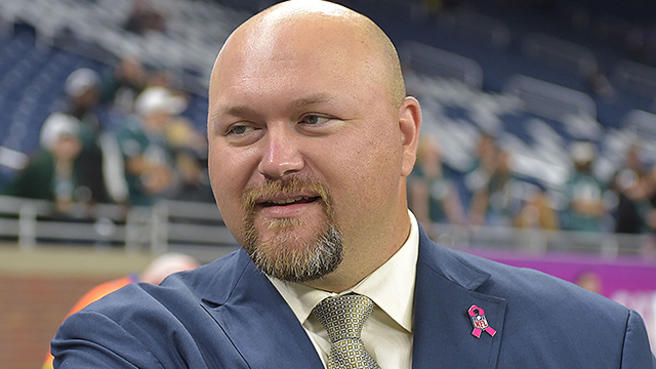 As Jets fans wait for the final few weeks of another season without a playoff berth to wind down, they're faced with a very harsh reality for this coming off-season.  Optimism is high for first-year GM Joe Douglas as he has as strong a resume as any GM in recent memory, but the fact of the matter is that Douglas is still a complete unknown.
Further compounding things for the Jets is the fact that while they have no idea what they've got in Douglas, they know exactly what they have in head coach Adam Gase.  A stubborn coach who makes no effort to build his offense around his players, but who would rather force his players in to his offense. The result has been huge steps backward for running back Le'Veon Bell and wide receiver Robby Anderson, the two most explosive players on the roster.
Where this leaves the Jets is having a GM who will not only have to completely re-build the his offensive line and receiving corps, but he'll have to build a team that's good enough to overcome a head coach who, in almost four full seasons, has lost 41% of his games by double digits.
Putting together enough talent to overcome poor coaching has been done before (see Barry Switzer) but it's a monumental task for Douglas.
On the plus side, the Jets have some quality pieces to build around on offense, and some truly elite talent on defense if they can get healthy this off-season.  Here's a look at the Jets potential starting 22 next season with a look at where upgrades must be made, where they can be made, and where the Jets are good to go.
Offense:
Quarterback: Darnold has been inconsistent under Gase but this should come as little surprise.  The offensive line hasn't held up frequently enough under pressure and Gase has done little to help Darnold out.  We rarely see Le'Veon Bell line up in the slot as an option for a quick hitter to beat pressure while rollouts and play action aren't utilized nearly enough.  Good to go.
Running Back: The Jets should be set at running back with Bell, but Gase hasn't figured out a way to get him involved in the offense just yet.  Perhaps some film work this offseason to see how Bell was used in Pittsburgh will help bring Gase along.  Good go go (for now)
Wide Receiver (2): The Jets could be set at WR2 and WR3 if they were to retain Robby Anderson, but the fact of the matter is that Anderson isn't targeted nearly enough to give anyone the impression that Gase is interested in bringing him back.  Look for Anderson to sign elsewhere and flourish while another hole opens up on the roster for Douglas to fill. (Must add WR1, possibly WR2)
Tight End: Chris Herndon should be back next season and Ryan Griffin has done a nice job in his place this season.  Herndon and Griffin could team up to be the best 1-2 punch the Jets have ever had at tight end. (Good to go)
Left Tackle: Kelvin Beachum is likely on his way out, but if the Jets don't want to have to import five new starters on the O-line, they could look to bring Beachum back on a short deal with an eye on drafting a future left tackle who will be given a shot to take Beachum's job as a rookie.  If the Jets are forced to stick with Beachum, it wouldn't be the worst option, but an upgrade would be nice. (Possibly new starter)
Left Guard: Alex Lewis is another player who the Jets should be looking to replace this offseason but bringing him back for depth purposes wouldn't be a bad idea.  Don't rule out the possibility of Chuma Edoga moving to the inside and competing for this spot with a look at left tackle if he can get stronger this offseason. (Upgrade needed)
Center: The worst move we've seen from Douglas up to this point was flushing $8.4 million down the toilet on Ryan Kalil.  Jonotthan Harrison has taken over in that spot and has shown that the offense can function with him in place.  As is the case with Beachum, the team should look to upgrade, but if both guard spots are repaired, Harrison should be brought back to compete for a backup spot. (Possilby set)
Right Guard: Tom Compton is another depth guy in a spot that should absolutely be upgraded.  He can be a depth option but shouldn't be your first choice to start. (upgrade needed)
Right Tackle: Brandon Shell will likely depart as a free agent and Chuma Edoga could also get a chance to compete here.  In all reality, the Jets should be looking to draft a better all-around player in this spot with a premium pick. (upgrade needed)
Final Analysis:
At minimum, Douglas needs a pair of new starting receivers when Anderson walks and at least three new starters on the offensive line.  He may need a new running back as well if Gase asks for the future Hall of Famer to be traded for a player he can better utilize.
Defense:
Defensive Line: This is a spot where the Jets are stacked.  Henry Anderson, Quinnen Williams and Folorunso Fatukasi figure to start in the team's 3-4 alignment and there are plenty of other bodies that give them a strong 4 man front (Steve McLendon, Kyle Phillips, Nathan Shepherd). (Good to go)
Outside Linebacker: Jordan Jenkins has turned in to an above average starter who can get to the QB and offer strong run support but there is not proven starter on the opposite side.  If Jenkins walks, the Jets have wide open holes in both starting spots. (At least 1 new starter, possibly 2)
Inside Linebacker: Injuries have decimated the position this season but with CJ Mosley and Avery Williamson expected back next season, the Jets may look to retain depth but have an excellent duo in place.  As good as he has been, don't rule out cutting ties with Williamson who would save the team over $6 million in cap space. (Good to go)
Cornerback: Bless Austin has been a revelation at cornerback so the Jets will monitor his health closely.  Injuries were they only reason why Austin wasn't drafted sooner and he's showing why many viewed him as a day one or two pick.  Outside of Austin, there are no boundary cornerbacks on the roster that can be counted on.  The Jets should look to retain Brian Poole in the slot. (Need one new starter)
Safety: We still wouldn't rule out a trade involving Jamal Adams, but that's not necessarily a bad thing.  Adams would likely bring a pair of first-round picks or at the very least, a first rounder and another premium pick.  If he stays, the Jets have an elite defender who can stop the run, the pass and get to the QB.  A rare commodity.  Marcus Maye figures to return and continue to man the free safety spot where he has been solid yet again this season. (Good to go)
Final Analysis:
Douglas has the personnel on defense to have an elite unit if Austin continues to play at his current level while the Jets find a second starting cornerback and a formidable edge rusher.  If Jordan Jenkins is allowed to walk, it will mean finding two new outside linebackers but as a whole, the unit is much closer to being a top tier group than the offense is at this point.
Of course there will be 31 other spots to fill on the roster, but in terms of the starting 22, there is some good talent to start with.  The main issue will be for the team to get healthy, and for Douglas to find a way to construct a roster that can overcome Gase's shortcomings.  It's no easy task, but we'll find out in time if Douglas is up to the challenge.
Videos
Was Boomer Right to Blast Becton? Former Jets QB Sounds off Against Jets Tackle.