As Former top Exec in Philly, How are Joe Douglas Drafts With Eagles Looking Today?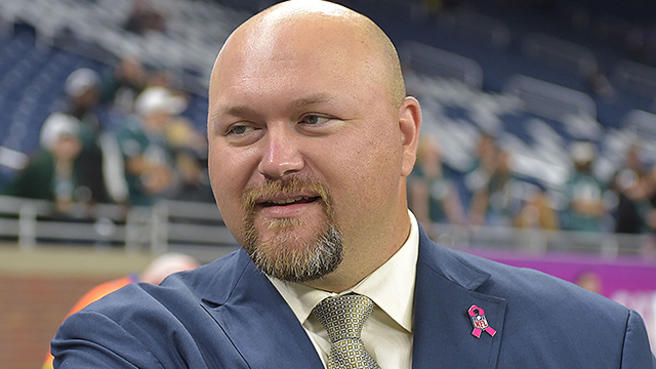 From a fan perspective, one of the nice things about having your team hire a top executive from another club is that you can look at that team's history in the draft during that person's tenure, knowing that while they might not have made every pick, they certainly had heavy influence in the war room on draft day.
In John Idzik and Mike Maccagnan, the Jets hired a number cruncher and a college scout respectively.  Nobody outside of each team's war room knows what Idzik or Maccagnan contributed when draft choices were made.
In the case of Joe Douglas, the Jets got Philadelphia's Vice President, who would have certainly had the ear or Eagles GM Howie Roseman whenever the Eagles were on the clock.  With that in mind, and with each player having just about another full season under their belts, let's take a look at how Philly's picks from the Joe Douglas era have panned out ,starting with 2017 as they are just wrapping up their pivotal third pro season.
The 2019 class on the other hand?  We'll list them last, but those results should be taken with a grain of salt as these rookies have yet to coplete an NFL season.
2017:
Rd 1- DE Derek Barnett (14th overall) :
A big defensive lineman out of Tennessee, Barnett has 64 tackles and 12 sacks through three pro seasons.  He spent much of his first two seasons as a back-up/rotational player but has started 12 games this year, picking up 4.5 sacks with a chance to hit a new career high (currently 5) with 2 games remaining.  Not the production you would hope for out of the 14th pick, but a player who is seeing increased playing time and production.
Rd 2- CB Sidney Jones (43rd overall):
Jones still hasn't cracked the Eagles starting lineup and has started just 8 games in 3 seasons, picking up his first pro interception this year.  Jones has seen some action in the slot but is primarily a boundary corner whose most extensive playing time came in 2018 when he was on the field for 321 snaps and earned an overall grade of 47.5 from pro football focus.
RD 3- CB Rasul Douglas (99th overall):
Douglas was a player whose name was floated several times this off season as a former Joe Douglas pick that he might pursue via trade.  He was coming off of a solid 2018 and many expected Douglas to take the bull by the horns and try to steal a starting job in Philly.  As it turns out, Douglas has played in 13 games this season but started just five.  After picking off five passes through his first two seasons, Douglas is without one this year.
Rd 4- WR Mack Hollins (118th overall):
No longer a member of the Eagles, Hollins was waived earlier this season and latched on with the Miami Dolphins via waivers.  In just under three full seasons in Philly, Hollins finished his Eagles career with 351 yards and a touchdown.
Rd 4- RB Donnell Pumphrey (132nd overall):   
Pumphrey did not play an NFL snap after being drafted and is now a running back for the DC Defenders of the XFL.
Rd 5- WR Shelton Gibson (166th overall):
Gibson picked up 3 catches for 59 yards over two seasons with the Eagles before landing with the Cleveland Browns.
Rd 5- LB Nathan Gerry (184th overall):
Gerry was a college safety who has transitioned to linebacker with the Eagles where he has started nine games this season, picking up 2.5 sacks.  In three years as a pro, Gerry has 81 tackles in 12 starts.
Rd 6- DL Elijah Qualls (216th overall):
Qualls did not register a statistic during his time with the Eagles and joins former teammate Donnell Pumphrey with the DC Defenders.
2018
Rd 2- TE Dallas Goedert (49th overall):
Without a first round pick, the Eagles selected Goedert in the middle of round 2 to pair with Zach Ertz.  Through two seasons, Goedert has appeared in 28 games (15 starts), racking up 730 yards and 8 touchdowns.  While it comes out to just 26 yards per game, Goedert is a complimentary player to one of the top receiving tight ends in the NFL.
Rd 4- CB Avonte Maddox (125th overall):
A former Pittsburgh Panther, Maddox started 9 games as a rookie and 4 contests so far in 2019.  He has two career interceptions and 10 passes defended to go along with his 68 tackles.  Per pro football focus, Maddox earned overall grades of 57.6 and 54.6 thus far.
Rd 4- DE/OLB Josh Sweat (130th overall):
Sweat still hasn't started an NFL game, but he has played on a rotational basis, picking up his first 3 sacks this season.
Rd 6- OT Matt Pryor (206th overall):
A college tackle, Pryor has been moved inside to guard by the Eagles where he has not yet started an NFL game.
Rd 7- OT Jordan Mailata (233rd overall):
Mailata has yet to appear in a pro game and has been placed on injured reserve in each of his first two seasons.
2019:
Rd 1- OT Andre Dillard (22nd overall):
Dillard has started four games with the Eagles while picking up a few snaps here and there in jumbo packages.  In his four starts, the big offensive tackle has allowed 3 sacks and 13 quarterback pressures according to pro football focus, although two of those games did see him earn respectable overall grades in the low 70's.
Rd 2- RB Miles Sanders (53rd overall):
Perhaps the best value pick the Eagles had during Douglas' tenure, Sanders has picked up 948 yards from scrimmage (565 rushing, 383 receiving) and 3 touchdowns.
Rd 2- WR JJ Arcega-Whiteside (57th overall):
One of the most producitve red zone threats in college football, Arcega-Whiteside has had a hard time getting on the field for the Eagles as  a rookie despite a depleted receiving corps.  Having played 20 or more snaps just five times this year, Arcega-Whiteside has produced only 8 catches for 130 yards and a touchdown.
Rd 4- DE Shareef Miller (138th overall):
A rookie out of Penn State, Miller has played only two snaps this season, both of which were on special teams.
Rd 5- QB Clayton Throson (167th overall): 
Throson was released by the Eagles as a rookie and is now a member of the Dallas Cowboys.
So that's a wrap on Joe Douglas' s time with the Eagles as the team's vice president and while the results may not be what he had hoped for up to this point, Jets fans will still be expecting a new approach and far better results than they've gotten from each of the last two men to sit in Douglas' chair.
Videos
New York Jets OTA Presser Takeaways, Aaron Rodgers' Impact and Summer Delusion