Top Story Lines to Follow as Gang Green Off-Season Approaches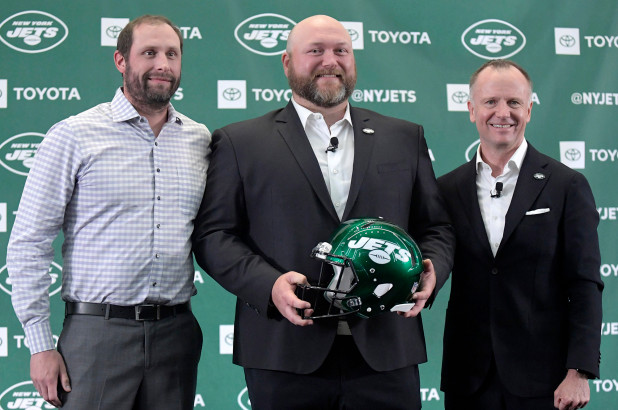 Jets GM Joe Douglas has his work cut out for himself in the coming months in his first go-around in the big boy chair at 1 Jets Drive in Florham Park.  His team has lots of quality talent to build around, but there are gaping holes that still need to be filled and questions to be answered as things move along.  Here are our top 10 things to keep an eye on.
1) What to do with Jamal Adams:
Adams is one of the top defensive players in all of football who has proven he can do anything that's asked of him.  His second straight pro bowl selection came as no surprise, but there could be a big surprise in store once the new league year starts.
PFF ranks Jamal Adams no worse than 7th in the NFL among safeties with over 300 snaps played in every category they grade.

Ovr: 88.6 (4th)
Run D: 81.6 (7th)
Tackling: 89.7 (2nd)
Pass rush: 90.4 (t-1st)
Coverage: 86.1 (7th)

— Glenn Naughton (@AceFan23) December 26, 2019
It's no big secret that there was interest in Adams at the trade deadline, and despite his on-field performance, if Joe Douglas can get a team to commit to giving up two first round picks or something close to it, Adams could be sent home to Texas.  Throw in the fact that Adams could use his second pro bowl selection to ask for a major pay raise and it could compel the Jets to look for a trade partner.
2) Which premium position is addressed in round one?
One of the biggest knocks on recent Jets GM's has been the lack of early picks used on premium positions.  The Jets have invested lots of first round picks in safeties and interior defensive linemen while ignoring big money spots.  You can bet your bottom dollar this won't be the case with Joe Douglas.  Look for Gang Green to add a left tackle, pass rusher or cornerback with their top pick in 2020.
3) Le'Veon one and done?
Le'Veon Bell is another player whose name came up in trade talks at the deadline.  The fact that Adam Gase didn't want the Jets to sign Bell and went on to ignore him as a receiver on offense lets us know that Gase either doesn't know how to use Bell, or doesn't want to use him.  Either way, he's not a fit for what Gase wants to do on offense.
It would mean picking up a chunk of his salary, but there are teams who would likely give up a mid-round pick for one of the NFL's best players.
4) Trenches will be re-built, but how?
At minimum, the Jets need to add three new starting offensive linemen and one could make a case for adding five.  No matter how you slice it, the Jets need several additions that are prepared to play a whole bunch in 2020.  If done through free agency, the price will be high, but they can add players who are ready to go from day one.  With more spread offenses being run in college, "plug and play" linemen are increasingly difficult to find, increasing the likelihood of using multiple premium picks on fixing the trenches.
5) Time for Robby Re-boot?
The Jets need more weapons for Sam Darnold and it looks as if there's a chance they'll part ways with one of the few currently on the roster in wide receiver Robby Anderson.  When given the opportunity, Anderson has been a difference maker in 2019.  However, he has seen spells when his targets are inexplicably low.  Somebody is going to pay Anderson somewhere in the $12 million per year range.  Will it be the Jets, or will it be a team like the division rival Miami Dolphins, Anderson's home town team?
6) Cap Casualties:
Who stays and who goes when the Jets look to start saving cash?  Look for the team to part ways with CB Trumaine Johnson, RG Brian Winters, BC Darryl Roberts and WR Josh Bellamy.  Those moves would give the Jets roughly $18 million in cap space.  Another consideration could be linebacker Avery Williamson who is a fantastic player, but one who could save the team $4.5 million.  The Jets are currently projected to have $61 million in cap room with an leage-wide increase of around $10 million also likely.  Current space, likely increase and proposed cuts could put the Jets at around $93 million in cap room.
7) Any Growth From Gase?
This might be the most important potential development this offseason, but sadly the only thing fans won't get much of a look at.  Anything Gase (or any NFL coach) says during the off-season should be taken with a grain of salt.  The Jets would benefit however if Gase were to figure out how to use all of the players at his disposal and be a bit less stubborn when things aren't working.  If these things don't change, Darnold will have a new head coach in 2020.
8) Health watch:
The Jets had a ton of key injuries this season.  Some were overblown by the media to throw Adam Gase a lifeline (Trumaine Johnson, Ryan Kalil, Brian Winters) but there were some quality players on the shelf.  Keep an eye on the progress of TE Chris Herndon, the aforementioned Avery Williamson and WR Quincy Enunwa.
9) Jordan Jenkins Decision time:
Like Robby Anderson, Jordan Jenkins will be in line for a big pay day.  Expect the outside linebacker to pick up a deal that checks in at around $10 million per season.  Jenkins has improved every year he's been in the league and is basically a high character, high energy player who can contribute against the run and as a pass rusher.  Do the Jets re-sign the former Georgia Bulldog or save the money and roll the dice on a draft pick or free agent?
The Jets will officially close out the 2019 season this Sunday in Buffalo, but in all reality this season ended a long time ago.  Here's to hoping the Jets will be treated to some significant upgrades both on the field and on the sidelines compliments of Joe Douglas.
Videos
Aaron Rodgers Injury Fallout & Jets/Bills Recap