JetNation Prospect Preview: LSU Wide Receiver Justin Jefferson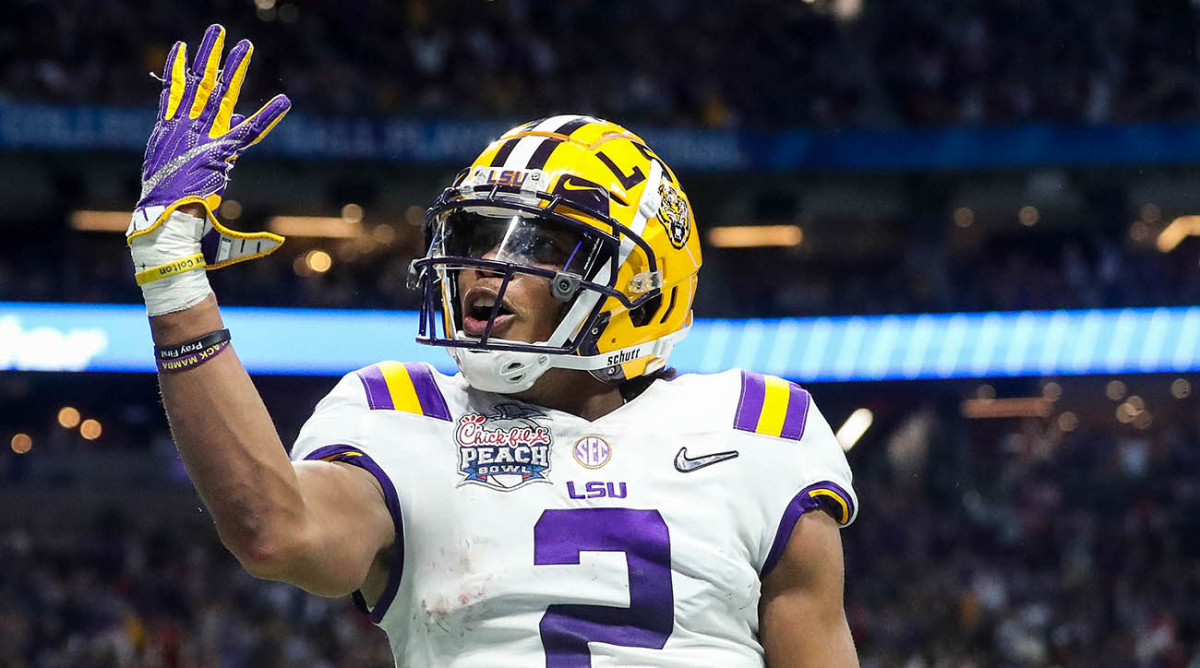 "Historically deep wide receiver draft", has become a commonly used phrase to describe how special the class of 2020 can be. The number of projected starters this class boasts just within the first two days of the draft is essentially unheard of.  Today, we're going to look at a late 1st/early 2nd round prospect who is a well-known commodity with production and endless positive game film, LSU's Justin Jefferson.
Jefferson possesses an NFL-worthy frame and traits that could make him a "#1 WR" Not all first round talents are chosen in the first round and a lot of this has to do with QB needy teams, combine risers and other variables that can push these prospects down into the 2nd round. Joe Douglas may very well decide to take an Offensive Tackle in round 1 and so begins the focus shift towards the playmakers that he desperately needs.
Measurables:
Height: 6'3
Weight: 192lbs
Class: Junior
Overview:
In 2018, Jefferson hauled in 54 receptions (63% catch rate) for 875 yards, 6 touchdowns at a 16.4 yards per catch clip. In 2019, he exploded for 111 receptions (91% catch rate), 1540 yards, 13.9 ypc and 18 touchdowns. Jefferson displayed an ability to perform well under the spotlight as well. In the Peach Bowl, Jefferson logged 14 catches for 227 yards and he wasn't done yet. Two weeks later he faced a more adequate defense in Clemson.  All he did in that contest was pick up 9 catches for 106 yards, as well as a memorable moment where he hit Tanner Muse with an absolutely filthy juke move reminiscent of Reggie Bush. He has been one of the most productive players in college football since he hit the field.
Who can forget this move Justin Jefferson put on Tanner Muse? Stops on a dime, Muse loses his footing and falls flat on his back while Jefferson picks up some additional ground. pic.twitter.com/lCMUvr5U5X

— Glenn Naughton (@AceFan23) February 22, 2020
Justin Jefferson stopped on a DIME 😳#GeauxTigers | #NationalChampionship pic.twitter.com/VtI1QfpIpV

— SEC Network (@SECNetwork) January 14, 2020
Pros:
Solid route runner with secure hands and the ability to win 50/50 balls.  Has excellent body control and how to naturally positions himself for the catch. In addition, he's a willing blocker.  Aggressively fights to create space for his running backs. Never gives up on plays even when it doesn't directly involve him.  Jefferson frequently saw top SEC defenses in his time at LSU but that didn't slow him down. As a result, he has also seen the best defensive minds game plan against him. He scorched Georgia and Florida, as well as putting up very respectable numbers against Alabama and Auburn. Jefferson shows a variety of moves when releasing off the line and has enough strength to get off of jams. Jefferson is good short/intermediate route runner and lives for the contested catches. He has a wide catch radius and loves show corners exactly how wide on a consistent basis.
Concerns:
Jefferson's 40 yard dash and 3 cone will be two metrics of athleticism that scouts will be looking at closely. He isn't a burner-type of receiver and he doesn't have a lot of twitch mid-route. He'll need to rely on his route running and ability to identify coverage and adjust more than his athleticism because he lacks elite speed to burn NFL corners with ease. If he struggles to find success leaning on his strengths to gain consistent separation, he'll struggle in adjusting to the NFL.  Polishing his route running and gaining an understanding for what defenses are trying to do to him are his biggest keys to extinguishing some of the doubt in his ability to beat coverage on the next level. You don't have to be a track star to succeed as a pro, however, you do need to be able to do certain things very well to make up for this. Corner's reaction time and closing speeds are just too good.
See For Yourself:
Videos
Aaron Rodgers Injury Fallout & Jets/Bills Recap