Pre-Draft O-Line Breakdown: Plenty of Additions, but More Help Needed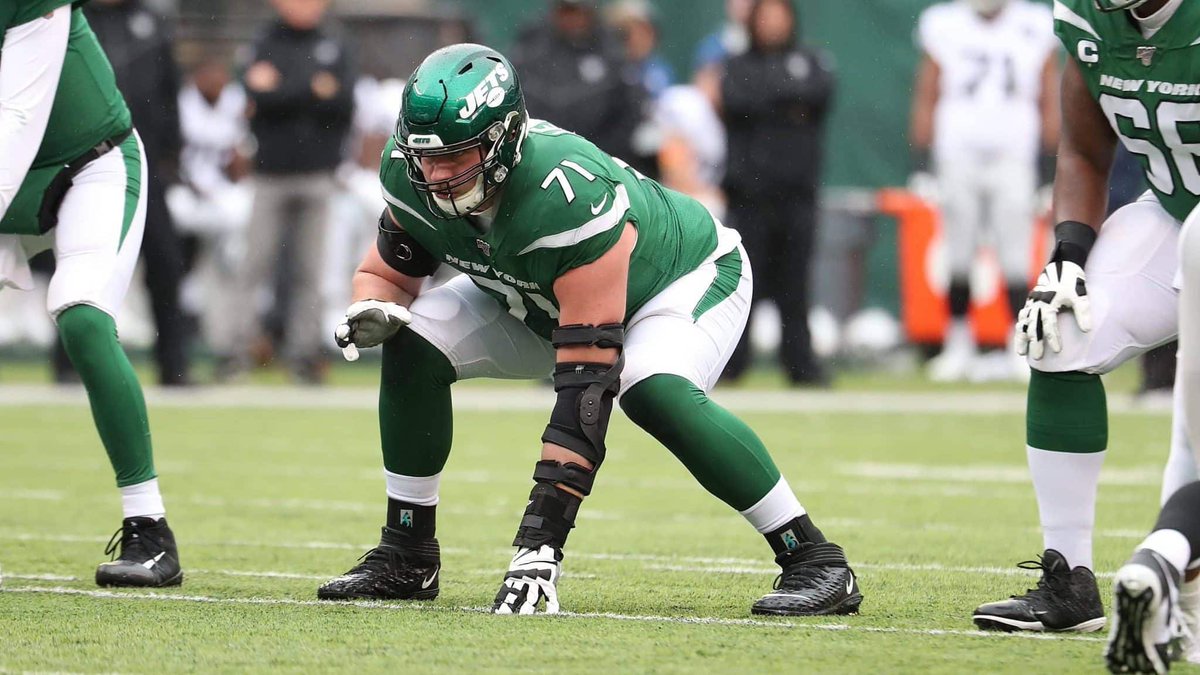 The Jets have made several additions along the offensive line with left tackle George Fant, left guard Alex Lewis, center Connor McGovern and C/G Josh Andrews getting new deals from Joe Douglas to repair what was the worst offensive line in the NFL in 2019.  So how does the starting group currently look and where is more competition needed for depth spots?  Let's take a look at the starting five and beyond based on how the roster is shaped today.
LT: George Fant:  Fant can't be viewed as the long-term answer at left tackle for the Jets and will likely compete on the right side with Chuma Edoga after the Jets take an offensive tackle with the 11th overall pick in the draft.  Even after several years in the league, Fant is viewed as a project who was a converted tight end.  He has the athleticism that the Jets covet, but there wasn't much of a market for him in free agency and the Jets handed him a multi-year deal that they can get out of after one season if things don't work out.
LG: Alex Lewis: Lewis was far from spectacular last season with the Jets but simply being adequate on last year's line was a breath of fresh air.  He got a 3-year deal from Joe Douglas but as an average player who commits a ton of penalties, the Jets should be looking to draft an interior lineman to eventually challenge for his spot.
C Connor McGovern: The most important addition on the O-line as the Jets finally fix a center position that has been a complete disaster since the departure of Nick Mangold.  McGovern is no superstar, but he's an above average player who will erase one of the biggest concerns the Jets have had for years.  There has been talk of McGovern possibly playing guard, but the wise move here would be to let the proven vet man the pivot and help with protections.
RG Brian Winters: As he is the incumbent who is still on the roster we're listing Winters as the starting guard but we'd be shocked if he's not let go before the season starts.  The Jets have virtually no cap space at this point and letting the injury-prone Winters go would save them $7.2 million.  He's a warrior in the trenches but injuries in recent years have made him a liability.
RT Chuma Edoga: As is the case with Fant, this projection is simply based on the current make-up of the roster.  Come opening day, we expect Fant to hold down the right tackle spot.  If not, that would mean the Jets paid over $7 million for a back-up/swing tackle.  Not a wise move.
Reserves:
G Greg Van Roten: As stated above, we expect Van Roten to start at right guard unless the Jets draft an interior lineman with a chance to beat him out.
Watching more Greg Van Roten (73) today. Thing that jumped out most was his ability to stall a bull rush in pass protection. This one against Deforest Buckner. Have to love the price tag Joe D got him for if he wins a starting job. pic.twitter.com/9lvrwnbnUY

— Glenn Naughton (@AceFan23) April 1, 2020
C Jonotthan Harrison: A proven veteran who has shown he can step in when called upon and provide adequate play at center.  With a $2.5 million price tag, keeping Harrison around makes a ton of sense.
OT Conor McDermott: A depth piece who started two games for the Jets last season and performed admirably for an inexperienced backup.  You would have to believe he'll be given a shot to win a roster spot once again.
OG Ben Braden: Braden is an interesting player in that he was brought in as an undrafted free agent a few years ago by Mike Maccagnan before the Jets cut him last season.  After a few seconds on the Packers practice squad, Joe Douglas brought him back and then retained him on a futures contract.  A run blocker who is a bit stiff in the hips, Braden has found a way to stick round for three years despite not being drafted.  Could he have a real chance at a backup role?
C/G Josh Andrews: Andrews has played only a handful of NFL snaps but is known to Joe Douglas from their time together in Philadelphia.  Whether or not he'll make the roster is anyone's guess at this point.
OG James Murray: A Kansas City Chiefs castoff, Murray was added by Joe Douglas during the season last year but quickly landed on season-ending IR.
OG Brad Lundblade: An Oklahoma State product who has little chance to stick around for long.  Has appeared in just one NFL game on special teams with the Panthers in 2019.  Lundblade's shows decent strength on film and a good motor but his lack of athleticism is a concern.
OL Corbin Kaufusi: A college defensive lineman who has transitioned to the O-line in the NFL with no real film availalbe to evaluate.  What a perfect recipe to predict future success or failure.  The 6′ 9" 330 lb Kaufusi is a total unknown at this point.
OL Leo Koloamatangi: The former Hawaii product has yet to play an NFL snap but showed a great deal of versatility in college where he played up and down the O-line.  The Jets are expected to give him a look at center but his chances of sticking around aren't good with McGovern and Harrison in the fold.
So while the Jets have made strides in upgrading their starting five, look for them to spend the 11th pick on a tackle along with at least one other lineman to compete when the NFL draft commences just a few weeks from now.
Videos
New York Jets OTA Presser Takeaways, Aaron Rodgers' Impact and Summer Delusion