JetNation Prospect Profile: Syracuse Edge Rusher Alton Robinson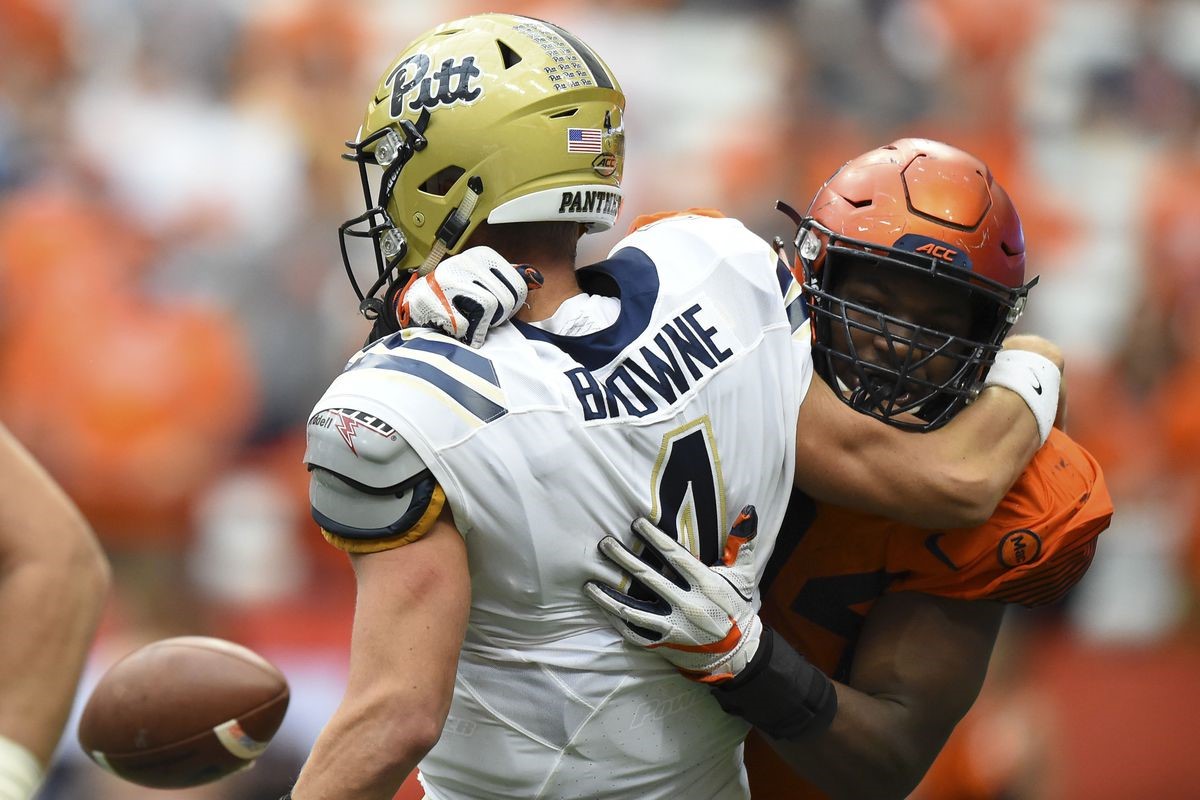 Continuing to profile potential Jets targets on draft day, today we're taking a look at Syracuse edge rusher Alton Robinson.  After a banner year in 2018 that saw him pick up 10 sacks and 17 tackles for loss, Robinson saw his production take a hit when he became a focal point for opposing offenses.  With just 4 sacks and 9 tackles for loss in 2109, Robinson is now viewed as a mid-round pick.
The first thing that we noticed about Robinson is that he does have enough explosiveness to be disruptive off the edge, something the Jets haven't had in a player since John Abraham a decade ago.  As mentioned above he did see a significant dip in his production with increased attention from opposing blockers.
Alton Robinson (94) breaks up the pass play vs Clemson despite not coming away with the sack. Splits double team, flushes QB from the pocket, forcing trip/incomplete pass. pic.twitter.com/nCgtet3xeG

— Glenn Naughton (@AceFan23) April 8, 2020
While Robinson does have the quick first step that teams covet, he doesn't show a great deal of variety in his efforts to get to opposing quarterbacks as he relies heavily on beating his man to the outside. This is something that will make him a bit of a project for Gregg Williams and company, but that's to be expected in a mid/late round edge rusher.  If he didn't need any polish, he'd be going much higher than round three or four.
Other than being explosive off the edge, another trait he has that teams will surely like is his active hands.  Robinson does a nice job of keeping blockers off of him, freeing him up to make plays in the backfield.  He also showcased the ability to bend and dip at times but we would have liked to see it a bit more consistently.
QB takes off so no sack for Alton Robinson (94) but he shows good bend/balance in chasing the QB from the pocket. Projected mid-rounder off the egde. Monster 2018 (10 sacks, 17 TFL) but saw dip in 2019 (4 sacks, 9 TFL). pic.twitter.com/rDA3vXOM79

— Glenn Naughton (@AceFan23) April 8, 2020
There was another concern on film was the number of plays he made in 2018 in which he was unblocked and had little to contend with in getting to the quarterback or ball carrier.  This should raise some red flags in terms of his less impressive 2019 production when teams were more aware of his presence.
The folks at NFL.com project Robinson as a player who should be a starter within two years of being drafted.  If he were to land with a team like the Jets, he could be a part-time situational edge rusher with an eye on winning a starting job in year two.  Given their lack of options off the edge, it may be worth considering.
In his latest mock draft, Kristian Dyer of Sports Illustrated had Robinson going to the Jets with the 120th pick while Matt Miller of bleacher report slots him at 90th overall to the Houston Texans.
Videos
Aaron Rodgers Injury Fallout & Jets/Bills Recap